Use the shipping_label attribute to group products together so that you can configure specific shipping rates in Merchant Center. The information you include in this attribute won't be shown to users.
For example, you might label items oversized, perishable, or free shipping.
When to use
Optional for each product
If you want to set different shipping costs for specific groups of products, use shipping_label to apply a label to products. For example, for free shipping, some merchants only want some items to get free shipping and they can add that shipping service (without removing any of the other services) to those products with a label.
You can configure shipping costs based on the label in your Merchant Center account settings using shipping groups. Learn more about shipping settings
Note: When you add a label to a product, it'll allow that service while also allowing for all the other services such as US shipping, weight-based, and standard that are available for that product. Shipping labels are additive or inclusive, meaning that adding a label to a product will allow that product to be shipped with that service while still allowing for all the other services.
Format
Follow these formatting guidelines to make sure we understand the data you're submitting.
| | |
| --- | --- |
| Type | Unicode characters (Recommended: ASCII only) |
| Repeated field | No |
| File format | Example entry |
| --- | --- |
| Text | oversized |
| XML feeds | <g:shipping_label>oversized</g:shipping_label> |
For format API information, see the
Content API for Shopping
.
Guidelines
Follow these guidelines to make sure you submit high-quality data for your products.
Minimum requirements
These are the requirements you'll need to meet to show ads for your product. If you don't follow these requirements, we'll disapprove your product and let you know in the Diagnostics page of your Merchant Center account.
There are no minimum requirements for this attribute. Keep in mind that you still need to follow the formatting guidelines or the information you submit can't be used.
Best practices
These are best practices that can help you go beyond the basic requirements to optimize your product data for performance.
Choose your own definition for the shipping label. You can choose values that make it easier for you to configure your shipping settings in Merchant Center.
Use a shipping label for oversized items and configure shipping settings in Merchant Center if your product is considered oversized by your shipping carrier. Oversized shipping costs aren't automatically calculated and automatic carrier rates shouldn't be used in this case. Learn more about shipping settings
Use a shipping label for perishable items (for example, cold storage transport) and configure shipping settings in Merchant Center. Learn more about shipping settings
Note that shipping labels are inclusive. If you provide multiple shipping labels for a product in the same country, we'll calculate the lowest shipping rate for the product for a given situation and display that rate to users. For example, if you have one label that specifies free shipping for products over 150 USD and another label that specifies a carrier-calculated rate for all products, then your ad will show free shipping for all products over 150 USD.
Examples
Perishable items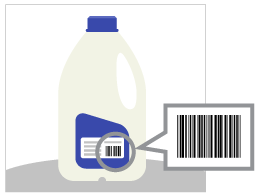 | | |
| --- | --- |
| Product | Milk |
| title | Whole Milk, 1 Gal |
| shipping_label | perishable |
| shipping_length | 6 in |
| shipping_width | 6 in |
| shipping_height | 11 in |
| shipping_weight | 8.8 lbs |
Oversized items
| | |
| --- | --- |
| Product | Kayak |
| title | 10-ft Ocean Kayak |
| shipping_label | oversized |
| shipping_length | 120 in |
| shipping_width | 30 in |
| shipping_height | 15 in |
| shipping_weight | 45 lbs |