---

Who is this guide for?
We've created these best practices for retail marketers who are running Performance Max campaigns with a Google Merchant Center feed. If your goal is to increase sales and reach new customers, these guidelines will help you get there.
Consumers have never had more options—more ways to get inspired, to research, or to buy. During the 2022 holiday season, 55% of shoppers used five or more channels, ranging from video to social media, to shop over a two-day period.1 AI enables businesses to respond to dynamic shifts in consumer demand in real time, and to present valuable customers with the most relevant ads possible as they toggle among channels.
For a growing number of retail marketers, Performance Max has become a critical solution to meet customers wherever they're shopping. Powered by Google AI, Performance Max helps retailers increase sales and optimize ROI across all Google Ads channels and inventory—including Search, YouTube, Display, Discover, and Google Maps.
With Performance Max, Shopping ads and local inventory ads remain important formats that are shown in Google Search and Shopping results. Performance Max also builds on this to help you reach more valuable customers and drive more conversions from additional channels and inventory. And we've made it easy for you to measure the incremental impact of shifting from Standard Shopping campaigns to Performance Max.
Will Performance Max outperform your Standard Shopping campaigns? Run an experiment to be sure.

Advertisers that have shifted from Standard Shopping campaigns to Performance Max drove a 25% increase in conversion value, on average, at a similar ROAS.2 And you can test this for yourself!

If you are running Standard Shopping campaigns, you can run an experiment in order to measure the uplift in conversion value from switching to Performance Max. With new one-click experiments, it's now easier than ever to set up an A/B test that will automatically create a new Performance Max campaign from an existing Standard Shopping campaign.

If you're satisfied with the results of your A/B experiment, you can then continue running your new Performance Max campaign to replace your Standard Shopping campaign.
Performance Max campaigns are goal-based and can be configured to optimize towards online sales, store sales, or omnichannel sales. By providing your goals and other inputs, you can combine your marketing expertise with the power of Google AI to maximize profitable sales.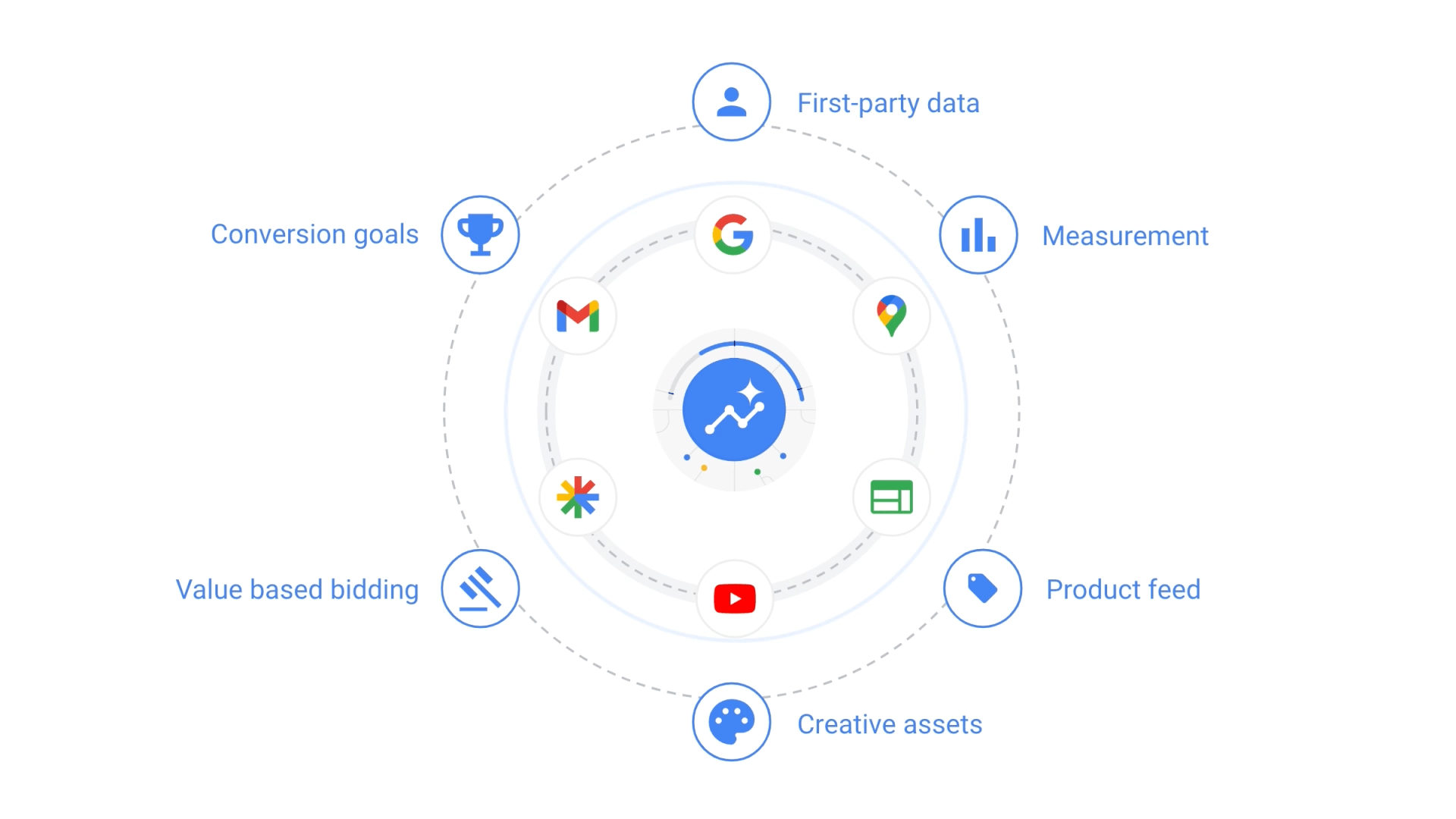 This guide offers step-by-step guidance in the following areas:
Lay the foundation for your Performance Max campaign

Enhance your product feed to help your ads stand out.

Upload rich product descriptions and images, and update product prices and availability if they change often.
Ensure listed products are approved and use the Product Issues column to identify missing feed attributes or spot underperforming offers.
Add a local product feed to automatically enable local inventory ads in your campaigns to promote products and promotions available in stores.
You can also use your feed to attract consumer attention to your ads with deals by creating promotions or price drop annotations. Set up free and fast shipping annotations to show you can ship quickly, and use return annotations to highlight return windows like "Free 90-day returns".
Consider including custom labels in your feed to signal that a product is high-priority—for example: "bestseller," "trending," or "holiday product". You can then use the labels to segment these products into separate campaigns or asset groups if needed.

Lay the groundwork for strong measurement to unlock business growth.

Case Study

"Given the rise in app usage, it was essential to track and optimize our in-app conversions for our web campaigns. We used Web to App Connect to ensure the best ad experience for customers that already have our app. After implementing Web to App Connect, we saw a 2x conversion increase and 48% average-order-value increase when customers landed in-app instead of the mobile site. This holistic bidding strategy also improved overall campaign performance, with a 68% ROAS uplift for our Performance Max campaigns."
— Marc Mulder, Head of Search, de Bijenkorf

Share conversion values for better optimization and reporting.

When you use conversion tracking, you can assign the same value to all conversions or let each conversion have different values. For retailers, we strongly recommend providing transaction-specific values for each conversion if your customers are purchasing items with different prices and you want to maximize total revenue.
Use conversion value rules to provide additional value information that further refines your optimization. Set values for lower or higher-value types of customers, devices, locations, store visits or store sales.

Plan budgets early, but be ready to capture additional sales opportunities

Use Performance Planner to identify budget and bid strategies that will maximize conversion value.

Proof Point

Budget agile marketers are 25% more likely than non-agile marketers to report their performance as stronger than industry competitors.3

Explore demand forecasts to take advantage of increased demand.

Check recommendations for tips on budgeting, bidding, and more.

Use seasonality adjustments to optimize for short promotional or other events.

See

holiday best practices for other retail ads solutions

. If you are using Merchant Center, check out our

holiday best practices for Merchant Center

.

Structure your campaigns for success

Consolidate your campaign structure to help Google AI learn and optimize faster.

When setting up a new Performance Max campaign, you should consolidate your campaign structure where you can. Google AI works best when it can optimize performance across channels using a unified budget.

When to create multiple campaigns.

Sometimes, it does make sense to manage separate Performance Max campaigns. For example, you may have campaigns for different countries and/or languages. Or, you may have different budgets or ROAS targets for new products, top-selling products, seasonal moments, or different store locations.
During the holiday season, you may want to prioritize certain types of products, and create separate Performance Max campaigns for those items.

For example, you may want a campaign for holiday merchandise, a campaign for high-margin products, and a campaign for everything else. Setting a lower ROAS target can also help maximize visibility for these products in the weeks leading up to peak periods when many people are browsing.

When to use asset groups to segment a single campaign.

Create multiple asset groups within the same campaign to bundle assets that should serve in sets or themes (e.g. different asset groups for dinner plates vs. bowls).
You may also want to create multiple asset groups if certain assets are more relevant to specific audience signals that you've inputted. For example, you may want different assets for a Customer Match list, such as customers who bought bikes and you now want to cross-sell bike helmets.
During the holidays, we recommend creating new holiday-specific asset groups within existing campaigns. This ensures you avoid disrupting your evergreen products and helps optimize holiday performance. New holiday assets and asset groups should be uploaded at least 2 weeks in advance to make sure they're approved.
Use asset group scheduling to activate the holiday or seasonal asset groups at a specific time. For example, you could schedule a new set of holiday-themed assets ahead of a special sitewide sale or promotion.

Provide essential inputs to guide Google AI to deliver stronger results

Implement a value-based bidding strategy to drive more performance for your budget.

Reach new customers with the new customer acquisition goal.

Case Study

Hairstory is a growing US-based hair care retailer revolutionizing the industry by imagining a future without shampoo. Working with its agency Better & Stronger, Hairstory was excited to try new customer acquisition goals with Performance Max to reach its objectives. Hairstory was able to reach more high-value customers, which helped it increase return on ad spend (ROAS) by 31%. Additionally, it achieved its objective of increasing conversions from new customers, driving a 545% increase in new customers converted.

"Once someone tries our products, we have a very strong retention rate. Our main challenge is driving that initial customer acquisition. With this objective, we focused on new customer acquisition for Search and Performance Max. We're seeing great results so far."
— Karthik Paramasivam, Head of Marketing, Hairstory

Reach the right audiences by leveraging first-party data.

Diversify and maximize your creatives to resonate with more customers across channels.

Proof Point

Advertisers that included at least one video in their Performance Max campaigns saw an average increase of 12% in total conversions.4

Enable automatically created assets and final URL expansion to drive more sales from Search.

Proof Point

Advertisers who use final URL expansion with Performance Max campaigns see an average increase of over 9% in conversions or conversion value at a similar CPA or ROAS.5

Use reporting and insights to evaluate your results

Understand changes in performance.

See which creative assets are resonating.

Understand your top customers and uncover new audiences.

Explore how your customers are searching.

Analyze retail-centric reports.
1. Source: Google/Ipsos, Holiday Shopping Study, Oct 13 2022 – Jan 4 2023, Online survey, US, n=8,467, Americans 18+ who conducted holiday shopping activities in past two days.
2. Google Data, Global, Ads, October 2022 - March 2023.
3. Google/Kantar Budget Agility and Channel Desiloing Research, US, CA, AU, BR, DE, IN, JP, UK, March 2022 - June 2022. Advertiser: Agile n=416, Not Agile n=1677.
4. Google data, Global, November 2022.
5. Google Data, Global Ads, February - April 2023.