Using shopping ads for your products
Regular Product Listing Ads campaigns are going away. Upgrade to Shopping campaigns!
Shopping campaigns are here with a better, more retail-centric way to manage your Product Listing Ads. We're retiring regular Product Listing Ads campaigns in late August. Upgrade to Shopping campaigns today for a better way to promote your products.
Learn more
.
Product Listing Ads are a unique ad format that allows you to include an image, title, price, promotional message, and your store or business name, without the need for you to create unique ads for each product you sell. Product Listing Ads show a set of relevant products for a given search. The ads appear in their own box on Google Search (separate from text ads), on Google search partner websites, and on Google Shopping (in select countries).
Here's what Product Listing Ad search results might look like after a Google search for "fish bowl:"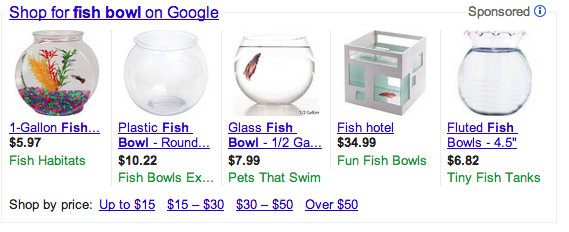 Their appearance may change as we experiment with the best display options for this format.
Before you begin using Product Listing Ads, learn more about the following:
Note
Product Listing Ads can be targeted to the following countries, where Google Shopping is available: Australia, Austria, Belgium, Brazil, Canada, the Czech Republic, Denmark, France, Germany, India, Italy, Japan, Mexico, the Netherlands, Norway, Poland, Russia, Spain, Sweden, Switzerland, Turkey, the U.K., and the U.S.
What you need to do before you begin using Product Listing Ads
Before you begin using Product Listing Ads, you'll need both an AdWords account and a Google Merchant Center account. Your Merchant Center account lets you manage your product information, while your AdWords account helps you manage your ads and campaigns. If you don't have one already, create an AdWords account today.
Then you'll need to do the following:
Upload your product feed to your Google Merchant Center account.
Benefits of Product Listing Ads
More traffic and leads: Many businesses experience significantly higher clickthrough rates (CTR) with Product Listing Ads compared to text ads shown in the same location for Google Shopping searches. In some cases, advertisers have experienced double or triple standard clickthrough rates.
Better qualified leads: As a merchant, you can increase the quality of your leads by featuring product information directly in your ads to help shoppers make informed purchase decisions. This makes shoppers more likely to complete a purchase on your site.
Easy management: Instead of keywords, Product Listing Ads use the product attributes you defined in your Merchant Center data feed to show your ads on relevant searches.
Broader reach: More than one of your Product Listing Ads can appear for a given customer search and, if relevant, a Product Listing Ad and a text ad can also appear at the same time. This means your reach with shoppers for a single search could double.
How Product Listing Ads work
Product Listing Ads use your existing Merchant Center product feed -- not keywords -- to decide how and where to show your ads. A product feed is a file you upload to your Merchant Center account that contains details about the products you sell. We'll use the information in this product feed when we match a customer's search on Google Search and Google Shopping to your product listings. We recommend you always keep your product feed accurate and up-to-date. Learn more about Merchant Center product feeds.
You manage your Product Listing Ads in AdWords using Shopping campaigns, a simple and flexible way to organize and promote your Google Merchant Center product inventory within AdWords. Shopping campaigns give you retail-centric tools to group and bid on the products you want and powerful reporting and benchmarking tools to monitor and optimize performance. Learn more about how Shopping campaigns work.
Where Product Listing Ads appear
Product Listing Ads appear in their own box on Google Search (separate from text ads), on Google search partner websites that display and link to products for sale, and on Google Shopping (in select countries). They may appear at the same time as text ads, so that a single Google Search results page could show both Product Listing Ads and text ads.
Example
If you sell ballet slippers and have a text ad for ballet equipment and a Product Listing Ad for ballet shoes, a customer could see both of your ads on the same Google Search results page.
We allow a Product Listing Ad to appear at the same time as a text ad because we want to give shoppers access to the full variety of products that match their search. When a shopper searches for a commercial item online, like a pair of shoes, a video game, or a car, they're usually trying to see all the purchasing possibilities for the item they're looking for.
We want Product Listing Ads to offer all possible variations available for that item, helping shoppers find the best match before clicking through to make a purchase. This helps merchants like you close a sale for a more targeted customer search.
How much Product Listing Ads cost
We charge for clicks on your Product Listings Ads on a cost-per-click (CPC) basis. Since Product Listing Ads don't use keywords, you'll use attributes in your Merchant Center product feed to define product groups. Then you'll set maximum cost-per-click (CPC) bids for your product groups. Just like how bidding works for AdWords ad formats, you'll only pay the minimum amount necessary to rank higher than the advertiser immediately below you, and you'll often pay less than your maximum bid.
We only charge for clicks on Product Listing Ads that lead directly to a merchant's website. This includes clicks on Local Product Listing Ads that link to merchant websites hosted by Google. You aren't charged for clicks on Product Listing Ads that lead to pages within the Google Shopping website.
Advertising guidelines for Product Listing Ads
The content of your ad, including text and images (served dynamically from information within your Merchant Center account) should comply with our policies.
Note
Merchant Center policies state that product links should not have redirects. However, you can use redirects with the "adwords redirect" attribute, which we'll use when using your product information to show your Product Listing Ads. Learn more about the "adwords redirect" attribute.