Google provides translated versions of our Help Center as a convenience, though they are not meant to change the content of our policies. The English version is the official language we use to enforce our policies. To view this article in a different language, use the language dropdown at the bottom of the page.
We restrict certain kinds of businesses from advertising with us to prevent users from being exploited, even if individual businesses appear to comply with our other policies. Based on our own continuous reviews, and feedback from users, regulators, and consumer protection authorities, we occasionally identify products or services that are prone to abuse. If we feel that certain kinds of businesses pose an unreasonable risk to user safety or user experience, then we may limit or stop related ads from running.
Below are some examples of what to avoid in your ads. Repeated violations of our policies can lead to account suspension.
Learn about what happens if you violate our policies.
Violations of the policies below will not lead to immediate account suspension without prior warning. A warning will be issued, at least 7 days, prior to any suspension of your account. Learn more
about suspended accounts
.
In this article:
---
Solicitation of funds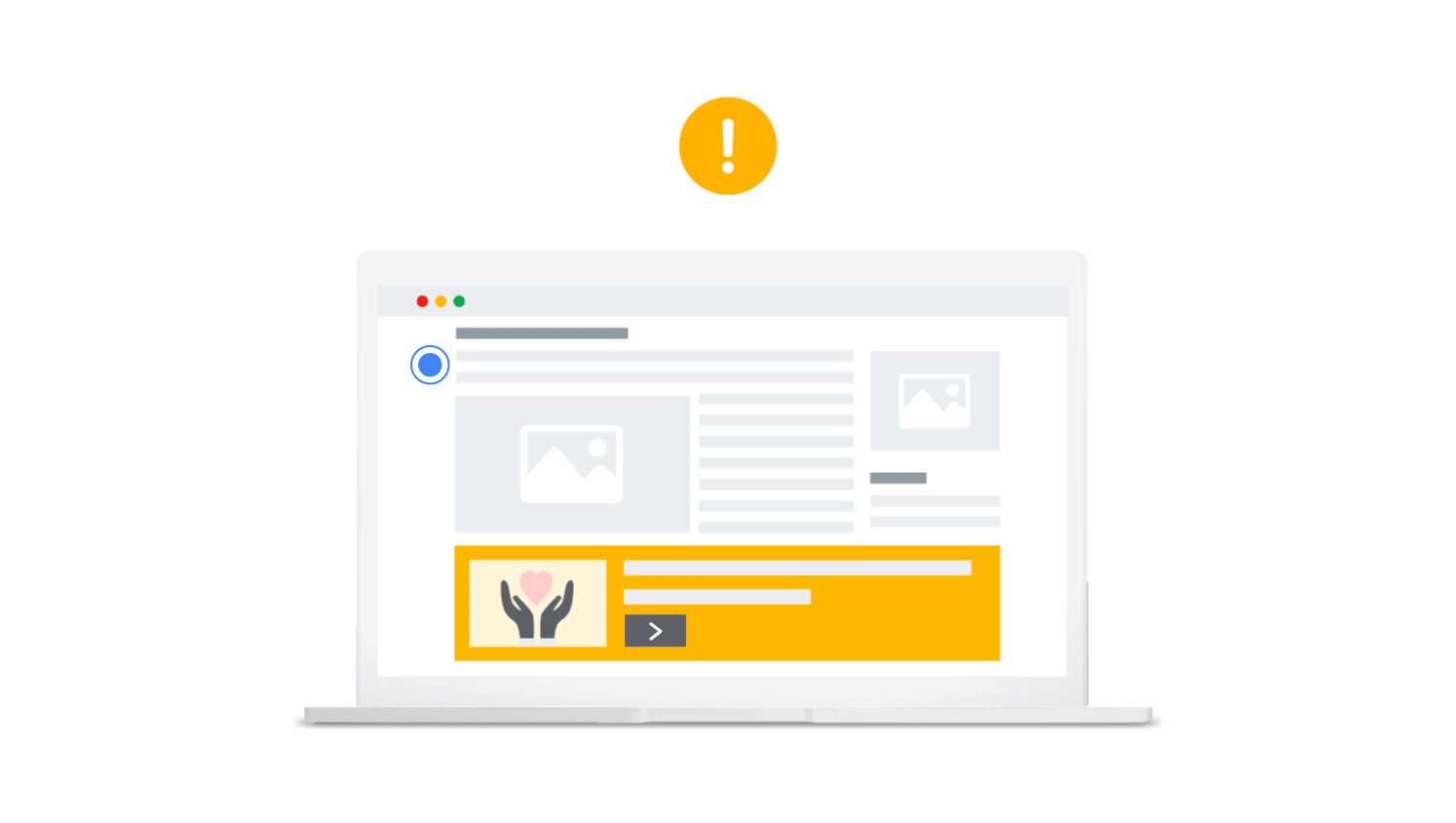 Soliciting funds or donations is allowed only on behalf of a politician, political party, or tax-exempt charity, and only when the tax exempt status, charity or tax exemption number is clearly stated on the ad's destination.
Learn more about the Solicitation of funds policy and how to fix your disapproved ad or asset.
---
Free desktop software
Ads for free desktop software must include the name of the specific software being advertised and lead to the authoritative online distribution source for the software.
Examples (non-exhaustive): Executable files (such as .exe, .dmg, zipped files, extensions, plug-ins, add-ons, desktop applications) that can run on desktop computers, laptops, or notebooks and do not require payment information to download; free trials; freeware; shareware; freemium software; demos that offer downloadable content.
Note: The authoritative online distribution source must not have a history or reputation of policy violations. Cloud service is not in scope of this policy and is excluded for the certification application.
Learn more about the Free desktop software policy and how to fix your disapproved ad or asset.
---
Local services
Ads for locksmith services are restricted in the United States of America and Canada. Ads for garage door repair services are restricted in the United States of America. To advertise, you must apply for advanced verification. Learn more about advanced verification.
Ads for locksmith services are restricted in Germany, Sweden, Belgium and the Netherlands. Ads are not able to run.
Ads for local services will still be able to run outside of restricted areas, even if the business hasn't completed verification.
---
Consumer advisories
For business areas where consumer advisories are common, Google may limit how ads about those products and services are served.
Example (non-exhaustive): Penny auctions (Google Ads will only show penny auction ads if the phrase "penny auction" or similar terms are included in the user's query. On the Google Display Network, these ads will be shown only on sites related to auctions.)
What is a consumer advisory?
Consumer advisories are alerts that provide information about the risks and benefits of certain products and services. These alerts are typically distributed by organizations that help protect consumers. Examples of organizations that issue consumer advisories are the Federal Trade Commission (US), the Consumer Affairs Agency (Japan), and other regional agencies that help protect consumers' interests. Consumer advisory organizations may be government agencies, but they may also be run by third-party consumer advocacy groups.
How do consumer advisories affect ads?
If a consumer advisory is issued about a certain product in one country, Google may change how ads about that product are served globally. This allows users to still view ads related to these kinds of products when specifically searching for them, but protects other users who might be unaware of the consumer concerns about similar products.
---
Government documents and services
The following is restricted:
Only certified governments and authorized providers may run ads that promote direct acquisition of specific government documents and services.
Government documents and services are official documents issued by the government and official services rendered by the government.
An authorized provider is an advertiser that has been given explicit permission by a government to provide a specific government document or service. To be considered an authorized provider, your domain must be linked from an official government website and explicitly referenced as authorized by that government to provide a specific government document or service.
---
Call directory, forwarding, and recording services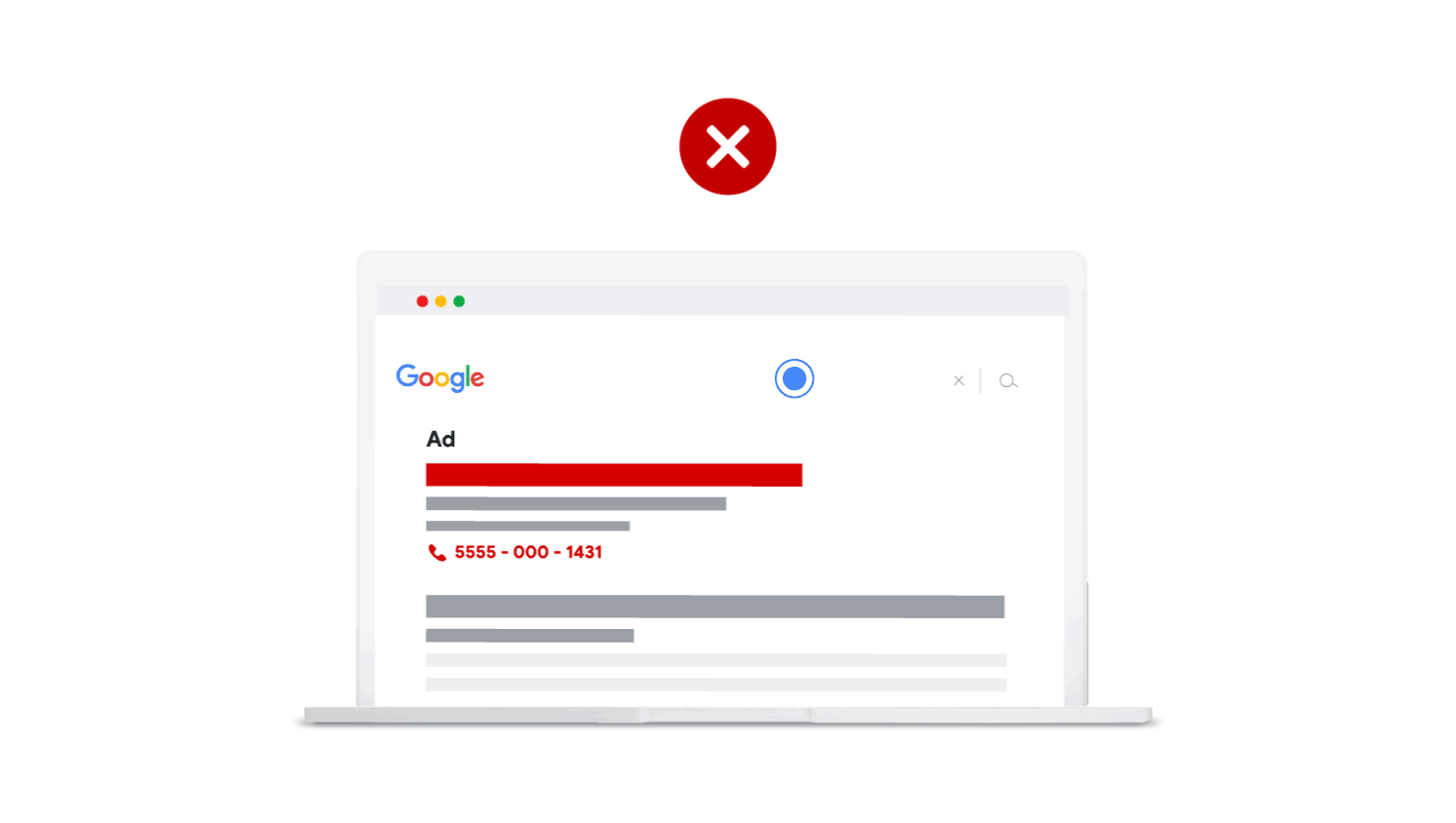 The following is not allowed:
Promotions for call directory, forwarding, and recording services.

Examples (non-exhaustive): Call directory, call forwarding, and call recording services. These services usually involve calling a phone number to obtain another phone number (or business information such as address) or to be connected to another service.
---
Event ticket sale
Live event ticket sellers are allowed to advertise if they are eligible.
Note that if you sell or link to sites that sell resale live event tickets, you'll need to meet certain destination requirements in order to obtain a confirmation of eligibility.
Event ticket sale is restricted to eligible primary providers in France and French territories.
---
Bail bond services
The following is not allowed:
Advertising of bail bonds services, which offer to act as surety in order to secure bail for a defendant.
Examples (non-exhaustive): Commercial bail bond agents, bail bonds financing services, bounty hunters, bail bondsmen, immigration bail services, detention bail services
---
Third-party consumer technical support
The following is not allowed:
Technical support by third-party providers for consumer technology products and online services

Examples (non-exhaustive): Technical support for troubleshooting, security, virus removal, internet connectivity, online accounts (for example, password resets or login support), hardware support and repairs, or software installation
Note: We allow advertising for the sale of consumer technology where the landing page might contain navigational features related to technical support.
---
High Fat Sugar Salt Food and Beverage Ads
We support responsible advertising of food and beverages. HFSS F&B ads and destination sites are allowed if they comply with the policies below and don't target minors. The information reflected in this policy is not intended to be legal advice and we expect all advertisers to comply with the local laws for any region their ads target, including local requirements that may differ from this HFSS F&B policy.
Advertisers are required to self-declare that they are using an account to run HFSS F&B campaigns, and all the creatives within that account will be subject to the HFSS F&B policy restrictions. In order to self-declare please use the form here.
We consider ads to be promoting the sale of HFSS products when one or more HFSS food item, beverage, or meal is promoted on the ad creative (text, imagery, audio and/or video) or destination site.
Learn more about the High Fat Sugar Salt Food and Beverage Ads policy, examples of F&B products that are considered HFSS and how to fix your disapproved ad or asset.