May 23, 2023
Together, AI-powered Search and Performance Max campaigns are the Ads Power Pairing to help you find untapped demand and drive incremental results from new search queries, channels, and audiences. At Google Marketing Live 2023, we announced new ways to improve your campaigns, deliver better ad experiences to consumers, and understand what's driving performance with deeper insights.

Drive better results with Search campaigns
Build better Search campaigns with the new conversational experience in Google Ads. Combine your expertise with Google AI to create better Search campaigns. Ask Google Ads for ideas, just like you might ask a colleague, to easily generate effective keywords, headlines, descriptions, images, and other assets. We will be testing this natural language and conversational experience in July, and expect it to become more broadly available later this year.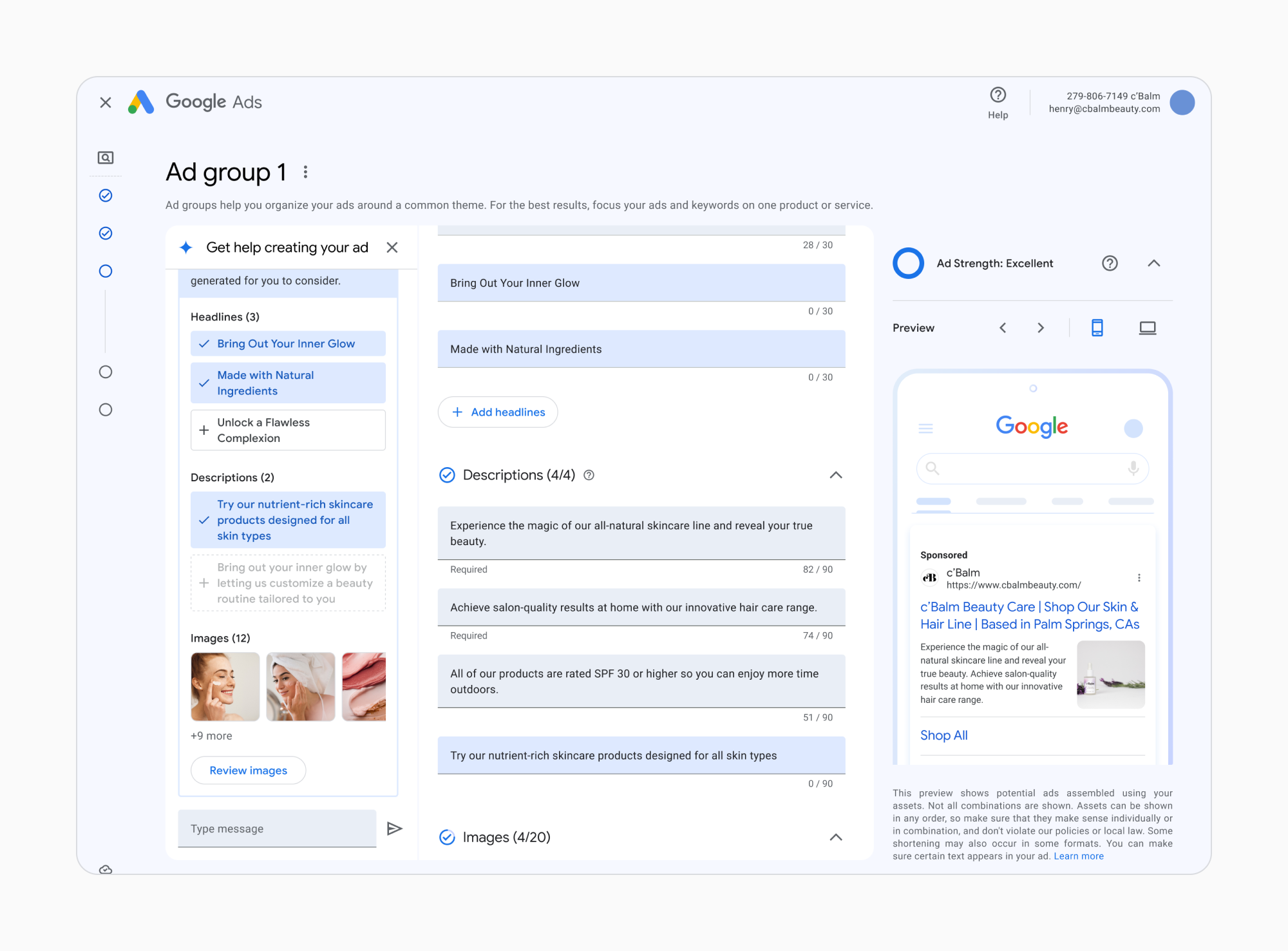 Have a natural language conversation with Google Ads to help you create keywords and assets that drive better Search campaign performance
Deliver new ads experiences with generative AI. We are taking our first steps to supercharge Search using generative AI, making Search smarter and searching simpler—while still continuing to be a jumping-off point to the best of the web. This new Search Generative Experience (SGE) will roll out soon to people in the U.S. through Search Labs, our program to access early experiments. In the coming months, we'll experiment with Search and Shopping ads that are directly integrated into the AI-powered snapshot and conversational mode, as well as new formats that use generative AI to create relevant, high-quality ads that are customized to every step of the search journey. We'll take a responsible approach to how ads evolve in this new experience, learning from user feedback and partnering closely with advertisers to deliver even more effective solutions.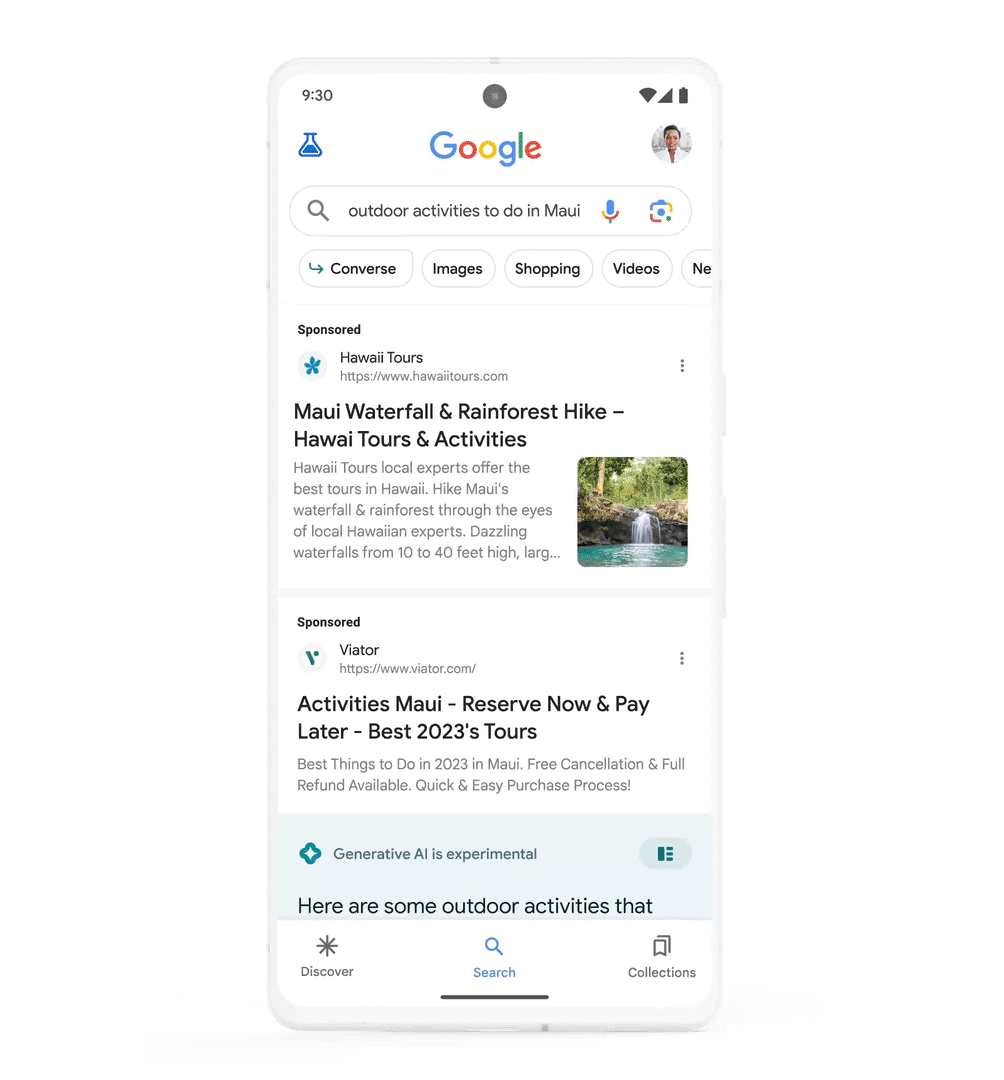 In the coming months, we'll experiment with Search and Shopping ads that are directly integrated into the AI-powered snapshot and conversational mode
Learn more about SGE for advertisers
What should I do for my ads to appear in the new generative AI experience in Search?
Advertisers don't need to take any action. Ads in SGE (available in Search Labs) will be from existing campaigns eligible to show in the U.S. By implementing our AI-powered ads solutions for your Search campaigns like value-based bidding, responsive search ads with image assets, and broad match, along with investing in high-quality creative on your websites, you'll be prepared to reach customers in these new experiences.
When will ads show with SGE?
We'll be exploring different places where ads will show up for people who have joined the Search Labs experiment, including in dedicated ad slots throughout the page and directly in the AI-powered snapshot and conversational mode. Ads that show up as part of this experience will be from existing campaigns eligible to show in the U.S.
Will I see reporting for my ads that show with SGE?
Ads that show as part of this new experience will appear in search terms reporting based on the latest contextual intent from users' searches in SGE. Negative keywords will be applied to queries in this experience and will continue to negate searches advertisers do not wish to show ads on. There is no separate reporting on ads that are triggered in this experience.
Show more relevant ads with improved automatically created assets. Later this year, generative AI is coming to automatically created assets in Search and Performance Max campaigns to help you generate new headlines and descriptions that better match user search queries.1 For example, if a user searches for "skin care for dry sensitive skin", your ad will be able to show original, AI-generated headlines that draw from your landing page and are even more relevant to the query, such as "Soothe Your Dry, Sensitive Skin". This helps you improve your ad relevance and keep your assets fresh–all while staying true to your brand.
Expand the reach of your brand campaigns with new brand restrictions for broad match. Broad match gives you the most relevant reach and conversions within your performance goals. In the past, it may have been difficult to use broad match in campaigns with specific brand needs. That's why we're rolling out brand restrictions. This new feature will help you get the additional reach of broad match, while ensuring it is only matching to relevant brand traffic that you've specified. Access this new feature when you enable the new broad match campaign-level setting.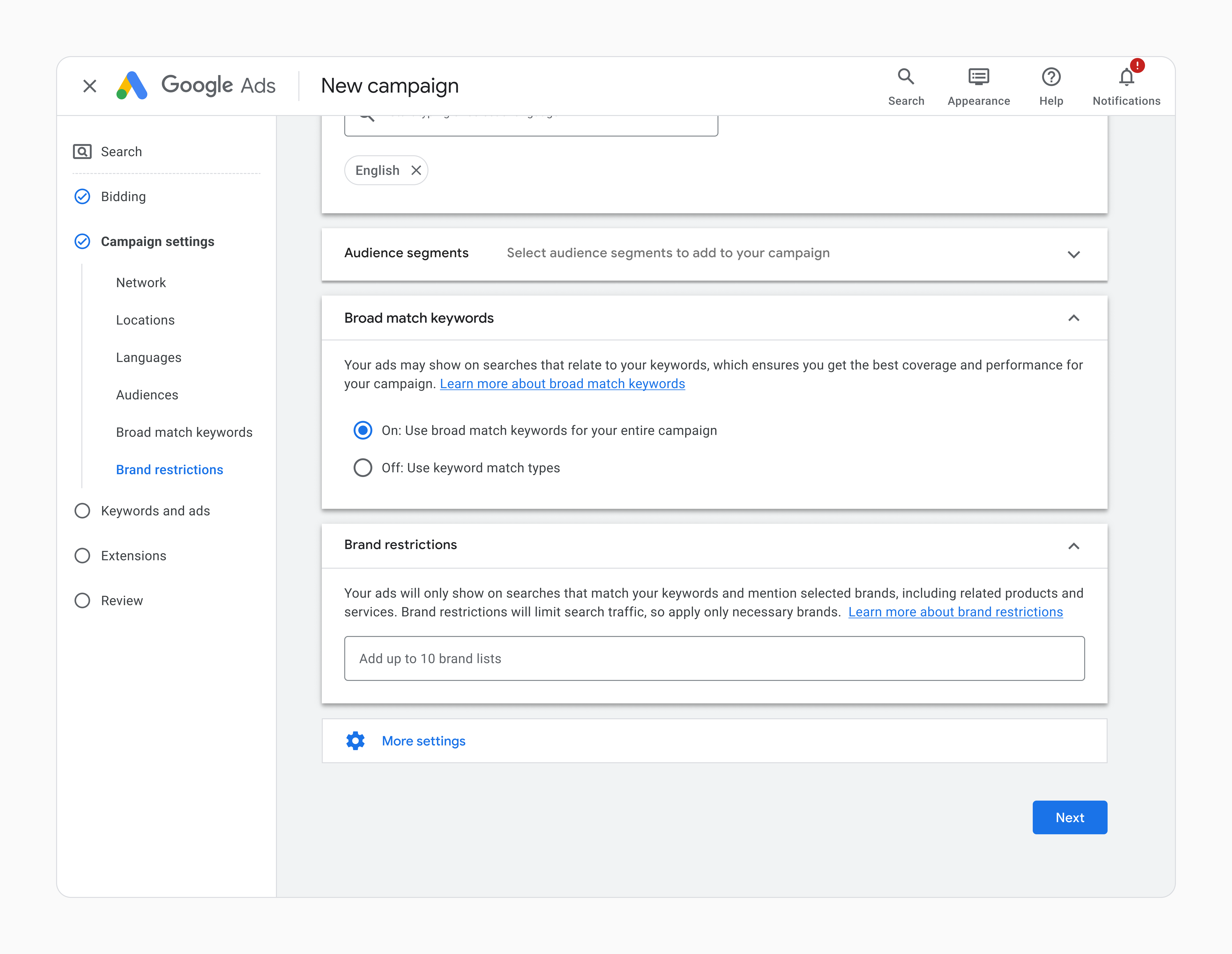 With new brand restrictions, you can benefit from the additional reach of broad match while ensuring it matches to relevant brand traffic that you specify
Take advantage of improvements in Smart Bidding. Over the years, we've continued to improve Smart Bidding models to make more accurate predictions about which search queries are most likely to deliver conversions and value for your business. Advances in Google AI will bring deeper integration of our large language models into bidding to better understand consumer searches and intent. Soon, Smart Bidding will optimize more intelligently for search queries it's never seen before to help deliver better performance. Among the billions of searches on Google every day, 15% are queries we've never seen before. These bidding improvements will help you show up in more valuable search moments and capture new opportunities.
Understand top search categories to improve your responsive search ads. Responsive search ads use Google AI to help you show more relevant and meaningful ads when consumers search. You can now review the top search categories for each of your responsive search ads to get deeper transparency into what's driving performance and get new ideas to optimize your ads further.
Add business information to make your Search ads more helpful and engaging. Business logos and names are now available globally in all languages for advertisers that meet eligibility requirements and complete our verification program. By adding these assets, you can help people identify your business at a glance and make it easier for them to find what they're looking for. Advertisers that show a business logo and name with their Search ads see an average of 8% more conversions at a similar cost per conversion.2

Multiply customer connections with Performance Max
Use new goals to maximize value from new and existing customers. Combine your own first-party customer lists with Google AI to achieve better business outcomes at every step along the consumer lifecycle. In fact, advertisers who highly value new customer acquisitions and use New Customer Value Mode in Performance Max improved their ROAS by 9% and improved their new customer ratio by 5%.3
We're enhancing the new customer acquisition goal in Performance Max so you can optimize for new customers predicted to deliver high lifetime value. This is available in beta now; please reach out to your Google team for more information. A new re-engagement goal is also coming later this year in beta to help you connect with your most valuable, existing customers to increase retention.
Get your campaign in top shape before it starts running. Campaign prefills will offer customized suggestions for elements like assets and daily budget, which you can update at any time based on what works best for your business. Prefills are sourced from your website, past campaigns, and Google AI's predictions for what will perform well. Recommendations will also be integrated into the setup flow later this year to give you suggestions for what bid strategy and target to use.
Generate new, high-quality assets in Performance Max. We're introducing a revamped asset creation flow in Performance Max, powered by generative AI. Provide a few details to help Google AI learn about your business, and get multiple options for text and image assets that you can easily add to your campaigns. Throughout the process, you can revise or remove suggested assets. You can also direct AI to create more options based on your vision. Some of these updates will start rolling out on desktop to advertisers in English-speaking countries later in 2023. Need more creative ideas? You'll also get insights on which assets perform best, along with recommendations on where adding new assets would have the most impact.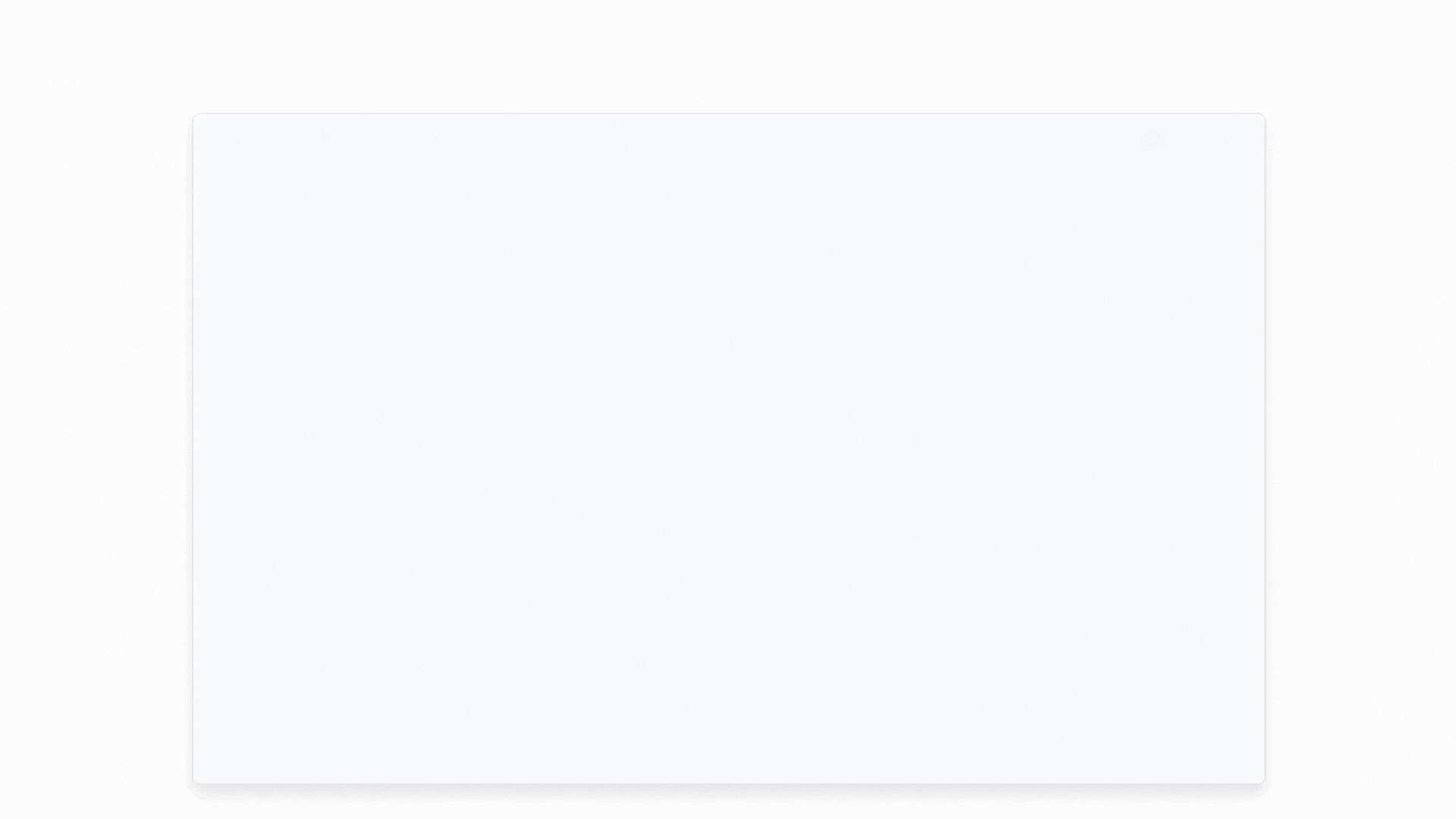 The new asset creation flow in Performance Max is powered by generative AI to help you build high-quality ad assets
Collaborate more effectively in Ads Creative Studio. New tools are coming to make it easier for creative and media teams to work together. Preview and export assets for Performance Max straight to Google Ads, and get best practices and specifications to ensure the creative is set up for success ahead of deployment. The new trends explorer in Ads Creative Studio will also help creative teams uncover the latest search trends and data to develop new creative ideas.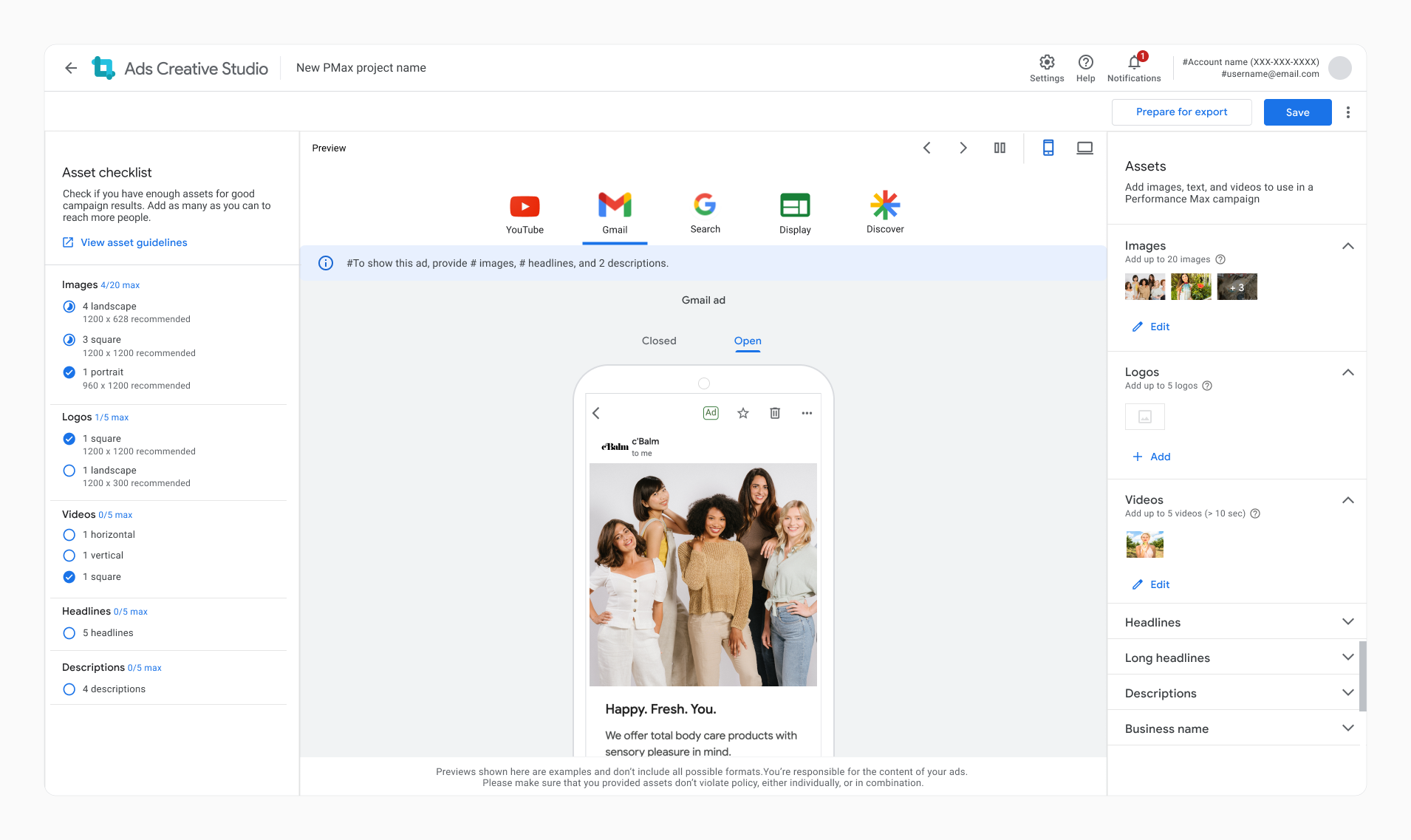 New features in Ads Creative Studio make it easier to ensure your Performance Max creative and assets are set up for success ahead of deployment
Experiment and unlock deeper insights to see what's driving performance
Run new types of experiments. A/B test different configurations within a single Performance Max campaign, such as enabling the final URL expansion feature so you can see how it performs. The beta will be available later this year.
Improved search term insights in the Insights page will include more search term categories than ever before to help you understand customer intent and how they're searching for your business. You'll be able to apply custom date ranges, view historical insights, and download them to dig deeper. They'll also be accessible through the Google Ads API in addition to the main Google Ads interface.
Improved performance insights in the Insights page will streamline several explanations and insights into one unified view, like change history and auction insights.
New asset insights will give you more details on your creative performance. For example, understand which creatives aren't resonating with certain audiences. And get recommendations to use new AI-generated assets or stock assets that may improve results.
Register and watch the TL;DR videos for Search and Performance Max to get more news on how to take your campaign performance to the next level.
Posted by The Google Marketing Live Team
1. Automatically created assets is currently in beta for English in Search campaigns and rolling out globally now for Performance Max.
2. Google internal data, Global, 3/9/2023 - 3/22/2023.
3. Average uplift in performance based on internal studies. Individual results may vary according to campaign details. Google Internal Data,Global, All Verticals A/B Test, Oct 2022-April 2023.