August 4, 2022
From planning fun summer getaways to planning for the holidays, savvy consumers are hopping between their favorite content platforms seeking serendipity. Along the way, your audience is also scrolling on Google's personalized surfaces—YouTube, Discover, and Gmail. In fact, 78% of feed users prefer to check Google feeds for the latest personalized updates relevant to their interests and daily life.1 We're excited to share the latest innovations from Discovery ads to help you keep your audiences engaged from now through the holiday season.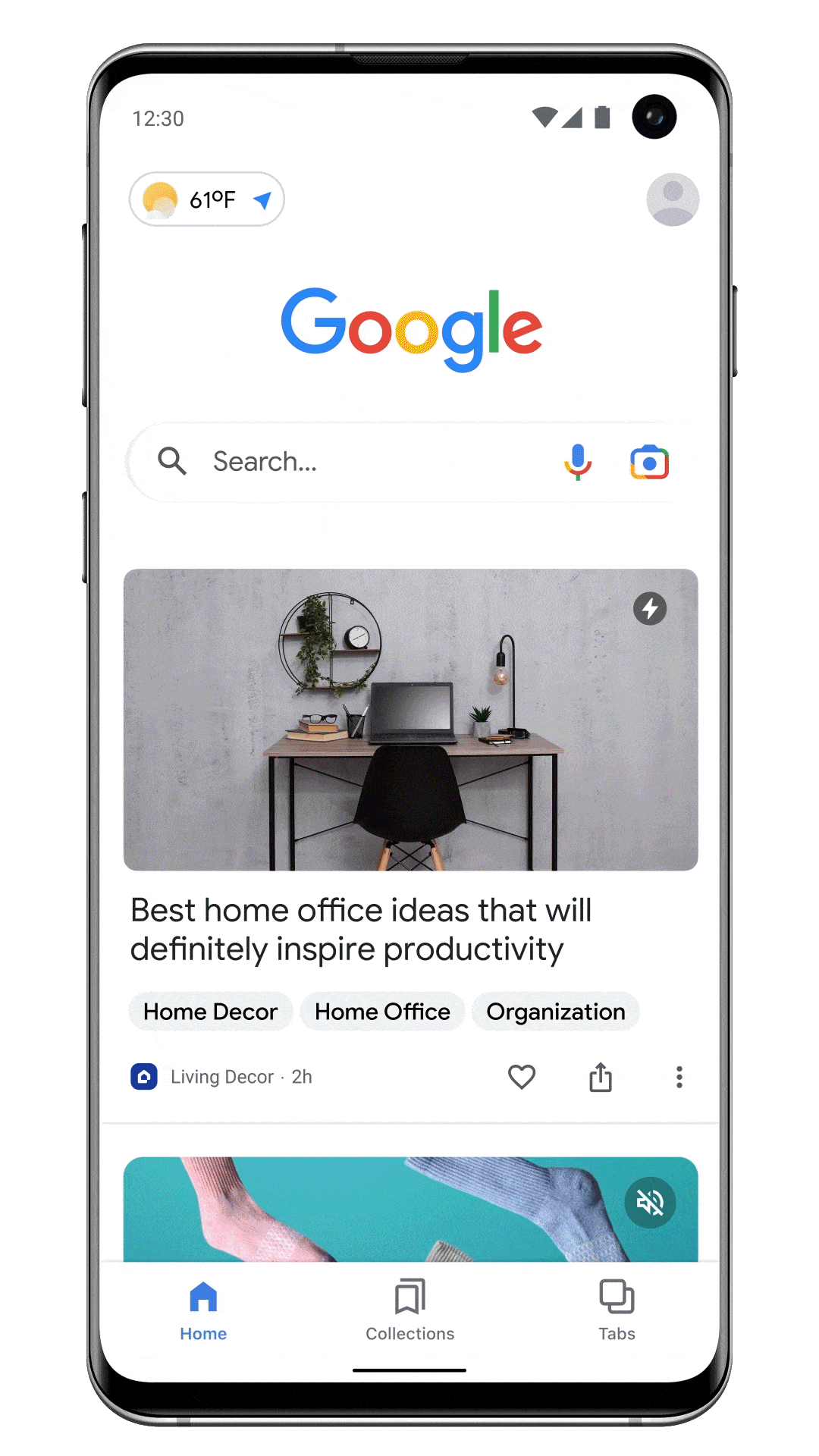 An example video ad for Bombas on Discover.
Modern and compelling ad experiences
Discovery ads offer several mobile layouts familiar to users who check their content feeds daily, like product carousels, lead forms, and portrait layouts. We're continuing to build on these rich ad experiences, like testing video ads on Discover to help brands craft more meaningful consumer moments in a helpful, non-intrusive way.
And if you're a retailer ramping up for the busiest shopping season of the year, we know that story-driven layouts drive more value when inspiring consumers to try something new. That's why we're exploring new ways to help you drive surprise and delight for shoppers with more aspirational imagery and shorter text. We're also working on making ad experiences more browseable in the Gmail Social and Promotions tabs by including richer details, like product images and prices. Here, machine learning matches the right asset to the right audience at the right time—dynamically telling your most effective story to potential customers in a bespoke content experience.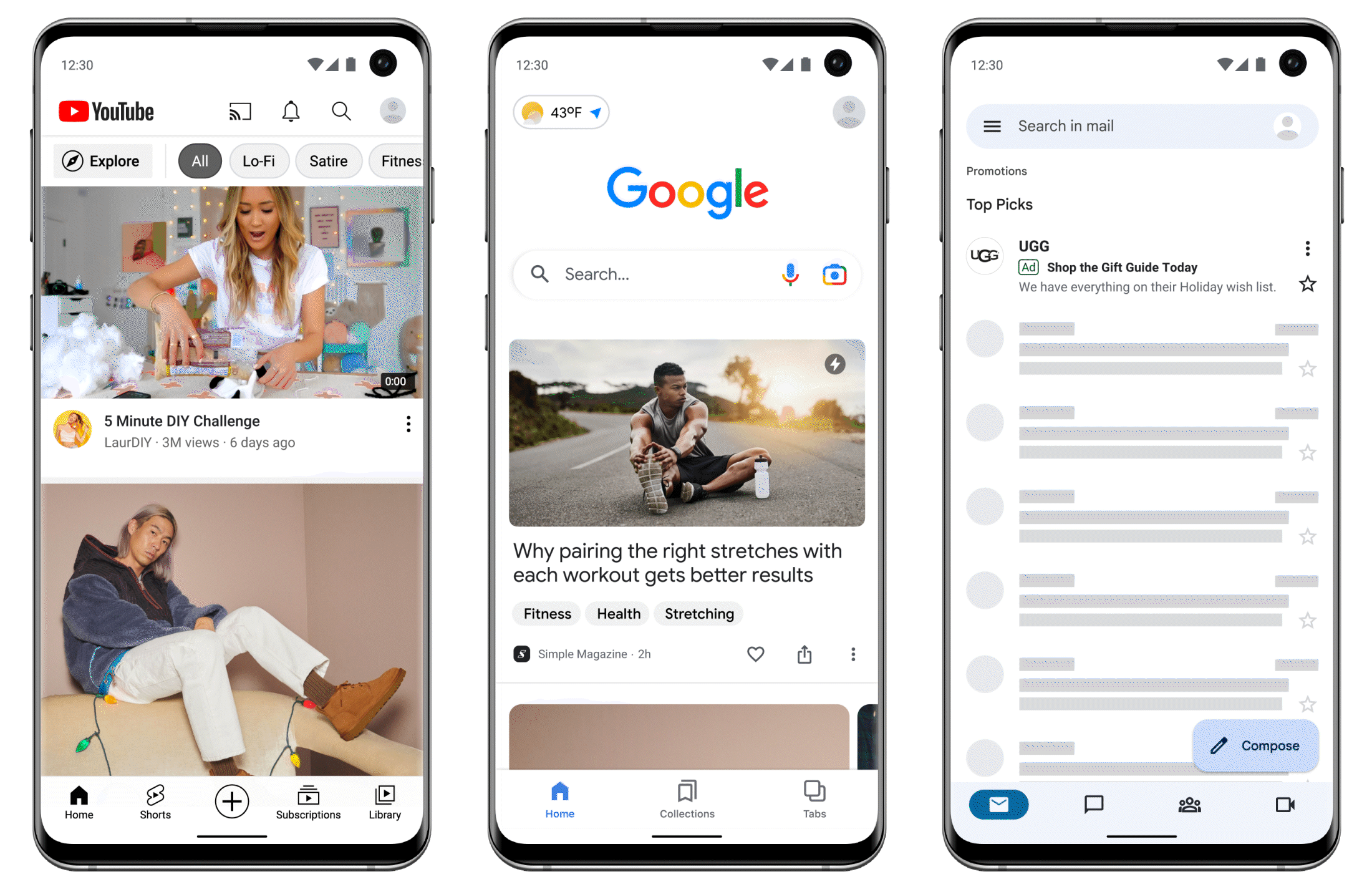 An example of UGG using product feeds for Discovery ads.
Deckers brand UGG turned to Discovery ads during the 2021 holiday season to drive sales and consideration for a wider range of products, like weather boots and outerwear. The lifestyle and apparel brand worked with digital marketing partner Jellyfish to re-engage previous website visitors, driving a 497% return on ad spend, 42% higher than its social media benchmark. UGG also saw conversion rates 46% higher than its traditional Discovery campaigns.
Says Michelle Hernandez, Director of Omnichannel Media, Deckers Brands, "Discovery ads' product-first, inspirational layouts helped us drive even better ROAS during our busiest season of the year." As a result, Discovery campaigns are now part of UGG's always-on media strategy.
Robust creative and campaign guidance
To make the lift and shift of your assets and audiences more seamless and help you craft more successful ads, we've rebuilt our onboarding flow from the ground up. During ad creation you'll see more detailed asset guidance like prompts to add more aspect ratios or unique headlines, and you can now add image assets with text overlays to help you deliver even clearer calls-to-action. Discovery ads now also offer even more of the same campaign insights available across Google Ads:
Get live feedback on your ad strength—with ratings from "Poor" to "Excellent" to help you focus your budget on the assets that matter most.
Plus, check out your campaign optimization score for an overview of actionable guidance for everything from disapproved assets to cost-focused budget tweaks.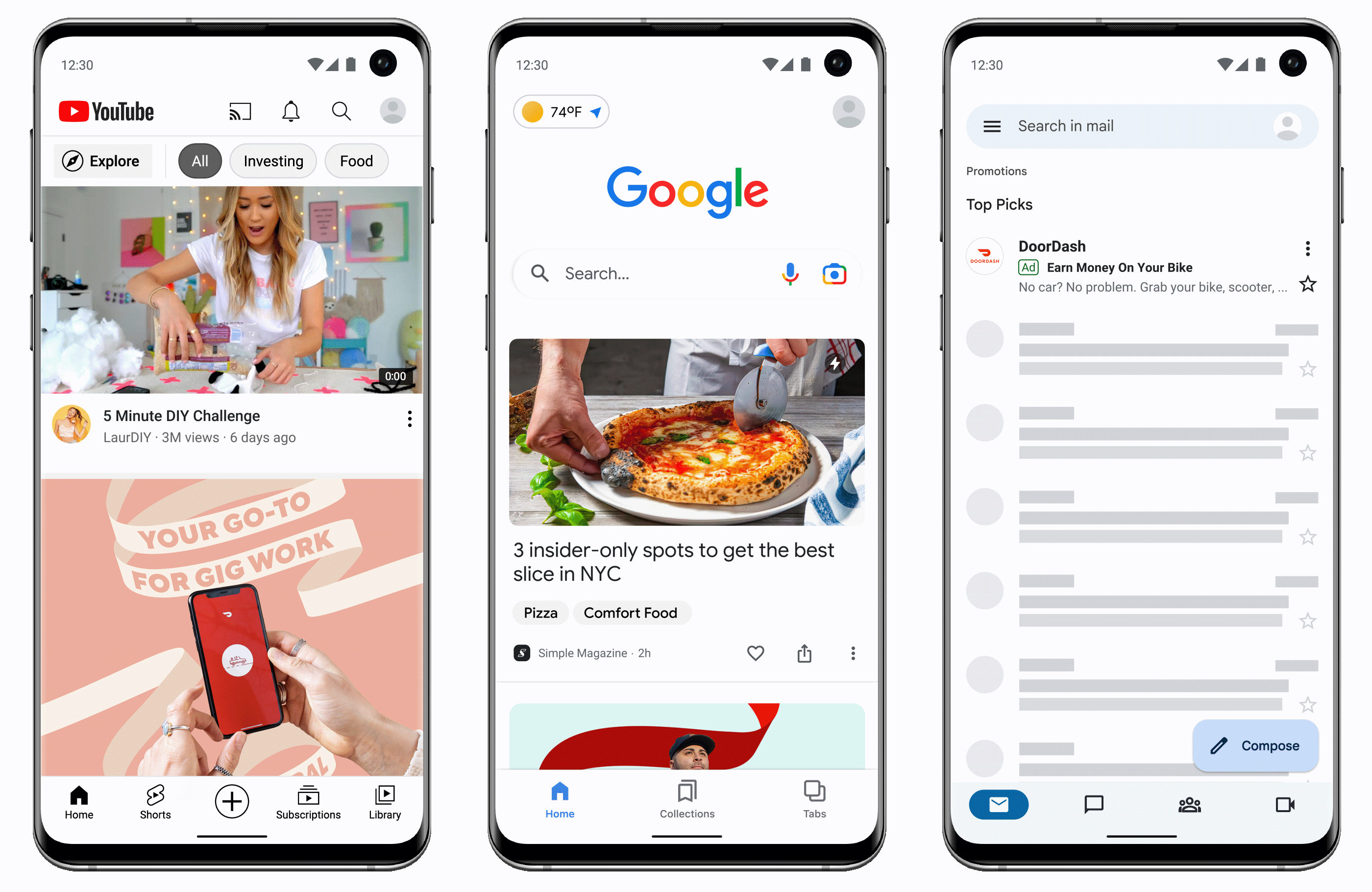 An example of Discovery ads for DoorDash.
We hope these insights empower you to make better decisions with your creative and audience strategy. Take food delivery platform DoorDash, which used insights from custom segments, in-market segments, and life events to connect with audiences more likely to be interested in becoming a Dasher—like people looking for a new job or shopping for a moped, or those looking to start a business.
DoorDash expanded its Discovery campaign investment in 2021, driving 28% more conversions alongside its paid social channels. "Discovery ads made it easy to scale our social strategy—from assets to audiences," says Bruno Reis, Senior Manager, Dasher Growth. "We've been able to connect with more job seekers to deliver economic opportunities—and we're thrilled at the growth we've seen in our Dasher community."
Audience insights and tools to help you scale
To help you connect to your own ideal customer with Discovery ads, we're pleased to share that you can now use the Insights page to see which audience segments deliver the biggest impact for your business. Pair this with creative tips from asset reporting to help you drive deeper engagement, and when you're ready to unlock more opportunities, use optimized targeting to scale your reach to consumers who are likely to convert.
Once you've found the perfect formula for the audience segments that matter most, applying what you've learned is also less manual—you can now use the Audience builder to create and reuse your audience strategy across campaigns. And if you're looking for more tools to help you save time with your Discovery ads, Google Ads Editor and API are now available to help you manage your campaigns at scale.
We're looking forward to sharing more insights, tools, and creative opportunities to help you showcase your brand to new audiences on Google's feeds in the coming months. In the meantime, be sure to check out our newly updated best practices guide for the latest tips to set your Discovery ads up for success. For even more storytelling inspiration, download the official Google Ads creative guide and visit our home for great creative examples on Think with Google. We hope these resources help you craft more compelling ads and drive better growth for your business.
Have a great rest of your summer!
Posted by Arthur Gerigk, Sr. Director of Product Management, Google Ads
1. Google/Ipsos, Google Feed Consumer Insights, April 2022, Online survey, US. Americans 18+ who use at least one Google feed (feeds defined as Google app, Chrome app, YouTube, Gmail) on a mobile device monthly or more often. Base: Feed users n=2,000