July 29, 2021
This year, consumers looking for back-to-school gear and supplies plan to shop both online and in-store to get everything they need. To reach these omnichannel shoppers, check out our top three local ad solutions.
Communicate convenience and deals
We see that more than 50% of North American back-to-school shoppers say they'll check for in-store inventory online before going into a store and 48% will shop at stores that offer curbside pickup or contactless shipping.1 Help shoppers find the things they need in nearby stores using local inventory ads. You can even show products that are available for immediate store pickup today, pickup later or curbside pickup. If you are not yet on local inventory ads, you can utilize your existing Shopping ads feed to power pickup later (beta).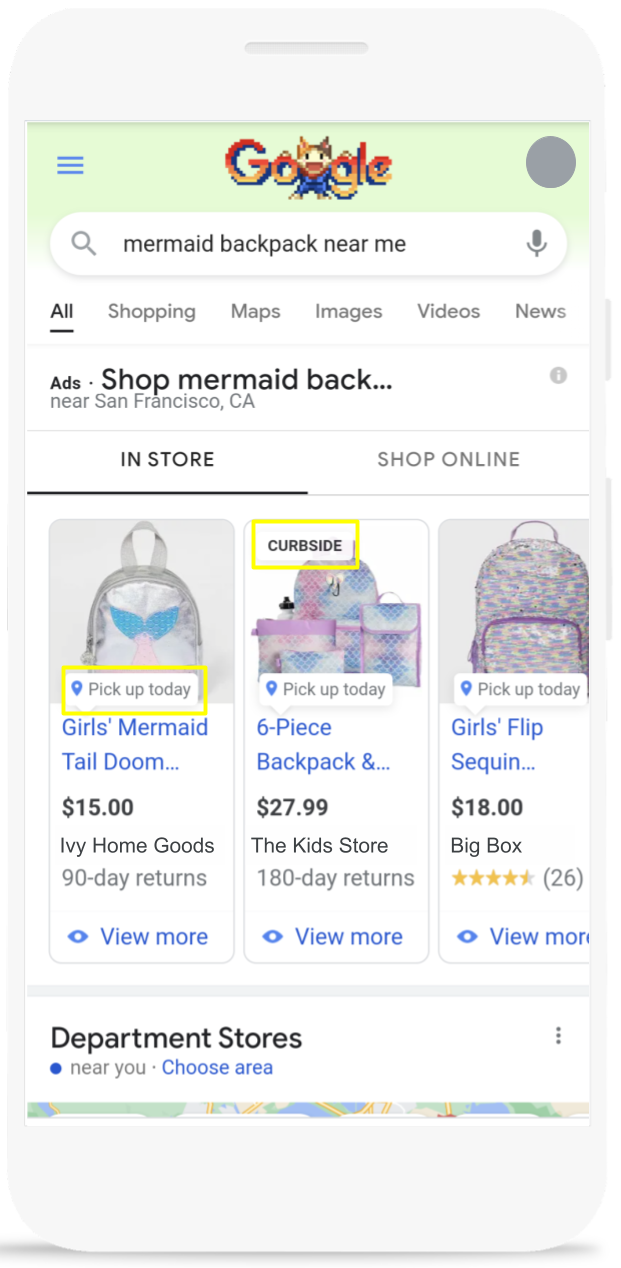 Promote products available for curbside or in-store pickup.
If you're an independent retailer and don't have a local inventory feed, you can use Pointy from Google to get products online and then run local inventory ads in just two clicks. Pointy is free for eligible retailers in the U.S., Canada, the UK & IE until September 30, 2021. Harley McIntire, owner of Family Feed says "[With Pointy and Local Inventory Ads], we now have regular customers that travel more than an hour one way to get specific products that they know we carry. I estimate our pet food sales, particularly the high end product lines, have increased 30% since the implementation of Pointy." Sign up here to get started.
Deals and discounts are also key this time of year. In fact, searches for "discount code" have increased over 50% since last year.2 You can promote your in-store discounts, like "20% off" or "buy one, get one free," using local promotions. All retailers participating in merchant promotions are eligible to serve local promotions and now, you can even allow customers to redeem promo codes in-store. Check out more ways to get your best deals on Google here.
Lay out your locations
60% of back-to-school shoppers plan to do at least a portion of their shopping at a small business this year.3 Local campaigns are a simple yet powerful solution for retailers of all sizes to promote their locations across Google Maps, Search, YouTube, Gmail and the Google Display Network. You can drive foot traffic for store reopenings, special in-store promotions, updated business hours and specific products that are available in nearby stores. Local campaigns measure and optimize specifically for store visits and/or local actions such as phone calls and clicks on driving directions to your store.

Promote in-store products using Local campaigns.
Optimize for omnichannel goals
Shoppers alternate between online and in-store so if you have physical locations, don't limit the reach and effectiveness of your online ads. Include store visits in Smart Bidding to help grow total sales, whether they happen online or in your stores. Smart Bidding automatically sets bids for each ad auction - in real time - based on your specific performance goals. You can optimize for omnichannel goals in your Search and Shopping campaigns.
To learn more about driving in-store sales with online ads, check out our Best Practices Guide.
Posted by Mayuresh Saoji, Sr. Product Manager
1. Google commissioned Ipsos COVID-19 tracker, North America ~n=494 online adults 18+ that have students or are students. June 27-30,2021
2. Google Data, Global English, Jan 26, 2021 - Mar 26, 2021 vs Jan 26, 2020 - Mar 26, 2020
3. Google commissioned Ipsos COVID-19 tracker, North America ~n=494 online adults 18+ that have students or are students. June 27-30,2021