May 27, 2021
We hope you caught the latest product updates, trends and best practices from Google Marketing Livestream. In case you missed it, watch the keynote and other sessions on demand.

Here's a quick recap of all the product announcements:

1. Drive better results across all of Google's channels with Performance Max campaigns. Reach out to your account team or complete this form if you're interested in joining the beta. Performance Max is expanding to thousands of additional advertisers. Right now, you can participate in the beta if your goal is to generate leads or to grow online sales without using a Google Merchant Center product feed (e.g. in industries like Entertainment, Technology, and Fitness). Retailers and marketers with physical business locations should continue using Smart Shopping and Local campaigns for the upcoming holiday season.
2. Learn more about your performance and customers on the Insights page. We're introducing the next version of the Insights page in the coming months, which will include three new types of insights: demand forecasts, consumer interest themes, and audience insights.


3. Use image extensions to make your Search ads more visual and engaging. These are now available globally. Learn more about updates to image extensions.
4. Create more personalized and relevant responsive search ads at scale with ad customizers. These are now available globally.
5. Reach and re-engage consumers with Customer Match. It's now available for nearly all advertisers to help you deliver more tailored ads in a privacy-safe way.
6. Optimize your bids to maximize value. Target ROAS bidding is now available for all advertisers using Video action campaigns. It will become available to advertisers using Discovery ads in the coming months.
7. Get more robust attribution reporting. In addition to Search and Shopping, touchpoints from Display and YouTube ads will soon be included in all attribution models, including data-driven attribution. We'll be integrating in-app conversions from those touchpoints as well.
8. Preserve accurate and complete conversion measurement. Set up enhanced conversions for a more accurate, privacy-safe view of performance–even when fewer cookies are available. Reach out to your Google account team if you'd like to join the beta. Learn more about future-proofing your measurement with new privacy-safe solutions.
9. Check your personalized feed in the Google Ads app for more customized information. In the next few months, you'll see new insights tailored to your business and educational content aligned with your campaign goals. You can even watch sessions from Google Marketing Livestream while you're on-the-go!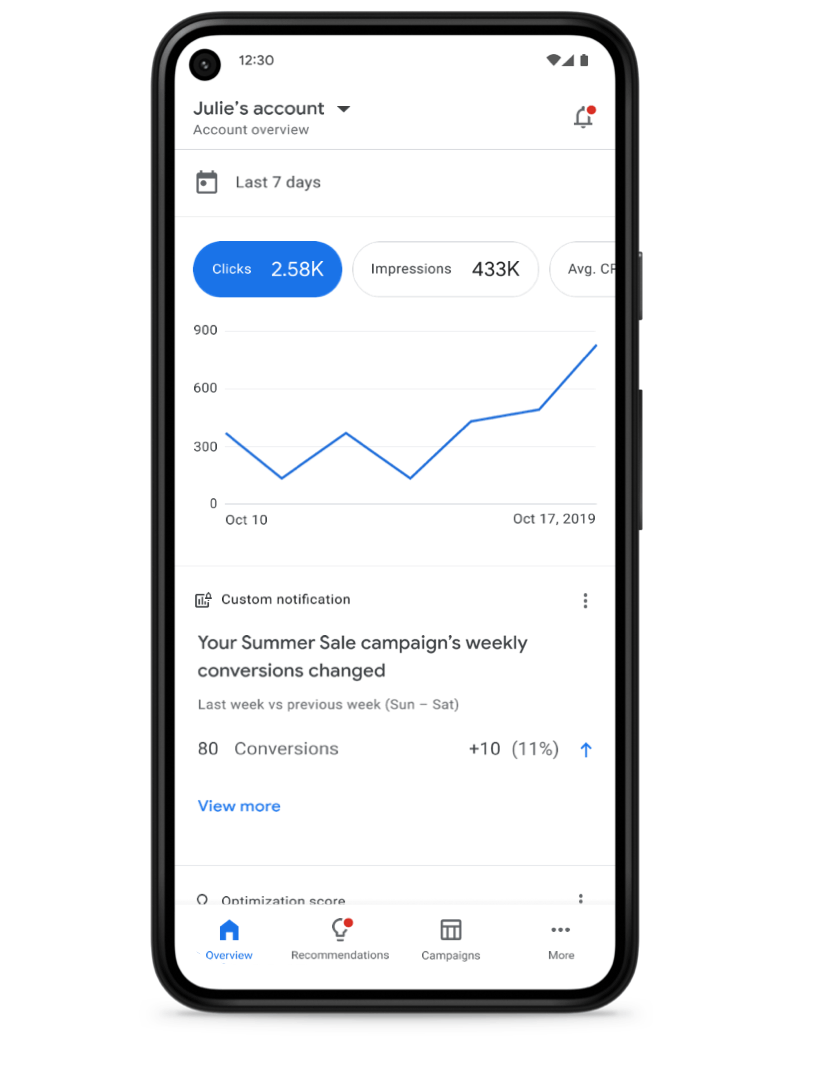 For travel advertisers driving hotel bookings:

10. Accelerate recovery and reach more travelers. In the coming weeks, we're updating hotel extensions to amplify your Search campaigns and help you expand your reach. We're also introducing vacation rental listings within the Hotel results page for a given destination and enhancing commissions (per stay) bidding to make it easier to find more qualified customers at a lower cost. Learn more about updates for travel
advertisers.

For advertisers driving sales at physical business locations:

11. Deliver more foot traffic with new local ad formats and bidding updates. Later this year, you'll be able to optimize for store visits in Video action campaigns, and for store sales in Local campaigns. Using Local campaigns, you can also access new ad formats on Google Maps to promote your business locations to more nearby consumers. "Pickup today" is now available to retailers using local inventory ads and "pickup later" is now in beta to help consumers collect their purchases from local businesses. Learn more about updates for advertisers with physical business locations..

For advertisers growing online sales:

12. Drive shopping inspiration and action across YouTube and Google. Connect your Google Merchant Center feed to showcase your top products in Video action campaigns. This will also become available for Discovery ads in the coming months.

For advertisers generating qualified leads:

13. Use the new OCI helper tool to implement offline conversion imports. OCI helper makes it easier and faster for your team to set up offline conversion imports, so you can improve your campaign optimizations to drive more qualified leads. It automates project management and provides detailed guidance for each stakeholder across every step.

For advertisers building brand awareness:

14. Plan and buy digital video more effectively. TV in Reach Planner helps you forecast the reach and frequency your campaign will deliver across TV, YouTube and Google Video Partners. This video planning tool will become fully available in more countries later this year. Video reach campaigns will also become globally available to all advertisers in the next few months. They help you drive efficient reach by serving the best combination of skippable, non-skippable, and 6-second bumper ads across YouTube and Google Video Partners.

For advertisers and developers promoting an app:

15. Show in-app content and products on YouTube. Feeds in App campaigns can now appear on YouTube to showcase more specific content in your app to interested audiences.

Catch up on sessions from Google Marketing Livestream. Visit the Advertising Solutions Center to browse content and resources tailored to your marketing objectives. We'll see you again next year!
Posted by The Google Marketing Livestream Team