May 27, 2021
Consumers now expect a more visual experience when they browse products and services online. In fact, 86% of consumers in surveyed countries around the world say they expect photos to be a feature businesses offer them when shopping online.1 Last year, we introduced image extensions to help you create a more visually engaging Search ad. Starting today, image extensions are available globally.

Search ad shown with an image extension
Showcase your brand with relevant visuals
Image extensions complement your Search ad with relevant visuals of your products and services. This makes it easy for people to learn about your business and take action–especially on mobile. Early results have shown that, on average, advertisers see a 10% increase in click-through rate when image extensions show with their mobile Search ads.2 You can showcase your brand using different types of images such as lifestyle visuals or product shots. By tapping these images, people will be taken directly to your site.
| | |
| --- | --- |
| | Estée Lauder was seeking ways to drive new and qualified visitors to esteelauder.com, and increase consideration for two popular product lines, Advanced Night Repair serum and Doublewear foundation. To inspire potential customers to learn more about these offerings, the brand turned to image extensions in August 2020. By adding relevant visuals that included product shots and lifestyle images to unbranded Search campaigns, Estée Lauder drove a 91% increase in click-through rate while seeing a 14% improvement in return on ad spend. |
To get started with image extensions, upload unique visuals that are related to your keywords and ads. If you're already running campaigns that use images in Google Ads, you can repurpose images that adhere to our creative guidelines.
| | |
| --- | --- |
| | Best Practice: To get the most from your image extensions, upload square and landscape images. This gives the system different options to choose from and more opportunities to show your visuals. |
Use rich visuals from your landing page
Dynamic image extensions use machine learning to automatically select the most relevant images from your ad's landing page and append them to your ad. Once you opt in, we'll add images from your landing pages to their corresponding ad groups in your Search campaigns. You can then review these images and remove any you don't want to show with your ads. Dynamic image extensions are currently available in English and will roll out in additional languages over the next few months.

Review dynamic image extensions created from your landing page
| | |
| --- | --- |
| | Best Practice: Create unique image extensions for priority campaigns and ad groups. Then, opt into dynamic image extensions for a quick way to add visuals to the rest of the ad groups in your account's Search campaigns. Image extensions will always serve over dynamic image extensions. |
Inspire people searching on YouTube
When your campaign is opted into search partners, image extensions are eligible to show with your ad in YouTube search results. This gives you an easy way to inspire potential customers while you expand the reach of your Search campaigns. By connecting with people as they search for videos related to your products and services, you can engage even more qualified customers.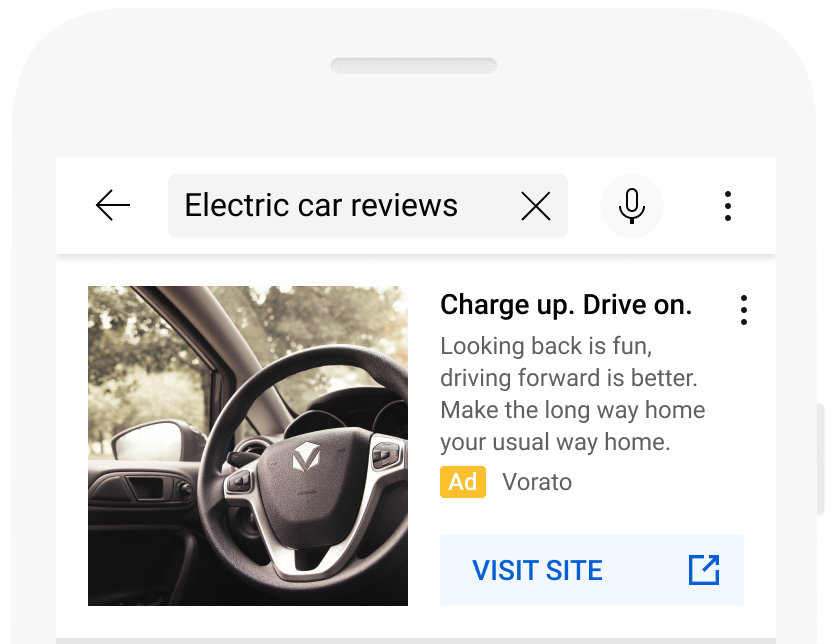 Search ad shown with an image extension in YouTube search results
Learn more about image extensions in the Google Ads Help Center.
Posted by Rushil Grover, Product Manager, Google Ads
1. Google commissioned Ipsos COVID-19 tracker, US, CA, UK, FR, DE, IT, AU, JP, RU, IN, CN, BR, MX, ES, ZA, KR ~n=300 online consumers 18+ per market. Jan 28-31, 2021
2. Google internal data, 3/5/2021 - 3/18/2021