Learn about new features and functionality in the release notes.
Meet the next generation of Google Analytics
As of October 14, 2020, a Google Analytics 4 property (formerly known as an "App + Web" property) is now the default when you create a new property. Universal Analytics refers to the previous generation of Analytics. This was the default property type for websites prior to October 14, 2020. Learn more.
2019-2020 releases:
September 29, 2020
More flexible reporting: Introducing event-scoped custom dimensions and metrics in App + Web Properties
Event-scoped custom dimensions and metrics are now available in Google Analytics App + Web properties. Previously similar functionality was presented as "custom parameter reporting", and individual registration was required for every event:parameter pair, which was both labor and quota intensive.
With this launch, registered parameters graduate to property-wide custom event-scoped dimensions or metrics, preserving all historical aggregates. Going forward, custom dimensions and metrics can be registered once at the property-level, simplifying the workflow and significantly preserving quota.
Parameter names will essentially be aliases for dimension/metric so that developers can focus on tracking meaningfully named data points.
With the scope of an existing custom dimension/metric having increased from event level to property level, we have preserved historical event-scoped aggregates, and new aggregates seamlessly extend historical aggregates. In cases where a parameter was registered for multiple events, we disambiguated between parameters by assigning a dimension/metric name that includes the currently assigned event name (e.g., "custom_dimension_name [event_name]"). As a best practice users should remove duplicate custom dimensions and metrics that were registered across multiple events to help preserve quota. Learn more
September 18, 2020
Visualize App + Web data in Data Studio
You can now add data from App + Web to your Data Studio reports and dashboards. You can visualize the fields available in the Google Analytics App+Web reporting API. These APIs are currently in trusted tester beta (to become a trusted tester, sign up here).
September 10, 2020
Chrome v85 Referrer Changes
In late August, Chrome is making user-centric privacy changes to referrer and browser-version fields. While these are positive changes, they impact Google Analytics' ability to report on organic referrals from Chrome. We recognize the value that organic traffic brings to our customers so in an effort to support Chrome's privacy changes and help our customers, moving forward we will rely on a list of established search engines to identify organic traffic. This list can be found in our help center. If there are search engines missing from this list, please follow the established process (also outlined in our help center) to get additional search engines approved.
We will continue to support Universal Analytics Custom Organic Search Sources. You may need to adjust your existing Custom Organic Search lists by removing the query parameter to support Chrome v85+ users.
As part of this change, clients will no longer know the exact subversion of Chrome in Google Analytics but will still know the browser and major version number.
This change impacts both Universal Analytics as well as our App + Web (beta) properties. Since we do not actively support our legacy ga.js tag, some Organic traffic will be categorized as Referral traffic moving forward. We encourage you to update your tagging to Google's global site tag to maintain visibility of Search Engines in Organic traffic reports. If you need to update your tags, this is also a good time to configure App + Web properties to reduce future implementation efforts.
September 3, 2020
A New Change History
We have updated Google Analytics' Change History feature to a new format that supports structured data output and detailed before-and-after states. Change History has also been expanded to support both Account and Property admins by offering versions that are scoped to each level.
Previously Change History was a free text feature that had different information depending upon what was being modified. Going forward, all changes will be recorded in a standard structure of: Who, What, Where, & When. The "Who" is the modifying user, be it a user or an automated process. The "What" is the object being modified. The "Where" is the location of the modification, be it an account- or a property-linked object. The "When" is the timestamp of the change, in your browser's timezone. This help center article explains how to use it.
For Objects that are implemented in the new Admin API (currently in alpha), we offer detailed before and after representations of the modified object. This enables new support journeys that require detailed representations of changes that may impact reporting or data exports.
With this new Change History, we hope to improve the support, security, and audit experience across Google Analytics.
August 21, 2020
Google Analytics Mobile App
We have redesigned the Google Analytics mobile apps to help you quickly access your Google Analytics data anywhere and anytime. The apps support both Universal Analytics and App + Web properties.
Please update to the latest version on Android and iOS as the old apps will stop working at the end of September.
July 24, 2020
New predictive capabilities in Google Analytics App + Web
We are introducing two new predictive metrics to App + Web properties. The first is Purchase Probability, which predicts the likelihood that users who have visited your app or site will purchase in the next seven days. And the second, Churn Probability, predicts how likely it is that recently active users will not visit your app or site in the next seven days. You can use these metrics to help drive growth for your business by reaching the people most likely to purchase and retaining the people who might not return to your app or site via Google Ads.
Analytics will now suggest new predictive audiences that you can create in the Audience Builder. For example, using Purchase Probability, we will suggest the audience "Likely 7-day purchasers", which includes users who are most likely to purchase in the next seven days. Or using Churn Probability, we will suggest the audience "Likely 7-day churning users", which includes active users who are not likely to visit your site or app in the next seven days.
In addition to building audiences, you can also use predictive metrics to analyze your data with the Analysis module. For example, you can use the User Lifetime technique to identify which marketing campaign helped you acquire users with the highest Purchase Probability. With that information you may decide to reallocate more of your marketing budget towards that high potential campaign.
In the coming weeks these metrics will be available in properties that have purchase events implemented or are automatically measuring in-app purchases once the necessary thresholds are met.
Cohort technique in Analysis: any events as inclusion/return criteria
We are rolling out 2 new features in the Analysis Cohort technique:
Any event as inclusion and return criteria
You can now select any event as an inclusion or return criteria for your analyses to discover unique insights such as:
How your newly acquired cohorts convert on the event that is most relevant to your business (e.g. purchases):


How cohorts of different user segments behave along important journeys, like comparing level completion rates of free and paid users:

Natural-language titles
Dynamic charts titles that accurately describe the results of your cohort analysis. You will see above the cohort results a sentence that describes the data displayed and changes as you change the tab settings.
The dynamic title of the first example above is highlighted here:
June 26, 2020
Bot-traffic exclusion in App + Web properties
We have started automatically excluding bot traffic from your App + Web properties. Bot traffic is identified using a combination of Google research and the International Spiders and Bots List, maintained by the Interactive Advertising Bureau (IAB). In Universal Analytics, users had to enable bot exclusion per property. Automatic exclusion ensures, to the best of our ability, that your Analytics data in your App + Web properties does not include events from known bots. You can find more information in this Help Center article.
June 12, 2020
Conversions Details report upgrade
We have upgraded the Conversions Details page to support advanced analysis and ensure consistency with the rest of App + Web reporting. You can apply comparisons (which let you compare and filter data) and secondary dimensions to your conversions data, similar to other App + Web reports.
May 29, 2020
Audience limit for App + Web properties increased from 50 to 100
As part of a regular audit of feature usage, we have increased the number of audiences you can create in an App + Web property from 50 to 100.
May 20, 2020
Pre-defined search queries in App + Web properties
You can now simply click on predefined search queries to get quick insights about your Google Analytics data. Google Analytics Search lets you ask a wide range of questions about your Analytics data in natural language, and get instant answers.
April 21, 2020
Pre-defined templates for creating custom insights in App + Web properties
The new pre-defined templates for custom insights will help you set up up to five custom insights with one-click. Custom insights are used to monitor unexpected behavior of core business metrics. Learn more
Performance cards on Behavior dashboard
There are two new Performance cards and reports in the default reporting view for App + Web properties. These help answer questions like:
Where is the traffic coming to my website coming from? Does content on this page need to be improved?

Metrics: Conversions, Interaction with a Specific Event

How are my different paid media channels performing against each other?

This includes both Google and non-Google campaigns.
Metrics: Best/Worst Performing Campaigns, Best/Worst Performing Audiences, Cost/Conversions across all Campaigns
Updated Google Ads linking flow
We have updated and improved the Google Ads linking workflow from App + Web properties. This new linking experience offers streamlined workflows to create, edit, or delete links, and provides a consistent and consolidated view across all existing Google Ads account links.
April 3, 2020
ecommerce_purchase events are now configurable as conversions
If ecommerce_purchase is already a conversion in your property, it will remain a conversion (with the option to unmark it as one). New properties have the option to mark ecommerce_conversion as a conversion (similar to any other event)
This is a follow up to purchase becoming a default conversion and unifies purchase across app and web, minimizing confusion and configuration errors.
March 20, 2020
Analytics Intelligence Search History
Analytics Intelligence Search History is stored for better personalization of Analytics search results. You can now see activity saved in your account by clicking Admin, and then in the Property column, clicking Analytics Intelligence Search History.
Users with Edit permission can delete any or all of the past search activity on a property
Advanced edits in Analysis
The new "Edit in Analysis" functionality in the App + Web Analysis module allows for easier exploration of your Analysis reports without having to rebuild them.
If you need to make an edit or change to any Exploration report, for example, change to a different visualization, look at different segments of your users, or break data down by more dimensions, you can now click Edit in Analysis in the customization panel to recreate the same report.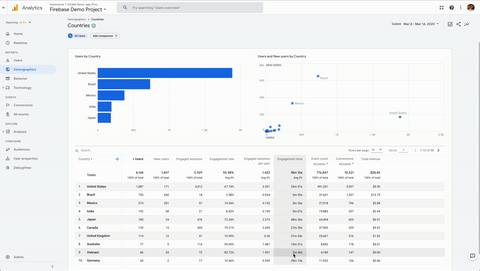 March 6, 2020
Cohort technique in Analysis
The new Cohort technique in the Analysis module in App + Web properties allows for a more granular understanding of user behavior over time across different cohorts.
This technique allows for granular analyses of user behavior over time across different cohorts. It's now possible for users to answer questions like:
Among the users acquired last week, how many purchased, and how long did it take to purchase after they were acquired? How is this behavior different from users acquired the previous week?
Do users acquired during Black Friday week generate more revenue over time compared to users acquired in other weeks?
Among users who made a purchase last week, how many purchased again after that, and how long after the first purchase? How does this behavior change over time?
Learn more, or try it out in your App + Web property in "Cohort analysis" within the Analysis module.
New Realtime reporting in App + Web properties
All App + Web properties now have a new Realtime reporting experience. You can create comparisons with Realtime data, and see how users move through your marketing funnel, from acquisition to purchase, in real time, so you can take action faster.
February 21, 2020
Deprecation of Network Domain and Service Provider Data Fields
Starting February 4, 2020, the Network Domain and Service Provider data fields are no longer populated. The fields will remain in the product for legacy usage, but will no longer be updated.
As we continue to evolve our product, we regularly review how we process and make data available, and this change was a result of this examination.
If you relied upon these fields for spam detection, be sure you have enabled Bot/Spider filtering in your View settings. Google Analytics is constantly working to ensure the cleanest and safest data environment for our users, and will continue this process.
February 7, 2020
Paths to a selected event (backward pathing)
New functionality within Path Analysis (in the Analysis module) in App + Web properties lets you select a desired event or page and explore how your users got to it.
You can select an event, like a purchase or conversion, and analyze the different paths your users take to reach that event and use that insight to improve the user experience.
For example, you may determine unexpected paths to purchase outside your intended purchase funnel, uncovering user behavior that will help you streamline your site.
Or, you can select an event you want to avoid, like an app uninstall, and see the sequence of events that preceded that action so you can optimize the user experience and reduce uninstalls.
January 23, 2020
Web conversions enabled for bidding in Google Ads
As a follow-up to the launch of web-conversion export from App + Web properties, conversions exported to Google Ads (except for remarketing conversions) will by default be enabled for bidding moving forward. Conversions previously exported will be editable in Google Ads so Advertisers can manually enable them for bidding.
A notice will appear in your Google Ads account:
Use the following column in your Google Ads account to enable bidding:
Up to 14 months retention of event and user data for Analysis in App + Web properties
Analysis in App + Web properties just got a lot more powerful. You can now enable up to 14 months of retention for user-level and event-level data so you can conduct longer term analysis. Learn more
By changing the settings in the Admin panel as shown below to 14 months, your event-level data will stop expiring at the 2-month mark, and you will be able to run analyses over a longer time range.
As data accumulates over time in your App + Web property, you will be able to:
Run analyses over a full quarter or year
Compare key metrics vs. the same month last year to identify trends net of seasonality
Look for user behavior in Funnels and Pathing over a longer period of time
To enjoy this new data-retention policy, you have to enable it in the Admin panel (Admin > Property column > Data Settings > Data Retention). Event-level data will continue to be deleted after 2 months until you perform this change.
December 23, 2019
New search functionality in App + Web properties
You can now do the following with search in App + Web properties:
Navigate to pages within Admin. For example, if you want to add a new user to your App + Web property, simply search "add user" to see the relevant user-management page in the search results.


Search for configuration details like Measurement ID (also known as Tracking ID in Web properties), Property ID or Account ID.


See relevant App + Web specific help articles right in the search results.


Use assistive auto-complete suggestions by pressing Tab to search faster.
Purchase events are now conversions by default
App + Web properties now have purchase events marked as conversions by default. This ensures that important transactions that happen on a website are automatically included in the Conversions report to help you understand how your marketing efforts are driving these transactions (similar to ecommerce_purchase for apps). This also ensures that purchase events are automatically available for import in Google Ads for properties that are linked to Google Ads.
December 9, 2019
Get instant answers via search
You can now ask questions about your Analytics data in natural language, and get quick answers to a wide range of questions. While searching for instant answers, be specific about the metric, dimension, and timeframes to get the desired response. For example, you can search for "conversions from united states last week" and see the answer in the search results. Click a search result to open the Insights panel and get more details. Learn more
NPA events and user properties
You can now mark specific events and user properties as "NPA" (non-personalized advertising signals) to signify that this data should not be used for personalized advertising purposes, while preserving measurement and content-personalization use cases. Learn more
November 14, 2019
Multiple Web Streams in App + Web properties
You can now create multiple web streams in App + Web properties (for a total of 50 streams across app and web). This release lets you measure multiple websites in the same property and distinguish them within the reporting interface. We expect this to be useful in properties where users want to analyze multiple sources of data independently. Learn more
Web-conversion export in App + Web properties
You can now export your web conversions from Google Analytics App + Web properties to Google Ads to use in reporting and bidding. Previously, this feature was only available for app conversions (Firebase). With this release we now have parity in actionability in Google Ads between app and web conversions from Google Analytics App + Web properties. Learn more
November 1, 2019
Insights
You can now see automated insights, metric changes that Analytics identifies as important to your business, and also create custom insights that are triggered by metric changes for which you set thresholds. Insights gets smarter over time as it learns about your business. Learn more
Analysis
Paths along unique nodes now allow you to perform a path analysis that displays only the changing values of your nodes.
For example, if you want to see how your users navigate through the pages on your website or screens in your app and there are multiple events tracked for each page or screen, this option within Path analysis displays only one node for each page or screen, even if the user completed many consecutive events on that page or screen. However, if the user then comes back to that page or screen after they've opened another page or screen, it will appear again as a unique node in the path. Learn more