Learn about new features and functionality in the release notes.
2019-2020 releases:
March 20, 2020
Analytics Intelligence Search History
Analytics Intelligence Search History is stored for better personalization of Analytics search results. You can now see activity saved in your account by clicking Admin, and then in the Property column, clicking Analytics Intelligence Search History.
Users with Edit permission can delete any or all of the past search activity on a property
Advanced edits in Analysis
The new "Edit in Analysis" functionality in the App + Web Analysis module allows for easier exploration of your Analysis reports without having to rebuild them.
If you need to make an edit or change to any Exploration report, for example, change to a different visualization, look at different segments of your users, or break data down by more dimensions, you can now click Edit in Analysis in the customization panel to recreate the same report.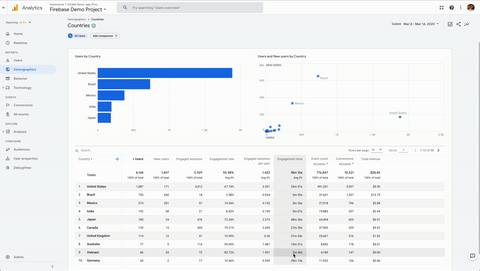 March 6, 2020
Cohort technique in Analysis
The new Cohort technique in the Analysis module in App + Web properties allows for a more granular understanding of user behavior over time across different cohorts.
This technique allows for granular analyses of user behavior over time across different cohorts. It's now possible for users to answer questions like:
Among the users acquired last week, how many purchased, and how long did it take to purchase after they were acquired? How is this behavior different from users acquired the previous week?
Do users acquired during Black Friday week generate more revenue over time compared to users acquired in other weeks?
Among users who made a purchase last week, how many purchased again after that, and how long after the first purchase? How does this behavior change over time?
Learn more, or try it out in your App + Web property in "Cohort analysis" within the Analysis module.
New Realtime reporting in App + Web properties
All App + Web properties now have a new Realtime reporting experience. You can create comparisons with Realtime data, and see how users move through your marketing funnel, from acquisition to purchase, in real time, so you can take action faster.
February 21, 2020
Deprecation of Network Domain and Service Provider Data Fields
Starting February 4, 2020, the Network Domain and Service Provider data fields are no longer populated. The fields will remain in the product for legacy usage, but will no longer be updated.
As we continue to evolve our product, we regularly review how we process and make data available, and this change was a result of this examination.
If you relied upon these fields for spam detection, be sure you have enabled Bot/Spider filtering in your View settings. Google Analytics is constantly working to ensure the cleanest and safest data environment for our users, and will continue this process.
February 7, 2020
Paths to a selected event (backward pathing)
New functionality within Path Analysis (in the Analysis module) in App + Web properties lets you select a desired event or page and explore how your users got to it.
You can select an event, like a purchase or conversion, and analyze the different paths your users take to reach that event and use that insight to improve the user experience.
For example, you may determine unexpected paths to purchase outside your intended purchase funnel, uncovering user behavior that will help you streamline your site.
Or, you can select an event you want to avoid, like an app uninstall, and see the sequence of events that preceded that action so you can optimize the user experience and reduce uninstalls.
January 23, 2020
Web conversions enabled for bidding in Google Ads
As a follow-up to the launch of web-conversion export from App + Web properties, conversions exported to Google Ads (except for remarketing conversions) will by default be enabled for bidding moving forward. Conversions previously exported will be editable in Google Ads so Advertisers can manually enable them for bidding.
A notice will appear in your Google Ads account:
Use the following column in your Google Ads account to enable bidding:
Up to 14 months retention of event and user data for Analysis in App + Web properties
Analysis in App + Web properties just got a lot more powerful. You can now enable up to 14 months of retention for user-level and event-level data so you can conduct longer term analysis. Learn more
By changing the settings in the Admin panel as shown below to 14 months, your event-level data will stop expiring at the 2-month mark, and you will be able to run analyses over a longer time range.
As data accumulates over time in your App + Web property, you will be able to:
Run analyses over a full quarter or year
Compare key metrics vs. the same month last year to identify trends net of seasonality
Look for user behavior in Funnels and Pathing over a longer period of time
To enjoy this new data-retention policy, you have to enable it in the Admin panel (Admin > Property column > Data Settings > Data Retention). Event-level data will continue to be deleted after 2 months until you perform this change.
December 23, 2019
New search functionality in App + Web properties
You can now do the following with search in App + Web properties:
Navigate to pages within Admin. For example, if you want to add a new user to your App + Web property, simply search "add user" to see the relevant user-management page in the search results.


Search for configuration details like Measurement ID (also known as Tracking ID in Web properties), Property ID or Account ID.


See relevant App + Web specific help articles right in the search results.


Use assistive auto-complete suggestions by pressing Tab to search faster.
Purchase events are now conversions by default
App + Web properties now have purchase events marked as conversions by default. This ensures that important transactions that happen on a website are automatically included in the Conversions report to help you understand how your marketing efforts are driving these transactions (similar to ecommerce_purchase for apps). This also ensures that purchase events are automatically available for import in Google Ads for properties that are linked to Google Ads.
December 9, 2019
Get instant answers via search
You can now ask questions about your Analytics data in natural language, and get quick answers to a wide range of questions. While searching for instant answers, be specific about the metric, dimension, and timeframes to get the desired response. For example, you can search for "conversions from united states last week" and see the answer in the search results. Click a search result to open the Insights panel and get more details. Learn more
NPA events and user properties
You can now mark specific events and user properties as "NPA" (non-personalized advertising signals) to signify that this data should not be used for personalized advertising purposes, while preserving measurement and content-personalization use cases. Learn more
November 14, 2019
Multiple Web Streams in App + Web properties
You can now create multiple web streams in App + Web properties (for a total of 50 streams across app and web). This release lets you measure multiple websites in the same property and distinguish them within the reporting interface. We expect this to be useful in properties where users want to analyze multiple sources of data independently. Learn more
Web-conversion export in App + Web properties
You can now export your web conversions from Google Analytics App + Web properties to Google Ads to use in reporting and bidding. Previously, this feature was only available for app conversions (Firebase). With this release we now have parity in actionability in Google Ads between app and web conversions from Google Analytics App + Web properties. Learn more
November 1, 2019
Insights
You can now see automated insights, metric changes that Analytics identifies as important to your business, and also create custom insights that are triggered by metric changes for which you set thresholds. Insights gets smarter over time as it learns about your business. Learn more
Analysis
Paths along unique nodes now allow you to perform a path analysis that displays only the changing values of your nodes.
For example, if you want to see how your users navigate through the pages on your website or screens in your app and there are multiple events tracked for each page or screen, this option within Path analysis displays only one node for each page or screen, even if the user completed many consecutive events on that page or screen. However, if the user then comes back to that page or screen after they've opened another page or screen, it will appear again as a unique node in the path. Learn more