Gain deeper insights about your users and their journeys.
Analysis is a collection of advanced analysis techniques that go beyond the standard reports to help you uncover deeper insights about your customer's behavior.
Analysis is available for all Google Analytics 4 properties. Google Analytics 360 customers can use the
beta version of Analysis
on Universal Analytics properties.
With Analysis, you can:
quickly perform ad hoc queries
easily configure and switch between techniques
sort, refactor, and drill down into the data
add and remove dimensions and metrics
use filters and segments to hone in on the data that's most relevant to you
Once you've discovered interesting data sets, you can export them as Google Analytics segments or audiences. You can share your analyses with stakeholders throughout your organization and beyond. You can also export the data for use in other tools.
In this article:
Access Analysis
On the left near the bottom, select Analysis.

The Analysis Hub appears.
Learn how to create and edit analyses.
How Analysis works
The Analysis hub contains all the analyses you've created, or that have been shared with you. You can get started quickly by opening one of the analysis templates.
An analysis consists of one or more tabs, each of which displays your data using a specific technique.
Analysis currently supports the following techniques:
Exploration presents your data in a familiar crosstab layout. You can also apply several different visualization styles in an Exploration, including bar charts, pie charts, line charts, scatter plots and geo maps. Learn more.
Cohort analysis helps you gain insights from the behavior and performance of groups of users related by common attributes.
Funnel analysis visualizes your users' journeys through your site or app. Use funnels to optimize your user experience and identify over- or under-performing audiences. Learn more.
Segment overlap uses Venn-style diagrams to show how different user segments relate to each other. Use this technique to identify new segments of users who meet complex criteria. Learn more.
User explorer shows you the users that make up the segments you create or import. You can also drill down into individual user activities. Learn more.
Path analysis displays your users' journeys in a tree graph. Use path analysis to explore how your users interact with your website and app. Learn more.
User lifetime analyzes user behavior and value over their lifetime as a customer. Learn more.
Sampling and data thresholds
You can use Analysis to quickly perform custom queries on large amounts of data. However, your analyses may be based on sampled data if more than 10 million events are part of a particular analysis query.
To protect user privacy, Analysis and Reports are subject to data thresholds. If your analysis includes demographic information or data provided by Google signals, the data may be filtered to remove data that might identify individual users.
When an analysis is subject to either sampling or data thresholds, the icon in the right corner of the analysis changes from green to yellow. A tooltip displays information about the data in the analysis.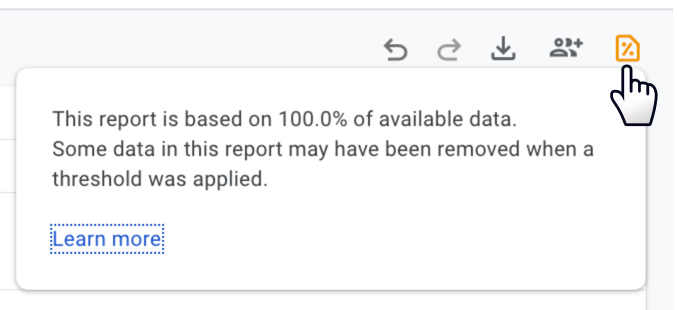 Limits of Analysis
Analysis is subject to the following limits:
You can create up to 200 individual analyses per user per property.

You can create up to 500 shared analyses per property.

You can apply up to 10 segments per analysis.
You can apply up to 10 filters per tab.