Starting November 1, 2021, monetizing creators must turn on 2-Step Verification on the Google Account used for their YouTube channel to access YouTube Studio or YouTube Studio Content Manager. Learn more
YouTube Studio is the home for creators. You can manage your presence, grow your channel, interact with your audience, and make money all in one place.
You can also use
YouTube Studio
with the YouTube Studio app on your mobile device.
Open YouTube Studio
You can go directly to YouTube Studio or follow these steps to get to YouTube Studio:
Sign in to YouTube Studio.
In the top right, select your profile picture .
Select YouTube Studio.​
Note: You might be asked to re-authenticate when logging in.
Dark theme allows you to tone down your screen's glare and experience YouTube Studio with a dark background.
Sign in to YouTube Studio.
In the top right, select your profile picture .
Select Appearance Dark Theme. You can also choose "Use device theme" to use your device's dark theme setting.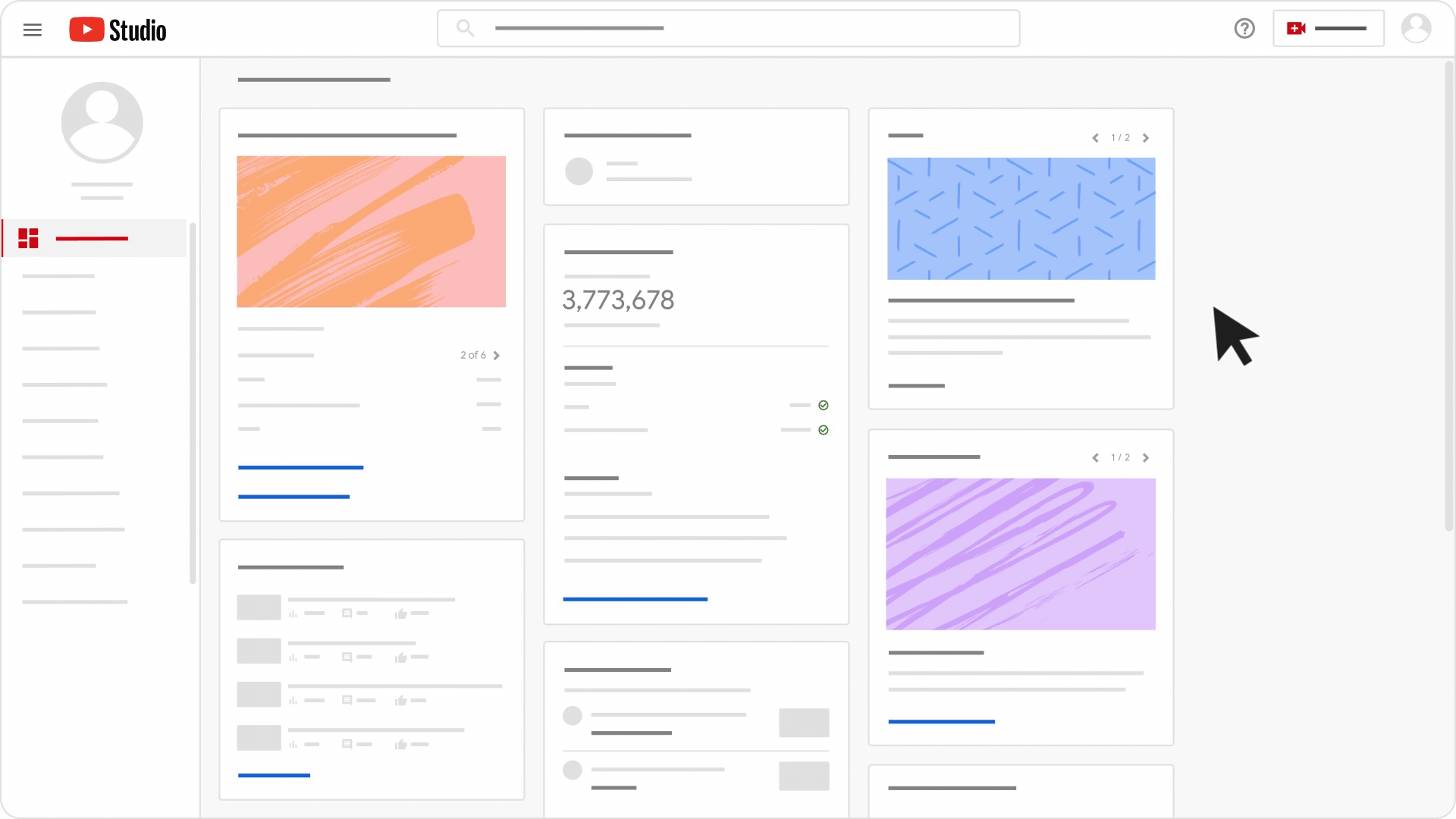 Get around
Use the top of the screen in YouTube Studio to:
​ Search your videos and go directly to a video detail page
Upload a new video or go live
Get help
Visit your channel, return to YouTube, switch accounts, or sign out
Manage your channel
Use the left menu to manage your videos and channel.
Channel dashboard: Get a high-level overview of new activity on your channel, along with what's new on YouTube.
Content: Find an overview of your videos and live streams.
Playlists: Create and manage your playlists.
Analytics: Monitor the performance of your channel and videos with metrics and reports.
Comments & Mentions
Subtitles: Add subtitles to videos or crowdsource them from your community.
Monetization: (If eligible) Update merchandise and memberships settings.
Customization: Customize your channel's layout, branding, and basic info.
Audio Library: Get music and sound effects to use in your videos.
Note:
Sign up to join our YouTube Creators Research program to help build a better YouTube for Creators.
Learn more
.
Manage your videos
In YouTube Studio, you'll see different tabs in the left menu depending on whether you're viewing your entire channel, or a specific video. To manage a specific video, visit the Content page and click the video's thumbnail. You can also use the search bar to find a video.
Details: Change your video's title, description, and settings.
Analytics: See metrics available at the video level.
Editor: Trim your videos, add end screens, add audio tracks, and blur your videos.
Comments: View and reply to comments on that video.
Subtitles: Add translated titles and descriptions to your videos.
Navigation tips
Switch between the video and channel levels
Some tools, like the video editor, only appear when you've selected a specific video. To see more options, try switching between the channel and video levels.
To view options at the video level, click a video's title or thumbnail. To return to the channel level, select the back arrow in the top-left corner of YouTube Studio.
Quickly open your channel or video
To open your channel homepage, click your profile picture in the top-left corner of YouTube Studio.
If you're editing an individual video, you'll see the video thumbnail instead. To quickly open your video's watch page, click this video thumbnail.
Search for your videos
To find videos quickly, use the search bar at the top of YouTube Studio. You can also find videos on the Content page.
Hover over info to see more options
View on YouTube
, Analytics
, Comments

, and Options
icons will occasionally show when hovering over certain info in YouTube Studio.
View on YouTube icons allow you to quickly view your video on YouTube.
Analytics icons let you jump to a particular video's analytics.
Comments icons take you to your video's comments.
Options icons reveal several actions you can take.
Get the latest updates
Get help
At the top of the screen, select Help

.
Send feedback
Sign in to YouTube Studio.
In the left menu, select Send feedback.
Type in your feedback and select Send.