Release notes for 2021.
Request new features or upvote existing feature requests
here
.
See older releases
March 4, 2021
Product updates
Recent projects tab in BigQuery connector
It's now easier to connect to your BigQuery projects. The new Recent projects tab shows you up to 50 projects you've accessed recently in the GCP Cloud Console.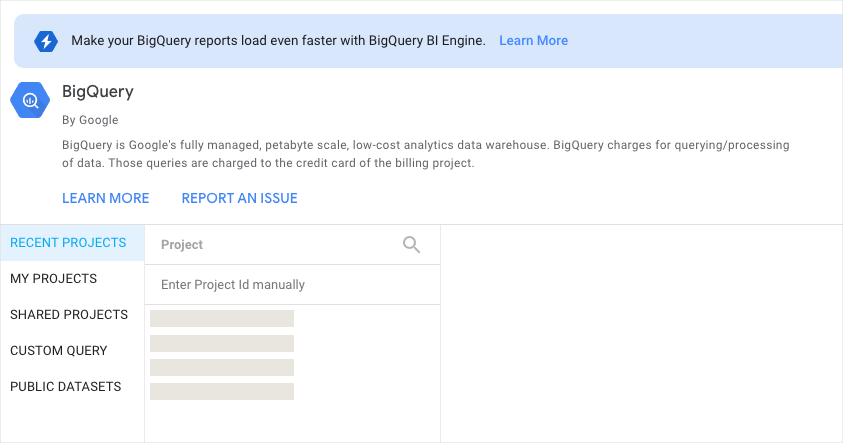 February 25, 2021
Product updates
New page navigation styles
You now have more control over the look and positioning of the page navigation in your reports. Choose between 4 styles:
Left
Pages appear in a collapsible drawer in the left margin of your report.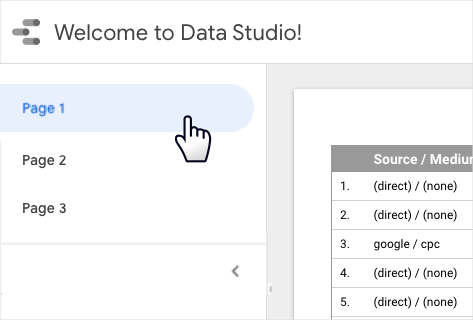 Tab
Pages appear as tabbed links at the top of the report.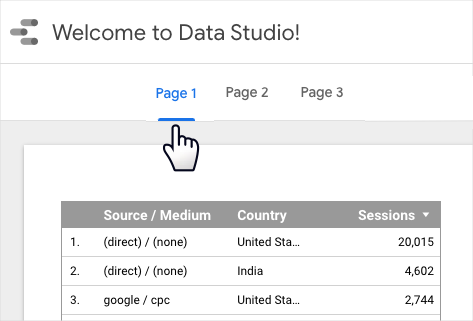 Dropdown
Pages appear in a drop-down menu above the report.
Hidden
No page navigation is displayed.
Chart data label compact numbers and decimal precision
You can now use compact numbers and set decimal precision for data labels in time series, bar, line/combo, and area charts. Note that these settings apply to the data labels in your charts. Tooltips ("hover cards") show the full metric value.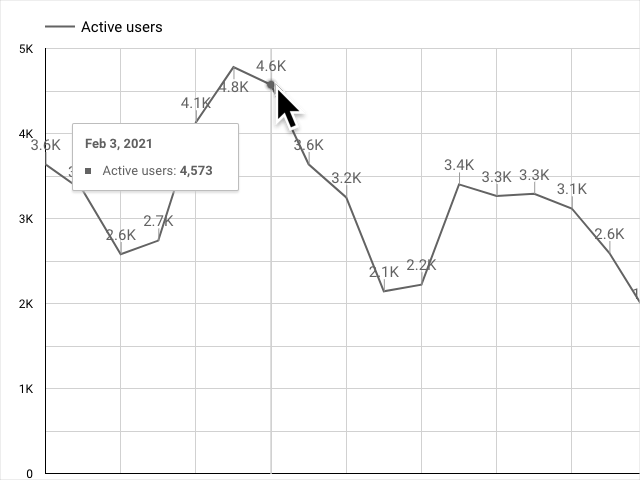 Learn more in the chart references.
February 18, 2021
Product updates
Data Studio is now available in Sudan
Users in Sudan can now tell beautiful data stories with Data Studio. Welcome!
February 11, 2021
Product updates
Improved data source collaboration
Data source editors can now edit the connection, refresh fields, and update credentials of data sources. (Prior to this, only the data source owner or credential owner could do these things).

This makes collaborating on reports and managing your data sources even easier. In particular, collaborating on reports with embedded data sources is more convenient, as your fellow report editors now have greater control over those data sources.
Documentation updates
Restructured data source and data modeling topics
We've reorganized the Help Center topics covering connecting to your data, creating data sources, and modeling your data a bit. Create and edit data sources now has 2 child topics:
February 4, 2021
Product updates
Improved handling of unrecognized date formats
If you connect to data that contains ambiguous dates or times, you may now see a message saying "Data Studio can't convert [field] to a date" and some tips on how to resolve the issue.
January 28, 2021
Product updates
Traffic source fields from Google Analytics 4
You can now visualize Google Analytics 4 traffic source fields:
Session Google Ads ad group ID
Session default channel grouping
Session medium
Session campaign
Session source
User Google Ads ad group ID
User Google Ads ad group name
User Google Ads ad network type
User medium
User campaign
User source
To see these fields in your existing GA4 data sources, refresh the fields.
Restoring data source versions now requires proper credentials
To view or restore version history for a data source, you must now either own the credentials for that data source, or the data source must use Viewer's Credentials. This helps prevent possible unauthorized access to the data.
January 7, 2021
Product updates
News searches in Search Console
You can now see news search results data in your reports using the Search Console connector. Learn more.
Create Boolean calculated fields without CASE
You can now use a Boolean expression as a calculated field formula. For example, Revenue > Forecast, which returns true or false. You can then use these fields within other calculated fields. (Previously, you had to use CASE statements to achieve the same result.)