YouTube Analytics for Artists allows you and your team to view analytics designed specifically for your music content. Understand your performance across YouTube - wherever your music is featured.
What makes Analytics for Artists unique?
With Analytics for artists, you can understand how your music and videos perform on YouTube. Within your analytics, you can find:
Song analytics across long-form videos and Shorts
Stats from channels that you own and other channels where your music is featured
Real-time insights (only in the YouTube Studio App)
Song analytics provide a comprehensive view of your song's performance across videos that:
Contain all or most of your song
Feature your recording as a primary component
Mention your name, album, or song title in the user-provided metadata
Get started with Analytics for Artists
To access Analytics for Artists, you must own or manage an Official Artist Channel. Learn how to create an Official Artist Channel or update your channel permissions to allow others to view your analytics.
To get to YouTube Analytics for Artists:
Sign in to YouTube Studio from a browser, or from the YouTube Studio mobile app on Android or Apple devices.
From the left menu, select Analytics.
Artist Analytics features
Your performance overview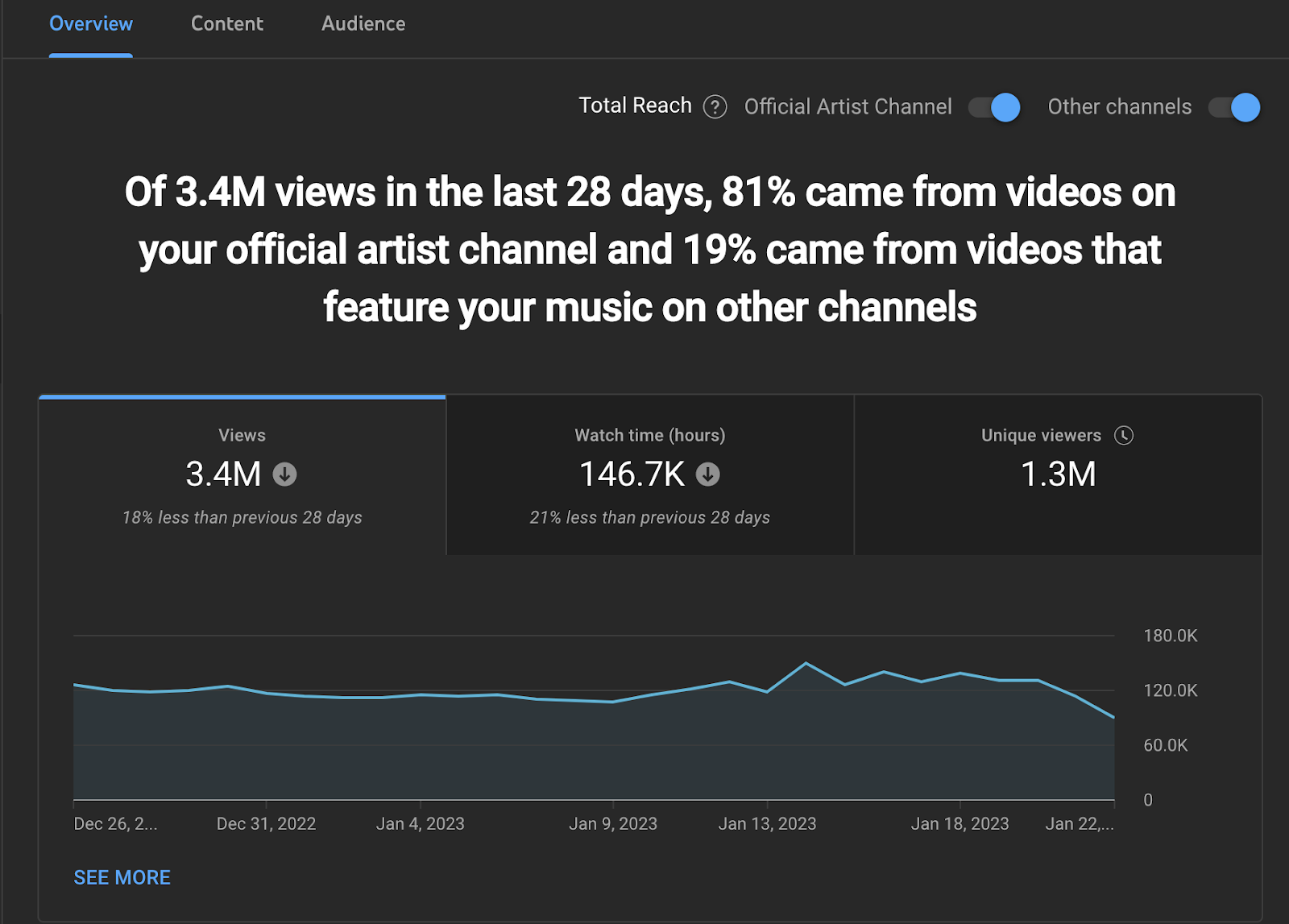 The Overview tab shows a summary of your performance on YouTube. In this tab, you can find reports for:
Your overall performance: The total watch time, views, and unique viewers of your songs and videos.
Real-time Activity: Measure performance of new releases. Select a time period to understand your estimated song and video views within the last 60 minutes or 48 hours.
Cumulative subscribers: View your total subscriber count over time.
Content
The Content tab segments your analytics by format - Videos, Songs, Shorts, Live, Posts, and Podcasts. This tab contains info formerly found in the Reach and Engagement tabs, such as:
Only on mobile:
The Content tab also contains song analytics. Song analytics combines data from Official Music videos, Art Tracks, lyric videos, and other user-generated videos. Videos are included in song analytics if:
All or most of your sound recording is in the video
The song makes up most of the UGC (User Generated Content) video
Your name, album, or song title are mentioned in the video's details
Your performance of the song is a primary component of a Short
To find your song analytics,
Open the YouTube Studio app from your mobile device.
Go to Content > Songs.
Select a song from the list to review.
Audience
The Audience tab shows who's watching and listening to your music. View your subscribers, or find info about returning, new, and unique viewers. You can also find reports for:
Top countries or regions where your audience resides
Top subtitle/CC languages
Audience age and gender
When your audience is on YouTube
Note: The Audience tab may not represent a complete view of your traffic. Data displayed in this tab may represent a subset of your viewers.
Revenue
The Revenue tab helps you understand your earnings on YouTube. This tab is available to creators in the YouTube Partner Program, and shows revenue for videos that you've uploaded.
The revenue overview shows your estimated revenue, the number of monetizing videos you own, and estimated average gross revenue per thousand plays. There are also reports for:
Monthly estimated revenue: How much your channel earned in the last 6 months. Ongoing revenue reports are estimated and subject to change.
Top-earning videos: Videos with the highest estimated revenue in a given time period.
Revenue sources: A breakdown of how you're making money on YouTube.
Ad types: The format of your ads and your specified buying platform. This breakdown is only available for YouTube ad revenue and impression-based metrics.
Transaction revenue: Estimated net revenue from transactions, like merch and Super Chat. Partner-charged refunds are deducted from this view.
Filter your data
Use filters to segment your data and understand your audience. The filter views below help to compare your performance across different channels, video types, or YouTube products.
To use filters, select a view from the menu at the top of your Analytics tab in YouTube Studio.
Total Reach
Your Total Reach gives a comprehensive overview of your performance on YouTube, including:
Videos uploaded by you or your label
Collaborations featuring your music uploaded to other channels
Videos uploaded by fans with your music.
Note: Your analytics will default to your Total Reach unless otherwise specified.
Official Artist Channel
This filter shows stats for music and non-music videos uploaded to your Official Artist Channel, VEVO, or label. YouTube Art Track metrics are also included.
Other channels
Use this filter to understand how your music performed on other channels across YouTube. This filter includes:
Collaborations with other artists
Videos uploaded by someone else that contain all or nearly all of your sound recording
Videos where your song is the primary component, and your name, album, or song title are mentioned in the video's details
Song Rollup
The Song Rollup shows a song's aggregated performance on YouTube. This filter includes:
Official Music Videos
Art Tracks
Lyric videos
Live performances
Videos uploaded by someone else that contain all or nearly all of your sound recording
Videos where your song is the primary component, and your name, album, or song title are mentioned in the video's details
Note: Other versions and remixes are treated as separate songs in the Song Rollup view.
To view your Song Rollup, click Advanced within Analytics for Artists.
YouTube Music
Use the YouTube Music filter to separate your
YouTube Music
performance from
YouTube
. This service-based filter helps you understand your watch time and views that come from the YouTube Music app.
Note: Filtering YouTube Music data is only available from March 2021 to date. Prior data also includes YouTube metrics.