Google Web Designer has a large central area for building your projects and editing code. The central area is surrounded by a toolbar, a tool options bar, a timeline, and a set of panels that let you modify elements, add components, add events, and more.
The document
In the center of the Web Designer interface, you see the current document.
Two different document views are available:
Design view shows the images, text, and other elements of your document visually, just as they would display in a browser. The white stage represents the visible area of the ad or webpage.
Code view shows the document code with appropriate color coding and formatting.
You can customize Design view and Code view by setting your preferences.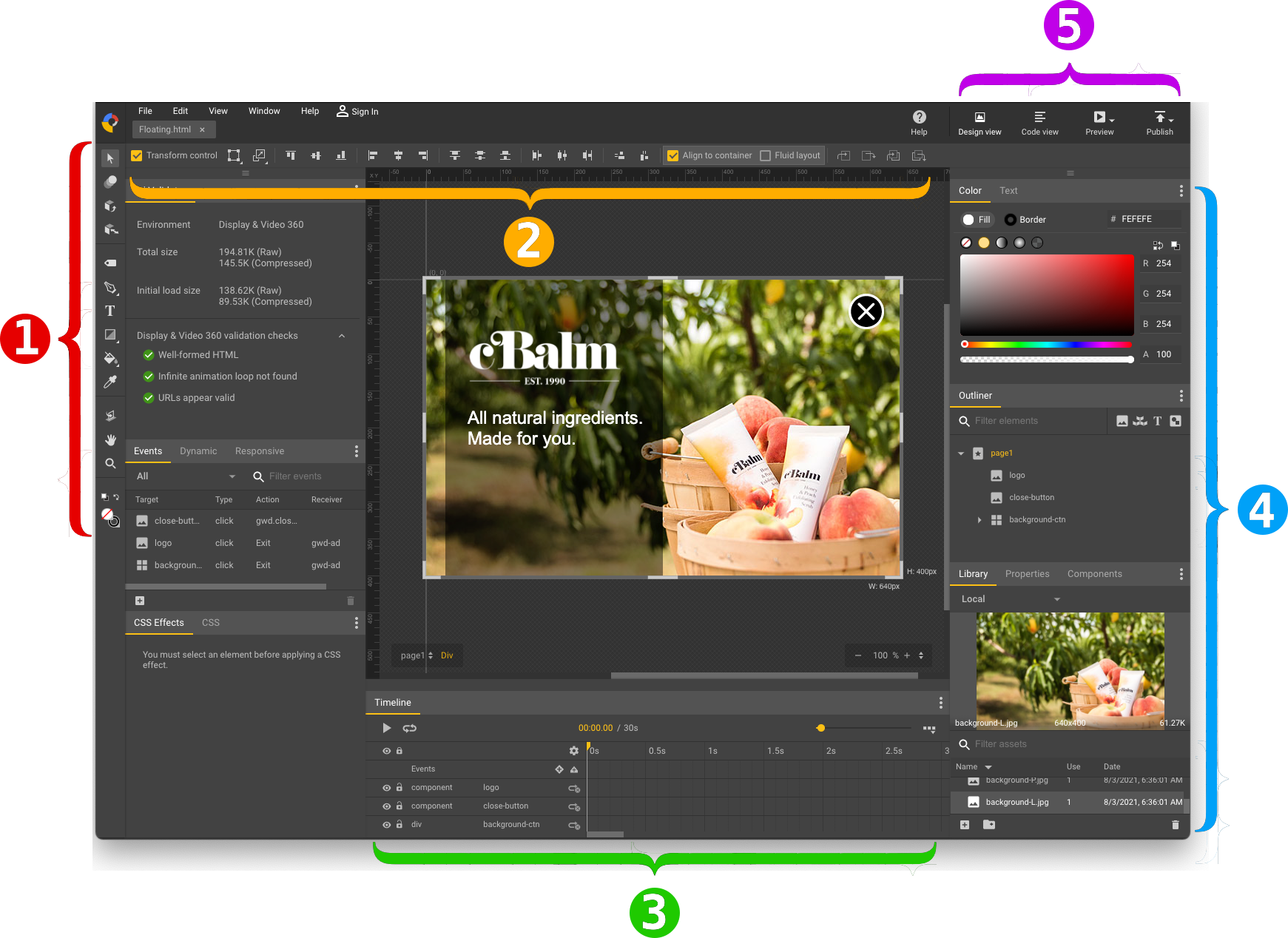 View bar
The view bar lets you choose between Design view and Code view, preview your document in a browser, and publish your ad. The view bar is available for HTML5 documents, video documents, and image ad documents.
Tools
The toolbar contains tools for creating and manipulating elements on the stage. This includes tools for creating text and simple page elements, color selection tools, and 3D tools.
| Tool | Description |
| --- | --- |
| Selection tool | Select and move objects on the stage. |
| Motion path tool | Draw curved motion paths for animated elements. Unavailable for AMPHTML or image ads. |
| 3D object rotate tool | Rotate objects in three dimensions. |
| 3D object translate tool | Move objects in three dimensions. |
| Element tool | Create HTML tags of any type by clicking and dragging on the stage. |
| Pen, Oval, Rectangle, and Line tools | Create SVG drawings, including elementary shapes with the shape tools, and bezier curves with the Pen tool. |
| Text tool | Add or edit text. |
| Rectangle, Oval, and Polygon masks | Add a clip path mask to an element. |
| Rectangle, Oval, and Polygon backdrop tools | Add a div with a backdrop filter. Available only for image ads and video ads. |
| Fill, Stroke, and Gradient tools | Modify the color of elements in your project, including the element's fill, stroke and gradient fills. |
| Eyedropper tool | Select a color from an element on the stage. |
| 3D stage rotate tool | Change your 3D view of the project. |
| Hand tool | Change your view of the stage. |
| Zoom tool | Zoom in and out on your creative. |
| Fill color and stroke color | Change the active fill and stroke (border) color. |
Tool options
The tool options bar at the top shows options for the currently selected tool. For example, when the Text tool is selected, the tool options bar shows font and text layout options.
Timeline
The timeline lets you create animations using keyframes. In Quick mode, the animation is created scene-by-scene; in Advanced mode you animate each element separately.
Panels
Panels include the Color, Properties, Text, Components, CSS, CSS Effects, Responsive, Events, Dynamic, Library, Ad Validator, and Outliner panels. The panels can be resized, rearranged, combined, and closed. Learn more about organizing panels.
Document tabs
When multiple documents are open, their filenames display on separate tabs. You can switch between documents by clicking a tab, or pressing Ctrl+Tab to jump to the next document or Shift+Ctrl+Tab to jump to the previous document.
If the document tabs won't all fit in the window, you can see a list of all open documents in a pop-up menu by clicking the More icon
to the right of the tabs. Select a document to switch to it, or hover over its filename and click the x to close it.