CHROMECAST AUDIO
MODEL RUX-J42
WHAT YOU'LL FIND IN YOUR CHROMECAST AUDIO BOX: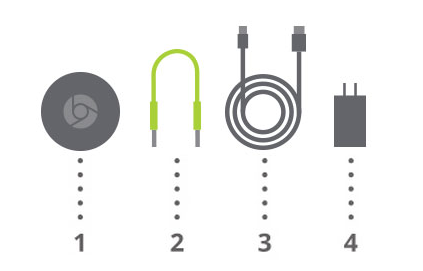 Chromecast Audio: Plugs into any speaker system that has an aux-in or line-in port using the included audio cable (#2). Chromecast Audio uses your existing Wi-Fi network to stream audio from the Internet for playback on your existing speaker system. Chromecast Audio is controlled from devices on the same Wi-Fi network or linked to the same account (Android only), such as smart phones, tablets or computers, and is powered using the USB cable and provided power supply (#3, #4).
Audio cable: Connects Chromecast Audio to speaker systems that support aux-in and line-in connections via a standard 3.5 mm port. Optionally, speaker systems with RCA inputs and optical digital inputs are supported, but required cables are sold separately.
USB power cable: Provides power to your Chromecast Audio. One end plugs into your Chromecast Audio, and the other end plugs into the power supply (#4).
Power supply: Used with the USB power cable (#3) to power your Chromecast Audio (#1)
MORE HELP WITH SETTING UP CHROMECAST AUDIO CAN BE FOUND HERE.
WARNINGS TO USERS
Chromecast Audio may become hot to the touch; this is normal. Unplug Chromecast Audio's power source and let it cool before moving it or removing it from your speaker system.
You should only use the cables and plugs provided with your device to plug it in.
If you must use a different power supply than the one provided with your device, use a UL Listed power supply marked "LPS" or "Class 2", with output rated 5Vdc, 1A.
Do not expose Chromecast Audio or the power supply to water or extreme conditions (moisture, heat, cold, dust), as Chromecast Audio or the power supply may malfunction or cease to work when exposed to such elements.
Do not attempt to disassemble or repair Chromecast Audio yourself. Doing so voids the limited warranty and could harm you, your speaker, and/or Chromecast Audio.
Chromecast Audio is an entertainment device; it is not designed, manufactured or intended for use in hazardous environments requiring fail-safe performance in which the failure of Chromecast Audio could lead directly to death, personal injury or severe physical or environmental damage.
Take care when handling the power supply to avoid electric shock.
WARRANTY INFORMATION IS AVAILABLE HERE.
LICENSING INFORMATION IS AVAILABLE HERE.
REGULATORY INFORMATION
NOTE ON INTERFERENCE IN A RESIDENTIAL INSTALLATION
This device has been tested and found to comply with the limits for a Class B digital device, pursuant to part 15 of the FCC Rules. These limits are designed to provide reasonable protection against harmful interference in a residential installation. Chromecast Audio generates, uses and can radiate radio frequency energy and, if not installed and used in accordance with the instructions, may cause harmful interference to radio communications. However, there is no guarantee that interference will not occur in a particular installation. If Chromecast Audio does cause harmful interference to radio or television reception, which can be determined by plugging in, then unplugging Chromecast Audio, the user is encouraged to try to correct the interference by reorienting or relocating the receiving antenna and/or consulting the dealer or an experienced radio/TV technician for help.
Chromecast Audio complies with part 15 of the FCC Rules. Operation is subject to the following two conditions: (1) the device may not cause harmful interference, and (2) this device must accept any interference received, including interference that may cause undesired operation.
Changes or modifications not expressly approved by the party responsible for compliance could void the user's authority to operate Chromecast Audio or warranty.
Model: RUX-J42
FCC ID: A4RRUX-J42 – your Chromecast Audio's FCC ID is printed on its back
To satisfy FCC exposure requirements, a separation distance of at least 20 cm should be maintained between the antenna of this device and persons during device operation. Operations at closer than this distance are not recommended.
The antenna used for this transmitter must not be co-located in conjunction with any other antenna or transmitter.
European Union
Regulatory Information
The device must be installed and used in strict accordance with the manufacturer's instructions as described in the user documentation that comes with the product. Google is not responsible for any radio or television interference caused by unauthorised modification of the devices included with this device, or the substitution or attachment of connecting cables and equipment other than that specified by Google. The correction of interference caused by such unauthorised modification, substitution or attachment is the responsibility of the user. Google and its authorised resellers or distributors are not liable for any damage or violation of government regulations that may arise from the user failing to comply with these guidelines.
R&TTE Compliance Statement
Hereby, Google declares that this device is in compliance with the essential requirements and other relevant provisions of Directive 1999/5/EC. The declaration of conformity may be consulted here.
Class 2 Device
This device may be operated in all member states of the EU, as well as Switzerland, Norway, Iceland, Liechtenstein and Turkey.
The device operation in the band 5150-5350 MHz is only for indoor use to reduce the potential for harmful interference to co-channel mobile satellite systems.
When using the device next to your body, maintain a distance of 3 cm from your body to be consistent with how the device is tested for compliance with European RF exposure requirements.
WEEE Directive
Waste Electrical and Electronic Equipment (WEEE) Directive
The Waste Electrical and Electronic Equipment (WEEE) Directive requires that all Electrical and Electronic Equipment (EEE), including Chromecast, must be marked with the symbol of the crossed-out wheelie bin:
This symbol means that the equipment must not be disposed of as unsorted municipal waste. Disposing of WEEE together with normal waste may pose a risk to the environment and to human health, due to certain substances used in that equipment.
Under the WEEE Directive, each EU Member State is responsible for achieving a high level of collection of WEEE for treatment, recovery and environmentally-sound disposal. Before throwing away your equipment, think for a minute about how to reduce the amount of WEEE that you create. WEEE recycling is free. By simply extending the life of your equipment (you could, for example, reuse it, recover it or turn it into artwork), you will have reduced waste and helped the EU achieve its objectives. The success of this EU policy will depend on your active contribution in returning your WEEE to the appropriate facilities dedicated to the disposal of such waste. The EU thanks you.
We are committed to providing our customers with information about the chemical substances in our products in accordance with our obligations under legal requirements such as REACH (Regulation EC No. 1907/2006 of the European Parliament and the Council).
Chromecast Audio was designed by Google Inc. of 1600 Amphitheatre Parkway, Mountain View, California 94043, imported into the EEA by Google Commerce Limited, Gordon House, Barrow Street, Dublin 4 Ireland, and assembled in China.