Set up Google Home
The Google Home app will walk you through the steps to set up Google Home.
What you need to get started
A Google Home device.
Latest version of the Google Home app .
Latest version of Google app (Android only. Download it here).
A mobile device or tablet.
The compatible mobile device or tablet must support a 5GHz connection to set up Google Home on a 5GHz connection. Note: A WPA2-Enterprise network is not supported.
Meet the minimum Operating System (OS) requirements to run the Google Home app .
An internet connection.
Access to a secure wireless network. Make sure you have the wireless network password handy.
Availability and performance of certain features, services and applications are device- and network-dependent and may not be available in all areas; subscription(s) may be required, and additional terms, conditions and/or charges may apply.
Set up Google Home
1. Plug in Google Home.
2. Install the Google Home app
by navigating to g.co/home/setup on your Google Home supported Android device.

Or click to download the Google Home app for Android.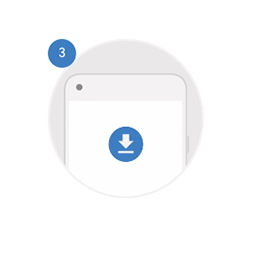 3. Make sure to connect your mobile device/tablet to the same Wi-Fi network that you intend to use to set up your Google Home device.
4. Open the Google Home app by tapping the app icon on your Android device.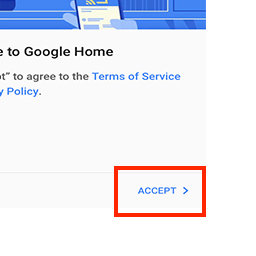 5. Tap ACCEPT to agree to the Terms of Service and Privacy Policy.
6. To allow Google Home app to discover and set up nearby devices, tap Turn on location. Tap Allow to allow the device to use the location.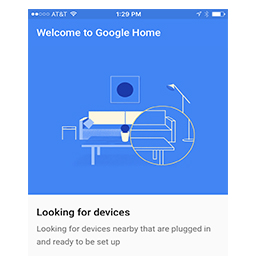 7. The Google Home app scans nearby devices that are plugged in and are ready to set up. If no devices are found, make sure you're near the Google Home device that you are setting up and it's plugged into a wall outlet. Then tap Try Again.​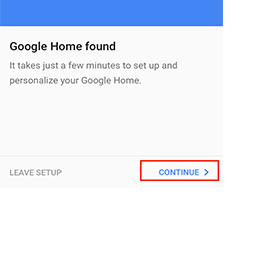 8. If you only have one device that must be set up, tap Continue.
If Google Home app finds a list of devices, scroll to find the device card you want to set up. Tap Set Up.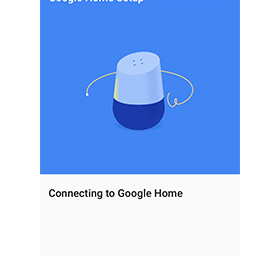 9. We are now establishing a connection with Google Home.
If Google Home can't establish connection, move closer to the Google Home device and tap Try Again. If there is trouble reading info from Google Home, tap Try Again.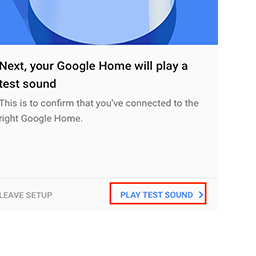 10. When Google Home app is successfully connected to the Google Home device, it plays a test sound to confirm you are connected to the right device. Tap Play Test Sound.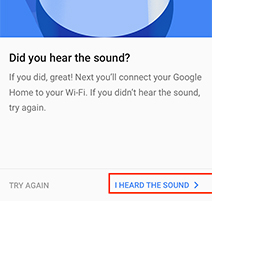 11. If you heard the test sound, tap I HEARD THE SOUND. If you didn't hear it, tap TRY AGAIN.
12. Type the room where your Google Home is located. This helps you identify the device when you want to cast to it. Tap Continue.
13. Choose the language to use with Google Home. Tap Continue.
14. Choose the Wi-Fi network you want to connect to your Google Home. To automatically fetch the password for this network on this device, tap OK. The password will populate in the password field. Note: Android L and above is required to auto fetch the password. Tap Continue.
You can also manually enter your password. Tap Continue.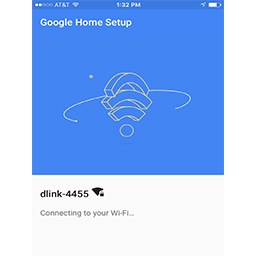 15. Google Home will now attempt to connect to the provided Wi-Fi network.
If it was unsuccessful, tap Try again.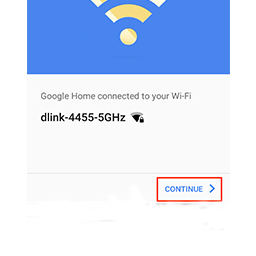 16. When Google Home is successfully connected to your Wi-Fi network, tap CONTINUE.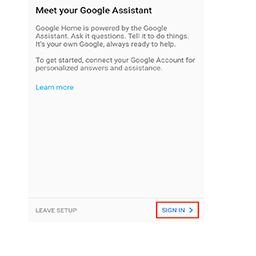 17. In order for the Google assistant to answer your questions and to enjoy a personalized experience, you must sign into your Google Account. Tap SIGN IN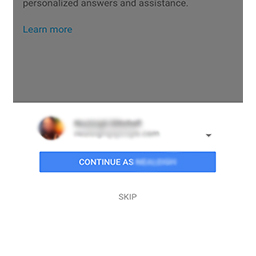 18. Choose or add the Google Account you want to link to your Google Home device. Tap SIGN IN
Note: If you're linking a Google Enterprise Account, the owner of the account must turn on Web & App activity.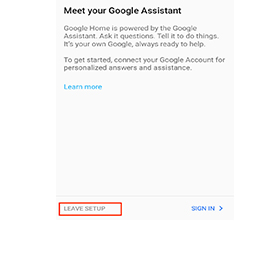 19. If you don't want to sign into your Google Account, tap LEAVE SETUP. Note: If you don't allow Google Home to link to your Google Account, the device will not be able to answer questions or stream music. If you still don't want Google Home to link to your Google Account, tap I'm Sure.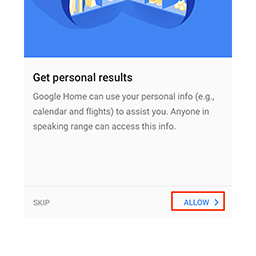 20. Google Home can answer personal questions about your calendar, package, flights, and more. Note: If you allow these answers, other people in your home can ask about your info. Tap Allow.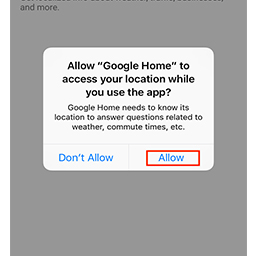 21. Enter the address where this Google Home is installed. Tap Set Location. To let Google Home access the location of your device, tap Allow.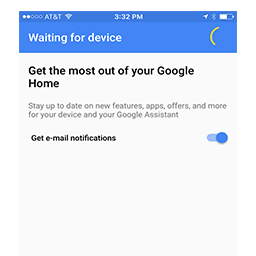 22. For updates on new features, apps, offers, and more for your device and the Google Assistant, move the Email Notifications slider to the right. If you don't want email notifications, keep the slider to the left. Tap CONTINUE.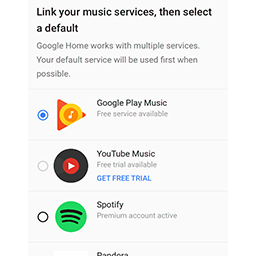 23. Select your default music service. Tap the radio button to the left of the service. Tap CONTINUE.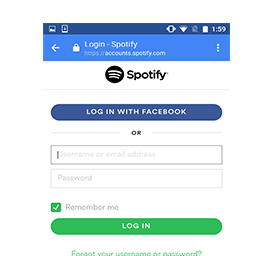 24. If you want Spotify to be your default music service, tap Connect. Sign into your Spotify account. Tap Log In.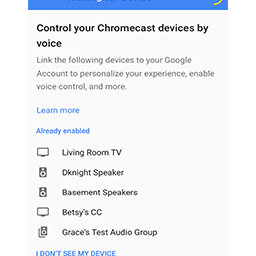 25. To control your Cast devices with your voice, you must link them to Google Home. Scroll to find the device you want to link. Tap the device name. Tap LINK. Optional: you can adjust the name of your cast devices to make them voice friendly.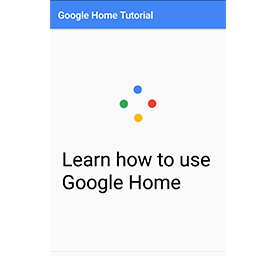 26. To learn how to talk to Google Home, tap Continue to go through an interactive tutorial on how to speak to the device. Tap Skip if you don't want to go through the tutorial.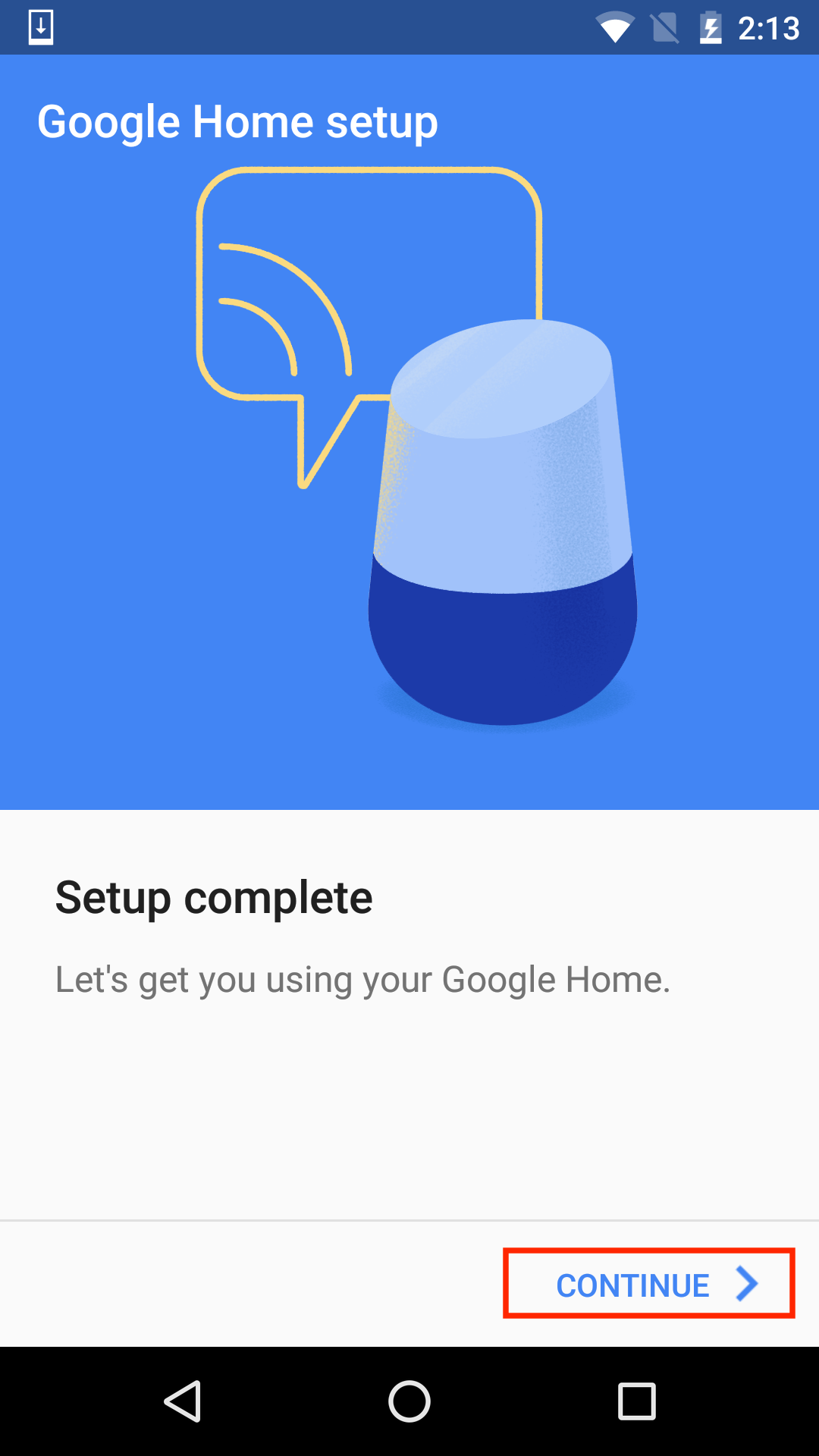 27. When setup is complete, tap CONTINUE
28. That's it! You're now ready to talk with Google Home. Here's more about the Google Home app.
Having trouble setting up Google Home using a Netgear Nighthawk router? Try these troubleshooting steps.
Related links
Elise is a Google Home expert and author of this help page. Leave her feedback below about the page.
Was this article helpful?
How can we improve it?