July 15, 2020
As people spend more time at home–browsing websites, watching YouTube videos, checking Gmail, and using mobile apps–it's important to be there for your customers in relevant and helpful ways. Globally, 78 percent of consumers say brands should show how they can be helpful in our new everyday life.
To help you meet the moment, we're improving the look and feel of responsive display ads with new creative layouts, automatically generated video, and more engaging ads to drive online sales.
Stand out with new ad designs
When evaluating new display ads, marketers have to consider both performance and aesthetics. Helping you strike the right balance is a core design principle behind responsive display ads. In fact, we test over 150+ new layouts every year, and only a handful make the cut.
This month we're rolling out three new responsive display ad layouts that use automated image enhancements including smart image cropping and text overlays. These layouts are designed to help you improve performance and deliver even more engaging ads.
For skincare brand COSMEDIX, creativity is important. "In the crowded world of beauty, how do you stand out?" asks Christine Monaghan, VP Digital at Cosmedix. "Successful marketing requires adaptability, but your personality has to come through. Like the product, the experience has to be genuine." Through their partnership with Finch, they adopted these new layouts early.

Example responsive display ads from beauty retailer COSMEDIX
Add videos quickly and easily
Consumers love video—it's an immersive way for them to explore new interests, find answers and stay entertained. Marketers also love it because it drives performance. In fact, over 60 percent of shoppers say online videos have given them ideas or inspiration for their purchase, and adding video to your responsive display ads can result in 5 percent more conversions at a similar CPA.
However, many businesses don't have the time or resources to create their own video ads. It can be difficult to customize messaging for different campaigns, add new products, and update videos with your latest promotions.
To make things simpler and faster, Google can automatically create video ads for you by using your existing image and text assets.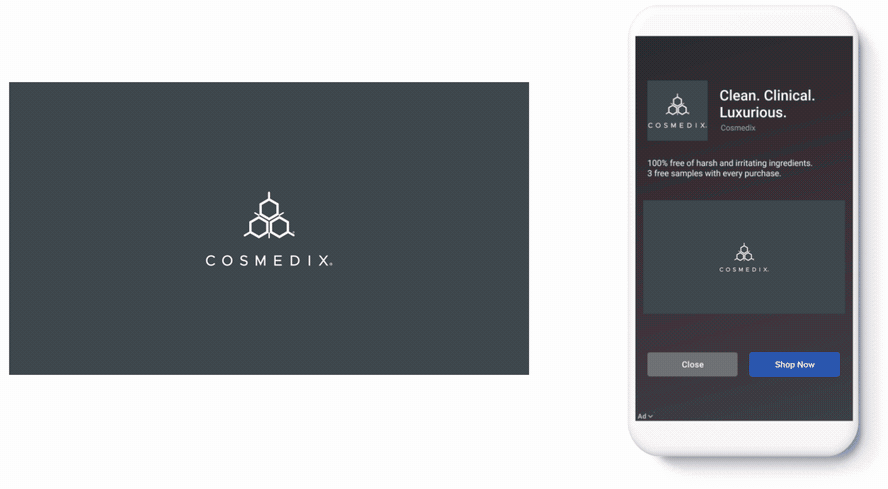 Example auto-generated video from COSMEDIX
You can decide whether to use auto-generated video with a simple checkbox while creating or editing ads.
We recommend keeping this option enabled to help you deliver the most effective and engaging display ads.
If you're interested in other tools for creating video ads, consider signing up for the beta of Video Builder. This free tool animates static text, image and logo assets to create short YouTube clips, which can be used as video assets in your responsive display ads.
Engage shoppers with your top products
Many retailers use feeds to showcase their products within responsive display ads. Today, we're updating the look and feel of dynamic display ads for retail advertisers, helping you drive online sales with new and existing customers. We're also introducing a new single-image layout to highlight individual products.

Example dynamic display ads from COSMEDIX
These new formats will now display your company name alongside your logo to help convey your brand's offerings clearly. If selected, the optional "promotion" text will become more visible in most ad sizes, so consider including a promotion if you haven't already.
There's no action required to take advantage of these updated dynamic display ad layouts, and you can preview them while creating or editing responsive display ads.
We look forward to seeing how you use these new formats to connect with customers in a meaningful way.
Posted by Bonnie Pericolosi, Director, Display ads Product Management