May 23, 2023
At Google Marketing Live, we shared how Google AI is helping advertisers achieve next-level growth and profitability. Here's what retailers need to know about how AI can help augment creativity to create new value and greater impact, drive confidence in profitable growth and results, and market at the speed of consumers to uncover deeper customer connections.


Be there for consumers, with a shopping experience reimagined for today
At Google I/O, we shared how we are taking our first steps to supercharge Search using generative AI, making Search smarter and searching simpler—while still continuing to be a jumping-off point to the best of the web. This new Search Generative Experience (SGE) will roll out soon to people in the U.S. through Search Labs, our program to access early experiments. We already shared that ads will continue to play an important role in this new experience. At Google Marketing Live 2023, we announced that over the coming months we'll experiment with Search and Shopping ads directly integrated within the AI-powered snapshot and conversational mode, plus new formats that use generative AI to create relevant, high-quality ads that are customized to every step of the search journey. We'll take a responsible approach to how these ads evolve, learning from user feedback and partnering closely with advertisers to deliver even more effective solutions. To learn more about SGE for advertisers, read about Search and Performance Max innovations.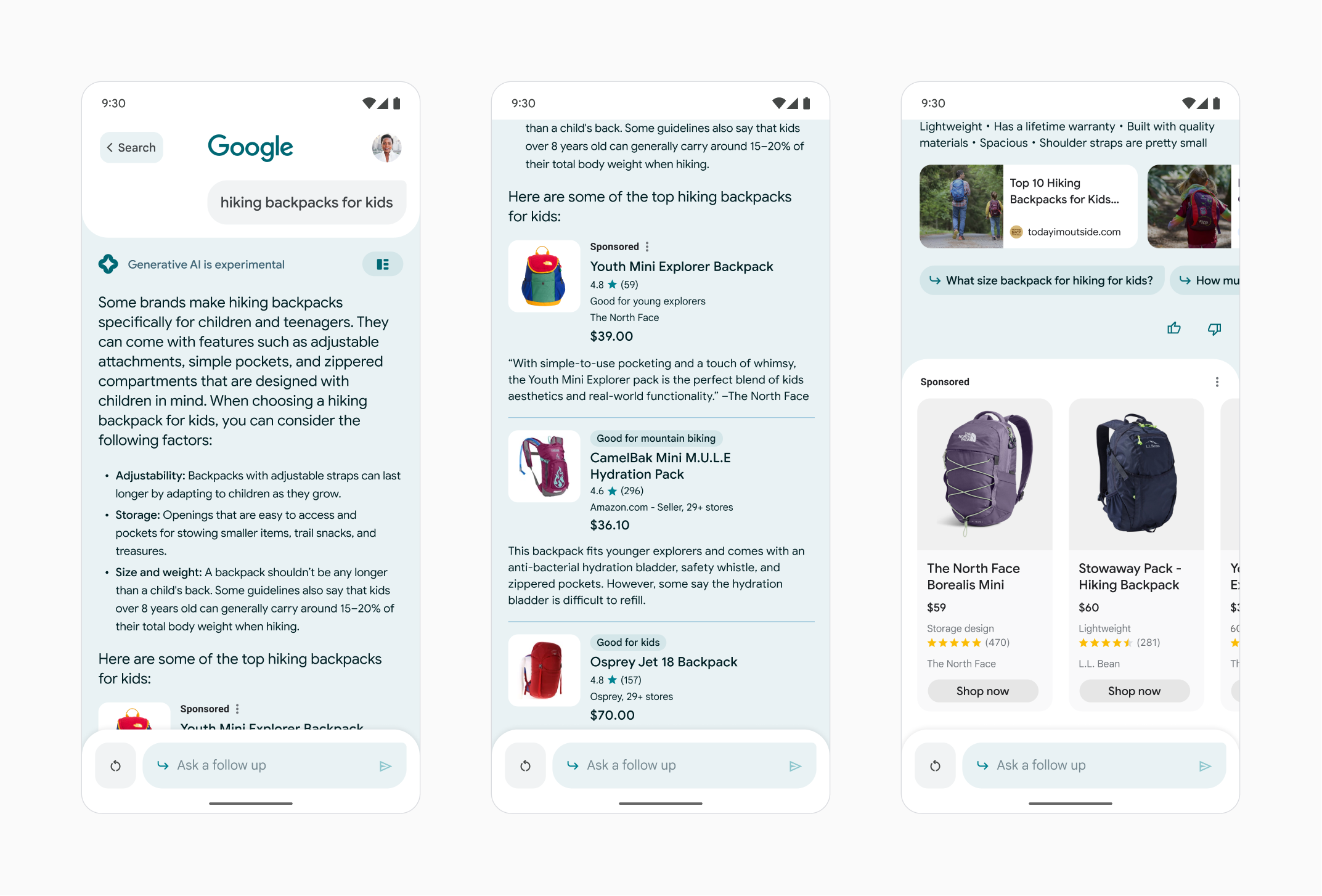 Drive online & in-store goals with omnichannel solutions
Today's omnichannel shopping behavior has evolved to be an always-on, ambient shopping experience. Meet your customers wherever they're shopping and multiply your results with Performance Max. Powered by Google AI, Performance Max enables you to optimize ROI across all Google Ads channels and inventory—including Search, YouTube, Display, Discover, and Google Maps. Advertisers that shifted from Standard Shopping campaigns to Performance Max drove a 25% increase in conversion value, on average, at a similar ROAS.1
For retailers looking to drive online sales, we're launching new customer lifecycle goals: first, we're enhancing the new customer acquisition goal so you can optimize for high lifetime value. Later this year, we're also adding a new re-engagement goal so you can connect with your most valuable, existing customers to help increase retention.
And with store sales reporting and bidding now available in Performance Max, you can understand how many offline purchases occur and their modeled value after customers interact with your ads. Store sales' enhanced capabilities unlock reporting and optimization features for your Performance Max campaigns like Smart Bidding and measurement with ROAS calculations for both online and offline conversions.


Optimize ROI with insights & reporting tools
It's more important than ever to analyze and optimize the performance of your ad investments. That's why we're building new tools that give you better insights on what is driving your sales and enable you to reach profitability goals more effectively.
You can now more easily identify product- and category-level optimization opportunities in Google Ads at a glance, like missing product attributes or more granular policy violations, and quickly see recommended actions for improvement. And to better understand the profitability of your campaigns, you'll be able to easily measure the profit of products in your campaigns and how it fluctuates over time based on budget and bid changes. View these profitability reporting features in your Google Ads account today by implementing conversions with cart data.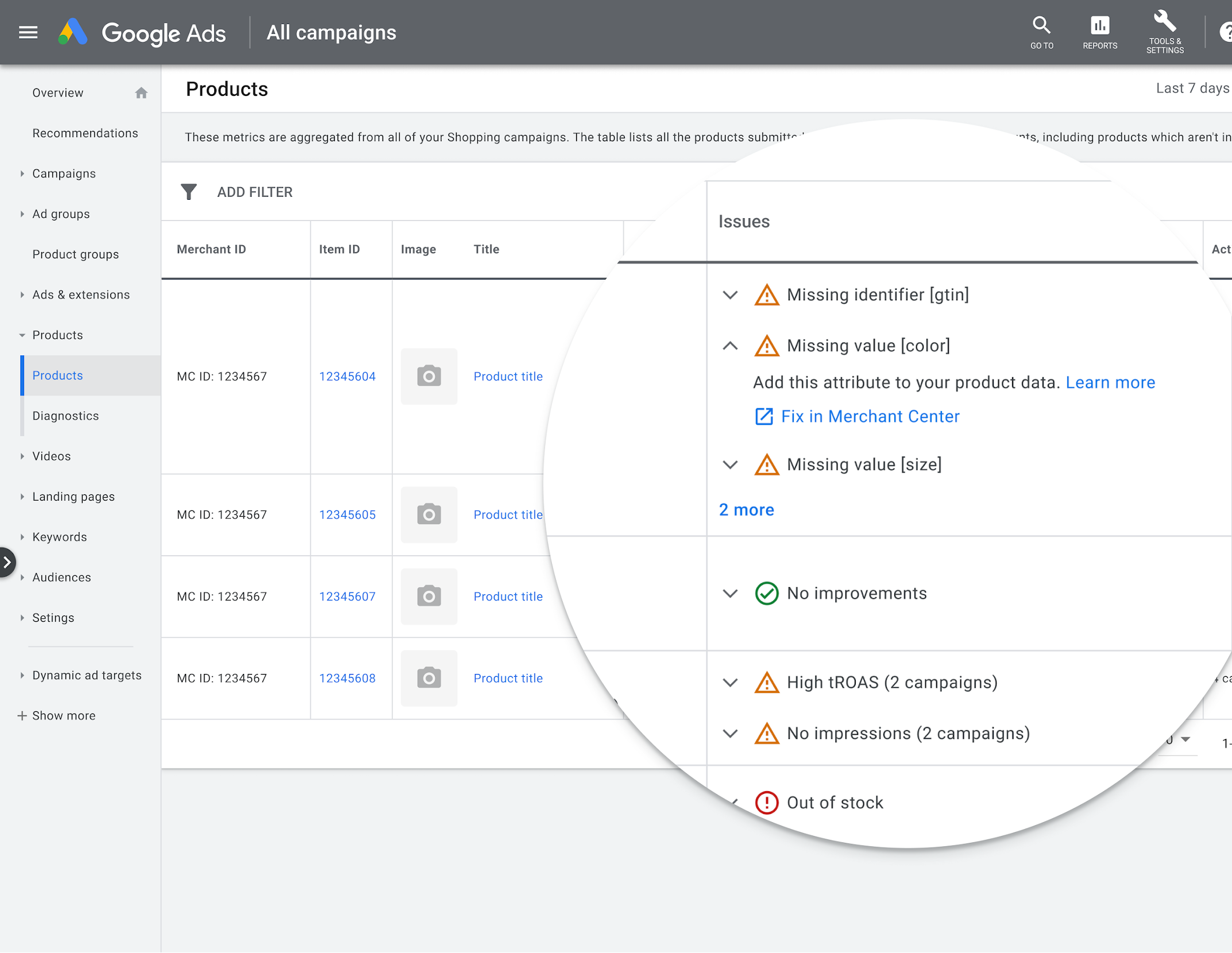 Web to App Connect is critical to helping you deliver stronger ROI and customer loyalty, especially in the lead-up to the holidays. It's a one-stop destination that provides clear, step-by-step guidance to implement conversion tracking, bidding, and deep links that help you optimize the web-to-app experience for customers that already have your app installed. On average, Web to App Connect delivers a two times higher conversion rate for clicks that land on your app versus your mobile site.2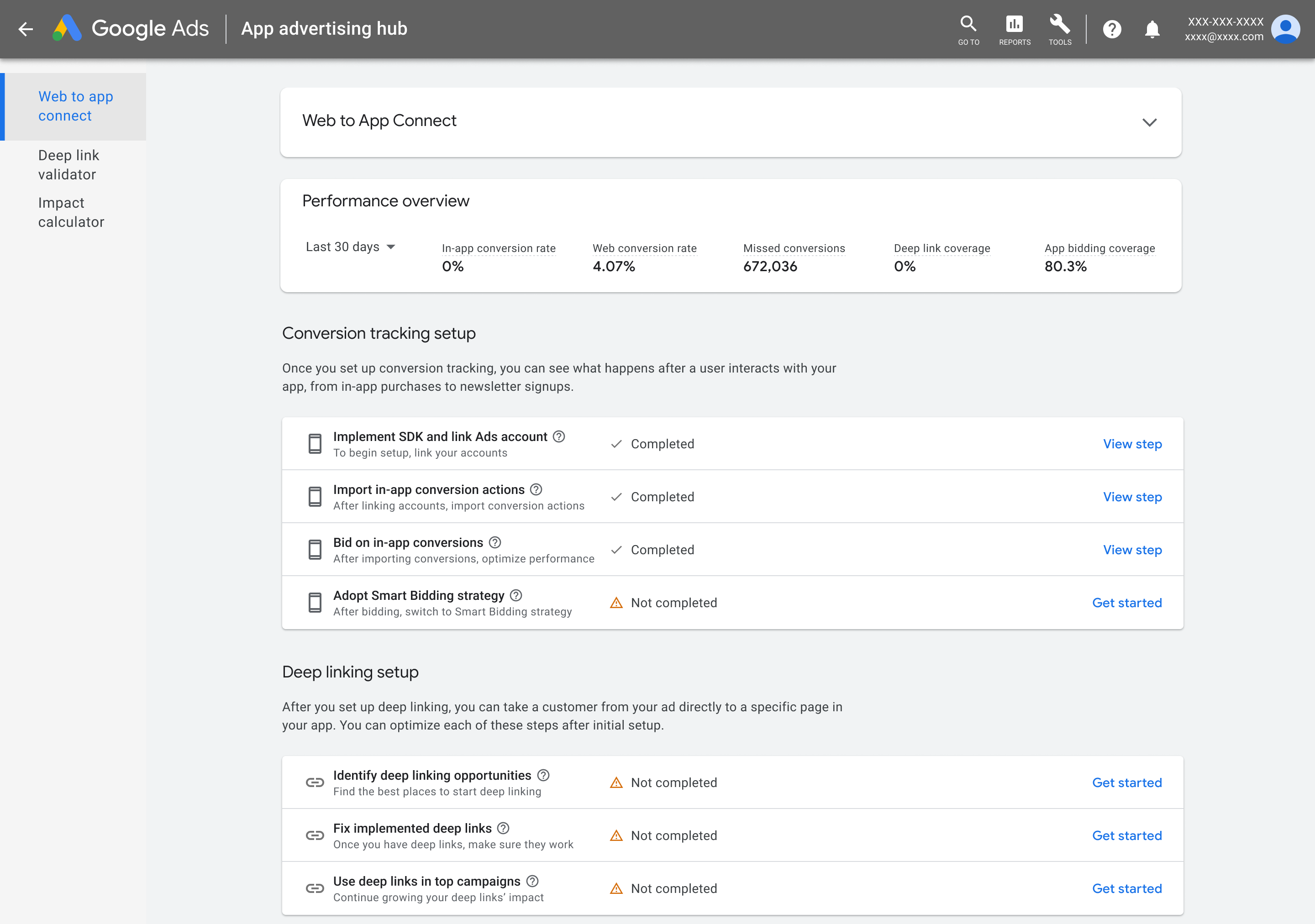 Drive awareness and convert intent with full-funnel video solutions
In a world where reaching your target audience is more complicated than ever, YouTube enables brands to scale their message across screens, alongside long-form, short-form, live, audio, and more. According to data from Nielsen, YouTube reached over 230 million people aged 18+ in the US.3
With AI-powered tools, you can improve the effectiveness of your YouTube creatives like uploading video assets in multiple orientations. You can generate new horizontal, square or vertical video ads using existing assets from sources like your product feed or your app store listing with a click of a button.
Starting today, you can also add local offers on your products for YouTube in-stream ads and show item availability and variable pricing based on customer location. Local offers complement your video solutions by showing offers for brick & mortar locations in YouTube in-stream ads. The offers are shown alongside online offers, turning the product feed into a true full-funnel and omnichannel experience.
To learn even more, check out our new retail TL;DR videos, latest retail best practices guide, and new merchant solutions including Merchant Center Next and Product Studio. Want to know if you're set up for success with AI? Check if you have the right Google Ads AI Essentials in place.

Posted by Clayton Jones, Director, Product Management and Stephanie Shum, Director, Product Management
1. Google Data, Global, Ads, October 2022 - March 2023
2. Google Internal Data, Global, Feb - March 2022 experiment
3. Nielsen NMI Total Media Fusion, P18+ YouTube Reach across digital, digital video & total app CTV from total media fusion, October '22