December 7, 2021
Earlier this year, we announced the global availability of image extensions to help you create a more visually engaging Search ad. To help you engage more potential customers and make image extensions even easier to use, we're rolling out several new improvements.
Showcase your brand with relevant visuals on more devices
Image extensions complement your Search ad with relevant visuals of your products and services. This makes it easy for potential customers to learn about your business and take action. Previously, image extensions only showed on mobile devices. To help you showcase your brand to more people, image extensions will begin showing on desktop devices in the next few weeks.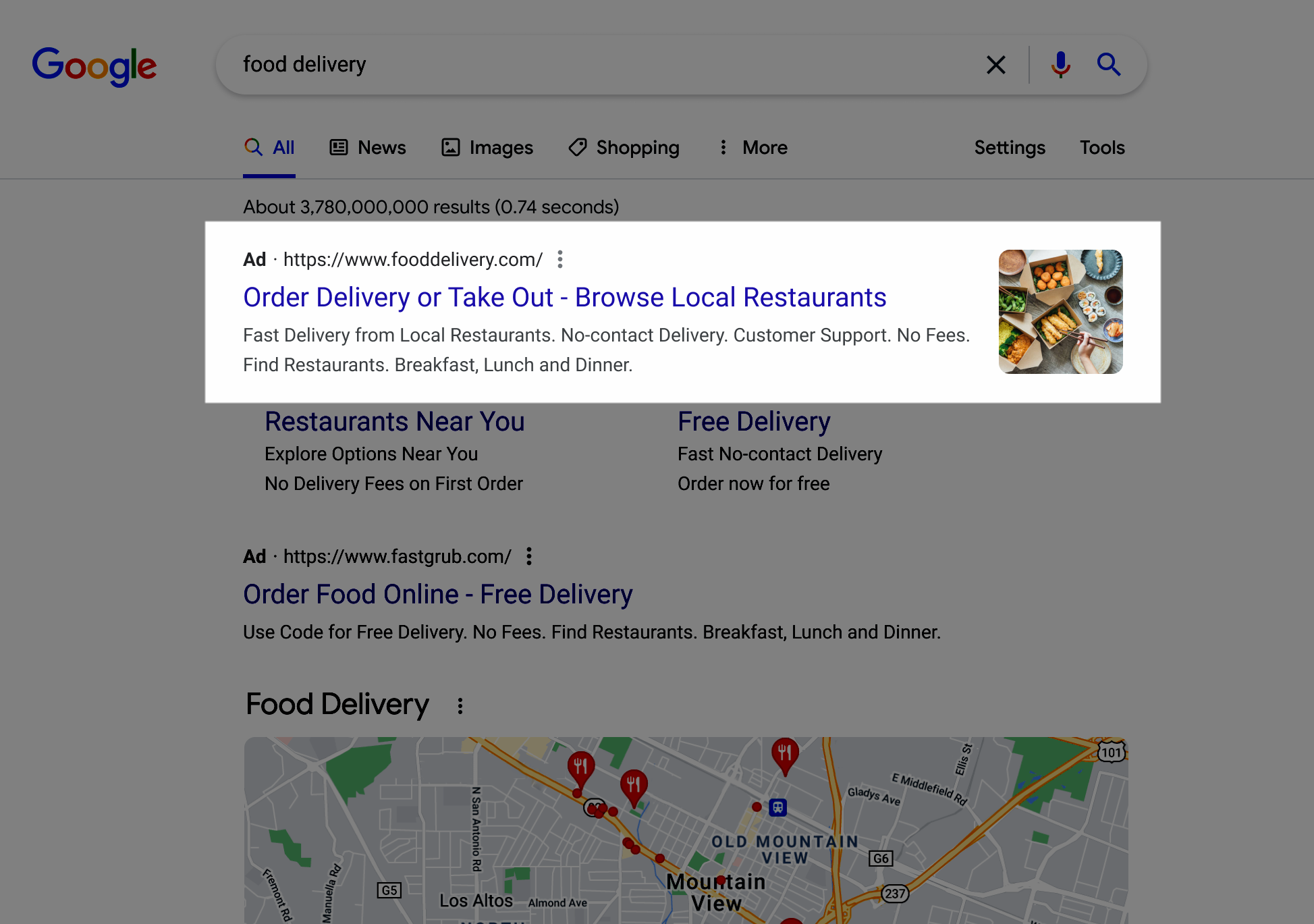 Search ad shown with an image extension on a desktop device
If you're already using image extensions, they'll show on desktop devices automatically as the update rolls out. You can view your desktop device performance by segmenting your performance data by "Device". This update applies to dynamic image extensions as well.
Use dynamic image extensions with any language
Dynamic image extensions use machine learning to automatically select the most relevant images from your ad's landing page and append them to your ad. Once you opt in, we'll add images from your landing pages to their corresponding ad groups in your Search campaigns. Previously, dynamic image extensions were only available in English. Now, they're available for all languages.
To get started with dynamic image extensions, opt in from the Extensions page in your account or look for the "Add dynamic image extensions" recommendation in the Recommendations page.
Create image extensions using stock images
We've heard your feedback that sourcing visuals to create image extensions can be challenging. To make this easier for you, you can now choose from a searchable library of stock images that are free to use in Google Ads.
To get started, select the "Stock Images" option when you're asked to choose an image for your image extension. Once you've found an image you like, you can crop it to a square or landscape format in Google Ads before you apply it to your extension.
| | |
| --- | --- |
| | Best Practice: Apply at least three images to your image extensions and make sure they're relevant to your keywords and ads. Also, be sure to put the most important content in the center of your images when cropping them. |
Learn more about image extensions in the Google Ads Help Center.
Posted by Rushil Grover, Product Manager, Google Ads