Chromecast Audio safety, regulatory and warranty information
CHROMECAST AUDIO
MODEL RUX-J42
WHAT YOU'LL FIND IN YOUR CHROMECAST AUDIO BOX: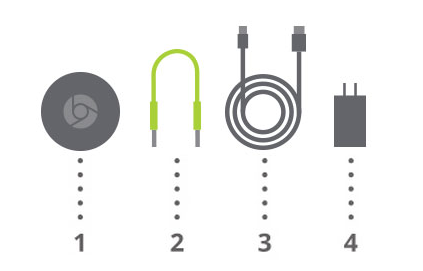 Chromecast Audio: Plugs into any speaker system that has an aux-in or line-in port using the included audio cable(#2). Chromecast Audio uses your existing Wi-Fi network to stream audio from the internet for playback on your existing speaker system. Chromecast Audio is controlled from devices on the same Wi-Fi network, such as mobile devices, tablets, or computers, and is powered using the USB cable and provided power supply (#3, #4).
Audio cable: Connects Chromecast Audio to speaker systems that support aux-in and line-in connections via a standard 3.5 mm port. Optionally, speaker systems with RCA inputs and optical digital inputs are supported, but required cables are sold separately.
USB power cable: Provides power to your Chromecast Audio. One end plugs into your Chromecast Audio, and the other end plugs into the power supply (#4).
Power supply: Used with the USB power cable (#3) to power your Chromecast Audio (#1)
MORE HELP WITH SETTING UP CHROMECAST AUDIO CAN BE FOUND HERE.
WARNINGS TO USERS
Chromecast Audio may get hot to the touch; this is normal. Unplug Chromecast Audio's power source and let it cool before removing it from your speaker system.
You should only use the cables and plugs provided with your device to plug it in.
If you must use a different power supply than the one provided with your device, use a UL Listed power supply marked "LPS" or "Class 2", with output rated 5Vdc, 1A.
Do not expose Chromecast Audio or the power supply to water or extreme conditions (moisture, heat, cold, dust), as Chromecast Audio or the power supply may malfunction or cease to work when exposed to such elements.
Do not attempt to disassemble or repair Chromecast Audio yourself. Doing so voids the limited warranty and could harm you, your speaker system, and/or Chromecast Audio.
Chromecast Audio is an entertainment device; it is not designed, manufactured or intended for use in hazardous environments requiring fail-safe performance in which the failure of Chromecast Audio could lead directly to death, personal injury, or severe physical or environmental damage.
Take care when handling the power supply to avoid electric shock.
Caution: Risk of electric shock. Dry location use only.
Pacemaker Notice
The device contains radios that emit electromagnetic fields. These electromagnetic fields may interfere with pacemakers or other medical devices. If you wear a pacemaker, maintain at least 20 cm (8 inches) of separation between your pacemaker and your device. If you suspect your device is interfering with your pacemaker or any other medical device, stop using it and consult your physician for information specific to your medical device.
Do not carry the device in the front pocket of your shirt or coat.
For information about other active medical implants, please contact the producer or a doctor to ensure that your product's magnetic field will not interfere with the implant.
Device with Magnet
Avoid placing any media that contains magnets or is sensitive to magnetism, such as credit cards, bank cards, audio/video, tapes, or magnetic memory devices, near this product.
Media containing information sensitive to magnets should be kept at least 5 cm away from the product. For example, if you carry your wallet or billfold containing magnetic cards next to this product, information stored on those cards could be destroyed.
Similarly, magnet sensitive devices, such as a mechanical watch or measuring device, can be damaged if they come too close to this product.
WARRANTY INFORMATION IS AVAILABLE HERE.
LICENSING INFORMATION IS AVAILABLE HERE.
REGULATORY INFORMATION
NOTE ON INTERFERENCE IN A RESIDENTIAL INSTALLATION
This device has been tested and found to comply with the limits for a Class B digital device, pursuant to part 15 of the FCC Rules. These limits are designed to provide reasonable protection against harmful interference in a residential installation. Chromecast Audio generates, uses and can radiate radio frequency energy and, if not installed and used in accordance with the instructions, may cause harmful interference to radio communications. However, there is no guarantee that interference will not occur in a particular installation. If Chromecast Audio does cause harmful interference to radio or television reception, which can be determined by plugging in, then unplugging, Chromecast Audio, the user is encouraged to try to correct the interference by reorienting or relocating the receiving antenna and/or consulting the dealer or an experienced radio/TV technician for help.
Chromecast Audio complies with part 15 of the FCC Rules. Operation is subject to the following two conditions: (1) the device may not cause harmful interference, and (2) this device must accept any interference received, including interference that may cause undesired operation.
Changes or modifications not expressly approved by the party responsible for compliance could void the user's authority to operate Chromecast Audio or warranty.
Model: RUX-J42
FCC ID: A4RRUX-J42 -- your Chromecast Audio's FCC ID is printed on its back
To satisfy FCC exposure requirements, a separation distance of at least 20 cm should be maintained between the antenna of this device and persons during device operation. Operations at closer than this distance are not recommended.
The antenna used for this transmitter must not be co-located in conjunction with any other antenna or transmitter.
Chromecast was designed by Google Inc. of 1600 Amphitheatre Parkway, Mountain View, California 94043 and assembled in China.
Was this helpful?
How can we improve it?