FAQ for Google Workspace users
I lost access to my AppSheet apps - what happened?
If you are using your Workspace account for creating or using AppSheet apps, and you no longer have access, it may be due to one of the following reasons:
Your Workspace admin has disabled AppSheet as an additional service.
Your Workspace account has ESR controls enabled.
Your Workspace account is available for K12 audience, and AppSheet has been automatically disabled as a security precaution.
How do I regain access to AppSheet account/apps?
Contact your Workspace administrator and ask them to enable AppSheet for your organization.
I'm receiving 'Error 400: admin_policy_enforced'
AppSheet requests scopes (refer to the scope section of the error message) that are currently not permitted by your Workspace organization policies. Contact your Workspace administrator and ask them to modify the OAuth policy, refer to
https://support.google.com/a/answer/9285645?hl=en
for more information on scope grants.
FAQ for Google Workspace admins
Why was this new setting introduced?
To provide you with better tools for managing AppSheet, which accesses data sources such as Google Sheets, Cloud SQL, and other similar connectors, throughout your organization.
How can I change the admin setting?
You can see and
turn AppSheet on or off
using the Service Status setting (found under
Apps > Additional Google services > Settings for AppSheet
) makes it possible to enable or disable AppSheet for your entire organization or specific
Organizational Units
,
groups
and users.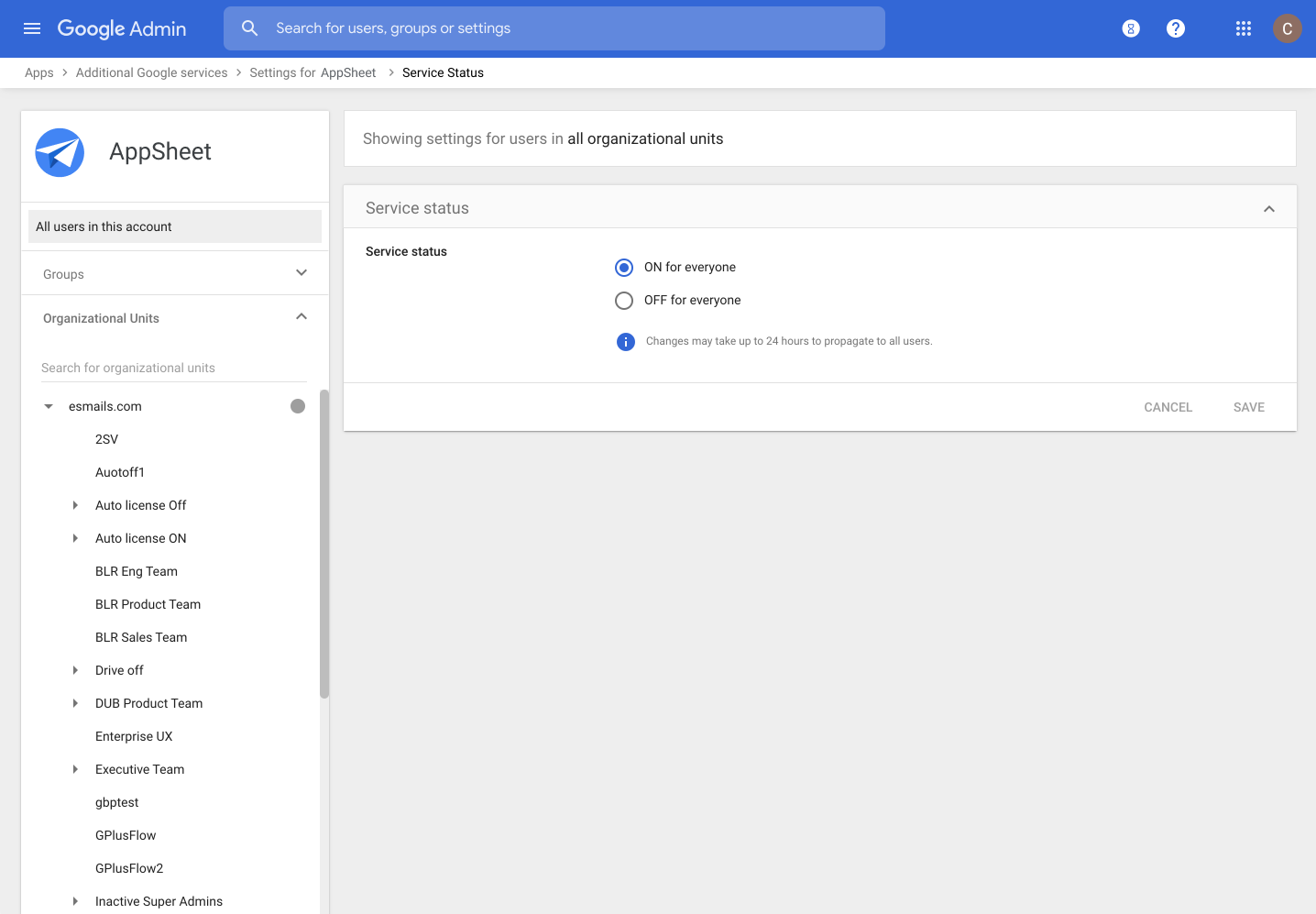 How do I know if anyone in my organization is currently using AppSheet?
You can search for AppSheet usage using the
Token Audit Log
in the Workspace admin console. Go to
Reports > Audit Log > Token
. Click
+ Add a filter
, choose
Application name
and type
AppSheet
and then click
APPLY
. You will get a listing of users who have used AppSheet. You can download this list into Google Sheets or a comma-separated values (
.csv
) file for further processing.
FAQs for K12 Google Workspace admins
Why is AppSheet set to "OFF for everyone" in my organization?
Consistent with your current settings in managing access to additional services that aren't controlled individually, we will be setting the new AppSheet control to OFF everyone in your organization.
As a reminder, where applicable, parental consent is required (per the G Suite for Education Online Agreement) for students under 18 years of age to turn ON an Additional Service in Google Workspace for Education Online Agreement.
If you do not have parental consent for users under the age of 18, this service should be left turned
OFF.
How can I set AppSheet to "ON for everyone"?
Confirm that you have parental consent for AppSheet to be used in your organization, then use the steps provided above to turn AppSheet on in your Additional Google Services settings.
To learn more about controlling the use of AppSheet,see Manage AppSheet in your organization.