Understand and manage bots as described in the following sections:
See also Monitor automation.
What is a bot?
A bot defines the automation you want AppSheet to run:
when something happens (an event) perform a set of activities (each activity is a task and a set of tasks is a process).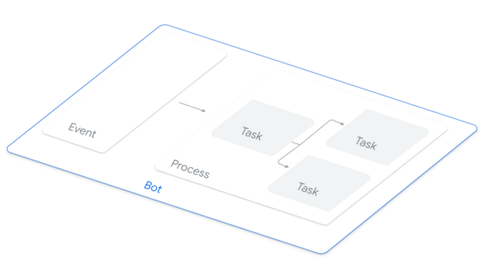 Bots can perform a wide variety of functions. For example:
You can perform a wide variety of other functions because once the bot is triggered, it is capable of working on any table and doing almost anything. Once enabled, bots run in the background to listen for events or trigger processes on a schedule even when you are not directly using an app. To terminate the process automation, you can disable the bot.
For example, the Employee onboarding bot is configured to trigger the Onboard new employees process anytime a new employees record is created. The bot continues to listen for the new employee creation events and fire the associated process when the event occurs until it is disabled.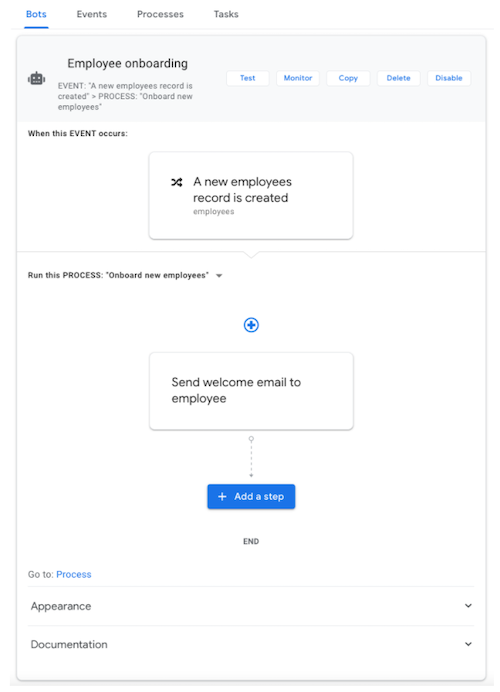 How bots are triggered
Bots can be configured to trigger a process based on a data change event or according to a predetermined schedule.
Bots with data change events
You can create bots that are triggered by a data change event, such as:
The data change that triggers a bot can be any type of data change that arrives at the server. For example, you can add an extra table column whose only purpose is to trigger a bot. Then, you can create a client action button that updates the extra column's value. Clicking the action button triggers your bot.
After the data change is synced to the server, AppSheet:
Makes the appropriate changes to the spreadsheet or database.

Ensures that any formulas in the spreadsheet are re-computed to use the latest data values.

Determines whether your bot should be triggered.
To further restrict when a bot is triggered, you can specify the following:
Note: In some cases, user access to table data is limited for security reasons as governed by security filters on the table. AppSheet provides the ability to enable a security bypass to allow access to the table data strictly for purposes of evaluating the condition to determine whether the bot should be run.
Bots with scheduled events
Alternatively, you can use a bot that is triggered on a schedule you specify. Just like a data change-triggered bot, a scheduled-triggered bot is capable of working on any table and performing a wide variety of functions. See Understanding bot scheduling and retry.
How bots are not triggered
Bots are not triggered by:
Application version and bots
Each time you change your application, AppSheet creates a new version of your application. These changes may include changes to your bots.
AppSheet includes the application version each time a user submits their adds, updates, or deletes to the server. This is essential because the user may be submitting changes based on an older version of your application.
When invoking bots, AppSheet invokes the version of the bots that match the user's version. This may result in invoking an older version of your bot. You can detect when this occurs by examining the audit history. The audit history includes the application version number.
After the user has submitted their changes, the AppSheet client performs a sync that retrieves the latest data and application version. Any future changes will be submitted using that application version.
Create a bot
To create a bot:
In the AppSheet UI, select Automation> Bots.

Click New Bot.

Perform one of the following tasks:

Choose from the list of suggestions. AppSheet Automation is an intent-aware platform. The platform understands user intent and recommends configuration options that align with what you are trying to achieve. For example, selecting the following bot suggestion would create a fully configured bot:
When employees record is updated, send an email

Create a custom bot. Enter a name in the Bot name field and click Create a custom bot to create a new custom bot.

Configure the process, including the steps and tasks.

Configure the bot.
Expand the Options section and configure one or more of the following advanced settings to control the behavior of your bot:

Option
Description
Trigger other bots

Enable this option to allow data change steps in this bot to execute other bots that are listening for the same data change events. Disable this option to prevent data change events triggered by the current bot from triggering other bots.

If enabled, the following policies are enforced to avoid infinite event-trigger loops:

An event that is a result of a data change made by the bot cannot subsequently trigger the same bot.

If two or more bots trigger one another continuously in succession, the maximum number of triggers that can be initiated between them is 5. For example:

Bot A triggers Bot B

Bot B triggers Bot A

Bot A triggers Bot B

Bot B triggers Bot A

Bot A triggers Bot B

Wait for execution to complete
Enable this option to instruct the app to sync data changes only after this bot and all bots that it triggers complete their execution. Disable this option to instruct the app to sync data after this bot completes its execution, even if there are triggered bots still executing in the background. Note: This option is available only if the Trigger other bots option is enabled.
Bot icon
Select an icon to add to the bot for easy identification.

Document the bot.
Expand the Documentation section and enter a descriptive comment for the bot that will enable collaborators to easily understand its purpose.

Save the bot by selecting one of the following:

Save - Save the bot

Save & verify data - Save the bot and verify the data defined.

Save & notify users - Save the bot and notify users.
Disable a bot
Disable the bot to temporarily stop the process automation.
To disable a bot:
Select Automation > Bots.
Expand the bot you want to delete.
Click Disable in the bot heading.
Delete a bot
Delete a bot to permanently remove it.
To delete a bot:
Select Automation > Bots.
Expand the bot you want to delete.
Click Delete in the bot heading.