Essential migration steps for Google Analytics 4
Google Analytics 4 is replacing Universal Analytics. On July 1, 2023 all standard Universal Analytics properties will stop processing new hits. 360 Universal Analytics properties will stop processing new hits on July 1, 2024. Learn more
If you have a Universal Analytics property, you must migrate. Check if you have a Universal Analytics property. The earlier you migrate, the more historical data and insights you will have in Google Analytics 4.
Start using Google Analytics 4 today to get a complete view of consumer behavior across web and app by using first-party, modeled data. Improved machine learning features, actionable reporting, and new integrations help you adapt to an evolving privacy and technology landscape to keep getting the insights you rely on.
For everyone

For advertisers

1. Consider account structure
(Effort varies)

2. Create a GA4 property and data stream
(Very low effort)
GA4 Setup Assistant

3. Collect website and app data
(If applicable; effort varies)
Required if the GA4 Setup Assistant couldn't reuse your tags

4. Turn on Google signals
(If applicable; very low effort)
Required for enhanced remarketing and reporting

5. Set up conversions
(Low effort)
Goals migration tool
Use the tool or set up conversions manually

6. Add users
(Low effort)
User migration tool
Use the tool or add users manually
Advanced setup needs (if applicable)
Custom events, ecommerce, data import, and more
---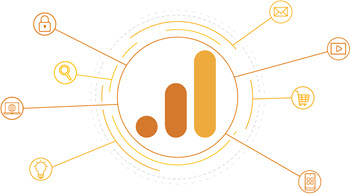 Congratulations!
You're on your way to getting the actionable, privacy-safe customer insights you need with Google Analytics 4.
What's next? View your reports or try the Explore playbook to learn how to answer common business questions with GA4.