| | |
| --- | --- |
| | Learn about meeting controls, presentation options, your self-view, and participant tiles for Google Meet video calls on the web (meet.google.com). |
1. Use meeting controls
Meeting controls are in one place on the bottom bar of the meeting window
Consolidated controls provide more room for participants and content.
When you point to a control, its name appears.
To prevent accidental hang-ups, the Leave call button is on the right, away from the camera and mic buttons.
All captions and participant tiles appear above the bottom bar.
Learn more
Meeting details, participants, chat & activities are all on the bottom bar
Get meeting details, including joining info and attachments, from the right side of the bottom bar.
Manage participants, open the chat stream, and access activities such as Q&A, breakout rooms, and polls—all from the bottom bar.
When your browser is maximized (full-screen view), a clock appears at the bottom left to help you stay on time.
Learn more
2. See what you're presenting
When you present your screen, you can see other participants—and what you're presenting—at the same time.
In the meeting window, point to your presentation feed to:
Unpin your presentation (view it as a tile) so you can view more participants.
Mute or unmute any audio playing in your presentation.
Remove your presentation from the meeting.
Note: You can't interact with content in the meeting window. To move through the document you're presenting, go to the window or browser tab you're presenting from.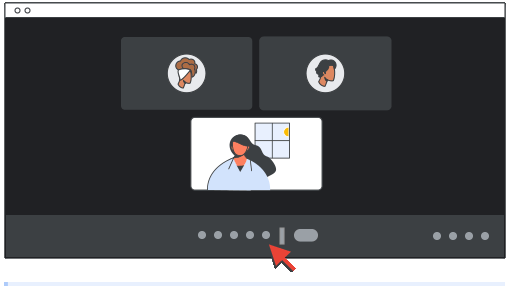 Tip: To avoid having the meeting window repeat in an infinite-mirror tunnel effect, share a different window or a specific tab instead of the meeting window. If you need to share your entire screen, put the meeting window and the content you're presenting on different monitors if possible.
Learn more
3. Change your self-view
Your self-view appears as a floating picture overlay or as a tile in the participant grid. The default is floating picture overlay for meetings with 2 participants. For meetings with 3 or more, your self-view is added to the participant grid by default. If you change your self-view, Meet remembers your preference for each meeting type.
What you can do:
Point to your self-view to pin, unpin, switch from being part of the participant grid to a floating picture, or minimize your self-view on your screen. Minimizing your self-view doesn't remove your tile from other people's screens, however.
To change the size of your overlay, drag from the center-most corner.
To move your overlay, drag it to any of the four corners of the meeting window.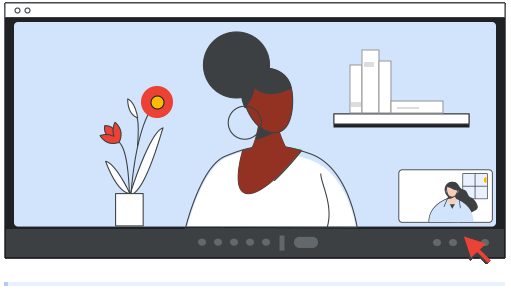 Tip: Sometimes your self-view appears with gray bars at the top and bottom. Gray bars appear when the width and height of your video feed are differ from your floating picture overlay. Other participants might see a cropped version of your video feed, and they won't see the gray bars.
Learn more
4. View participant tiles
Participant tiles improve interaction and put more people at eye-level when you look into the camera.
When someone is speaking, their tile is outlined and the speaker indicator appears in the top-right corner of their tile.
When someone is muted, the mute indicator appears in the top-right corner of their tile.
To see more participants, try zooming out in your browser.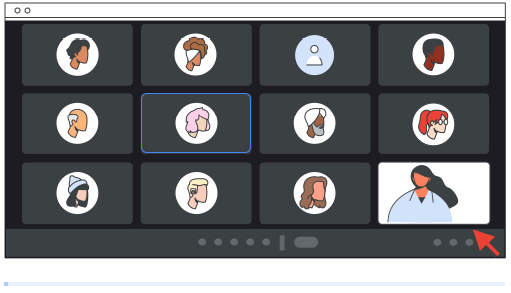 Learn more
Understand how 3rd party extensions work with Google Meet
Some 3rd party Meet extensions may cause unexpected meeting issues. For example, video feeds or side panels might be cut off or missing. For the best performance, you should disable 3rd party extensions.
Disable external 3rd party Meet extensions
On your computer, open Chrome.
At the top right, click More More tools Extensions.
Next to the Meet extension, turn the extension off .