If you're a music artist on YouTube, you may be eligible to feature your upcoming concert listings on YouTube. In this article, you'll learn about the eligibility requirements, availability, supported ticketing retailers, policies, data sharing and, if you're eligible, how you are opted in and can opt out of the ticketing shelf.
This feature will be automatically enabled on eligible artist channels. Once enabled, viewers who are watching official music content from your YouTube channel will see links to tickets for available event dates on video pages. Ticketing features will show the event that is geographically closest to the viewer, as well as show them more available event dates.
Currently, ticketing features are not shows to fans watching from mobile browsers or from living room devices. Sold out events will not be displayed on the shelf.
Currently, ticketing features are not shown to fans watching from mobile browsers or from living room devices.
Sold out events will not be displayed on the shelf.
On desktop, the ticketing shelf will appear directly underneath the video player. On YouTube Main mobile app, ticketing will appear within the mobile watch feed.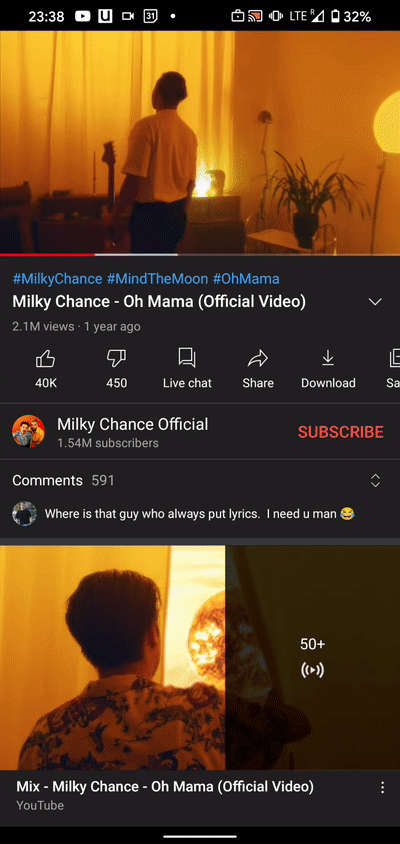 Channel Eligibility
To be considered for a ticketing features, you need to meet these minimum requirements:
Have a YouTube Official Artist Channel
Your channel's audience must not be set as made for kids
Have a music attraction ID with any of the supported ticketers (listed below)
Have upcoming concerts in any of the supported countries where viewers of your videos can see the ticketing shelf (listed below)
Supported ticketers
AXS
Eventbrite
SeeTickets
Ticketmaster
DICE
The supported ticketer (not Google) is responsible for all aspects of ticket sales including, but not limited to, order fulfillment, refunds, customer service, inventory management, and payment.
We are open to onboarding new ticketers to partner with in the future, but our pipeline is currently at capacity.
Supported countries
Viewers of your videos in the following countries or regions are able to view the ticketing features:
Australia
Canada
Ireland
New Zealand
United Kingdom
United States
Opt in and opt out
We automatically opt-in for ticketing all eligible artist channels. If you think you're eligible, contact your YouTube Partner Manager or send feedback.
To opt out and disable ticketing on your artist channel:
In YouTube Studio
Sign in to YouTube Studio.
In the left-hand menu, click Concerts.
You can pause ticketing by toggling the switch next to "Sell tickets through YouTube" in the top right corner of the page. Should you change your mind, you can return to this switch to turn ticketing back on.
Should you opt out, you will still be able to see metrics related to any events that were shown on the ticketing features. Learn more here.
Policies
Your use of the ticketing features must comply with YouTube Terms of Service, including the YouTube Community Guidelines.
Violations of these terms and policies could result in suspension or termination of your use of the ticketing features (including any related feature) or in account termination, in accordance with those policies.
If you do not agree with any of the above, please do not use ticketing features. You can also disable ticketing features at any time.
Data sharing and event metrics
Data relating to ticket sales and visits will be shared between supported ticketers and Google for product improvements and to provide relevant analytics to you. For example, for the events shown on your ticketing shelf, we can show you ticket revenue, the number of tickets you've sold, whether you're sold out, and the cities in which you've sold tickets, using data we receive from the supported ticketer. Supported ticketers receive data relating to traffic coming from the YouTube ticketing features for their analytics.
You can view metrics related to events shown on ticketing features by following these steps:
In YouTube Studio
Sign in to YouTube Studio.
In the left-hand menu, click Concerts.