Concert listings on YouTube
If you're a music artist on YouTube, you may be eligible to feature your upcoming US concert listings on your video watch pages. We've partnered with Ticketmaster on concert listings.
Once enabled, viewers who are watching official music content from your YouTube channel will see a shelf containing your tour dates just below the video. Your tour dates will be visible to fans watching content on both mobile devices and computers. The shelf will pin the event that is geographically closest to the viewer, as well as show them more available event dates. Note that sold out events will not be displayed in the shelf.
For artists enrolled in the Official Artist Channel program, the ticket shelf will also be displayed on videos from your VEVO channel.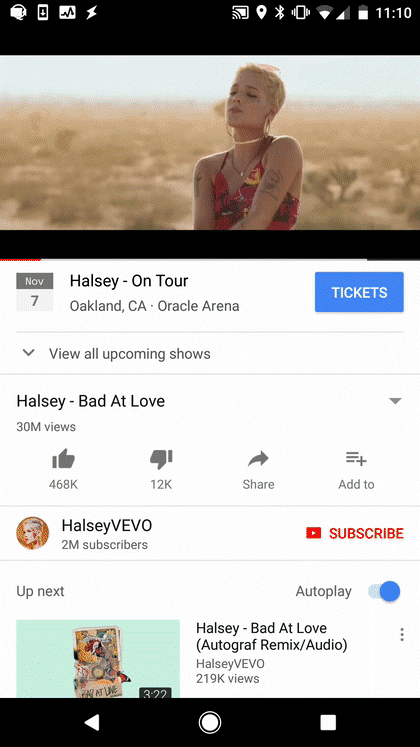 Eligibility requirements
If you have a YouTube artist channel and meet the following requirements, you are eligible for this feature:
You are based in the U.S.
You have upcoming U.S. concerts that are ticketed by Ticketmaster
You have a Ticketmaster music attraction ID
You have at least 5 upcoming shows that are not sold out
Opt in or out
If you have already been opted in but are not interested in displaying your tour dates on YouTube, or if you believe you are eligible, contact your YouTube Partner Manager or send feedback.
Future expansion
We are working hard to make this feature available to all artists who have Ticketmaster shows with plans to expand. Please watch for updates and announcements on the YouTube for Artists site.