Here are the essential parts of a typical Search Console report.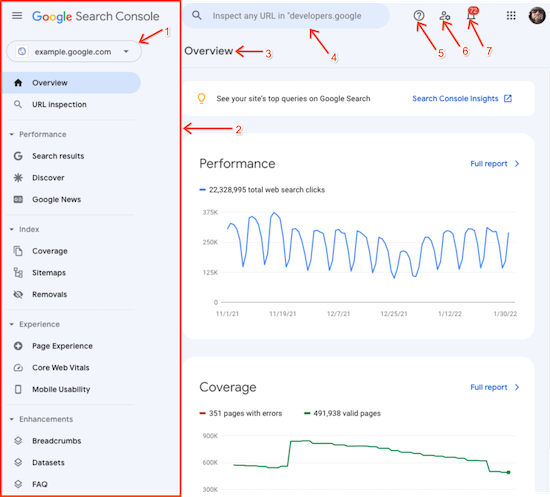 The property selector. Use this to switch properties or to add a new property. The property list shows both verified and unverified properties (for example, if you've added a property but never verified ownership, or have lost ownership).
The navigation bar. Note that the sections in this bar are collapsable. Also note that many of the items in this bar are only present if you have data for that report. For example, the Performance for DIscover report is present only if your site has appeared in Discover, and specific reports in the Enhancements section are present only if the appropriate rich result for your site has appeared in Google Search results.
Report name. The rest of the page below the title is the actual report or tool.
The URL Inspection toolbar. Enter a fully-qualified URL in the current property to see information about the indexed and live URL.
Help for this page. Click the icon to open the help documentation for this page.
User settings. Click this icon to see and configure user-level settings, that affect your experience in Search Console for all your properties.
Message panel. Click to open the message panel for this property. If a number is shown on the icon, this is how many unread messages you have. Messages are also emailed to you while you are a member of this property.
Property settings (not shown). At the bottom of the navigation bar there is a Settings
icon for property-level settings.