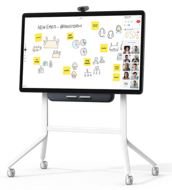 You can use the Google Meet Series One Board 65 all-in-one touchscreen device for team‑focused meetings and collaborative work spaces. Use it to connect, create, and collaborate in meetings and share ideas on a whiteboard.
What you can do with the Board 65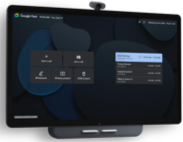 Start and join meetings
The Board 65 is a premium all-in-one touchscreen Google Meet device designed for team collaboration with Jamboard app capabilities built right in. It includes a 65-inch touchscreen, camera, microphone, and speakers.
Brainstorm ideas with the whiteboard
A built-in digital whiteboard can be used alone or during a Meet meeting.
You can also collaborate in real time with colleagues using the Google Jamboard app on a web browser, mobile device, or 55-inch Jamboard.
People in up to 50 other user sessions can work on a whiteboard session at once.
Control a meeting while using a whiteboard
Access important Meet controls while using a whiteboard in a meeting.