August 23, 2022
Earlier this year, we previewed the timeline and process for upgrading your Smart Shopping and Local campaigns to Performance Max using the self-upgrade tool in Google Ads.
The self-upgrade tool for Local campaigns has become available to eligible advertisers and will continue to roll out in phases throughout August and September. We strongly recommend using the tool to upgrade your campaigns as soon as you can to get a head start on the holiday season. You will have access to the self-upgrade tool before automatic upgrades begin. If you choose not to use the self-upgrade tool, then you will receive a notification in Google Ads a few weeks before your campaigns are automatically upgraded to help you prepare.
If your campaigns are not eligible for the self-upgrade tool and you are not notified about an automatic upgrade, then your Local campaigns will not be upgraded to Performance Max until 2023. If your campaigns have access to the self-upgrade tool and do not auto-upgrade by the end of September, you will continue to have access to the self-upgrade tool until auto-upgrade resumes in 2023. This will ensure you do not see any campaign disruption during the busy holiday season.
How do I self-upgrade?
You can upgrade your Local campaigns on your own using the self-upgrade tool, which can be accessed from the notification, Recommendations page, or Campaigns page in Google Ads.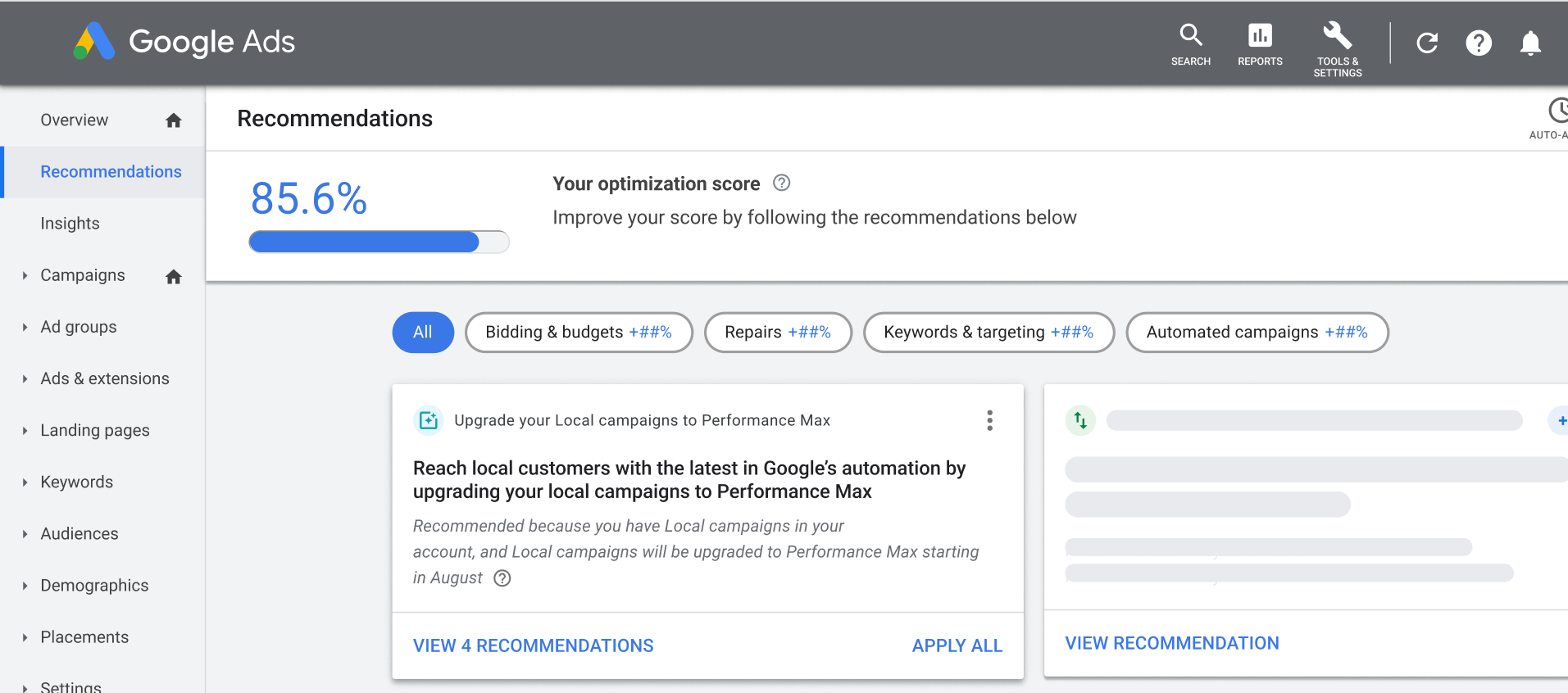 When your campaigns are self-upgraded using the tool or automatically upgraded, historical campaign performance from your previous Local campaigns will carry over to your new Performance Max campaigns to maintain consistent performance. Your campaign settings like conversion goals, budget, creative assets, and bid strategy will also automatically transfer to Performance Max.
After you upgrade your Local campaigns, take action using these five best practices to get the most out of your Performance Max campaigns:
Use Performance Planner to plan upcoming holiday budgets and assess how budget changes could impact your campaign's performance.
To prepare for holiday peaks or weekend sales, start the campaign 2-3 weeks in advance, then refresh your creative frequently to move from more generic store creative to creative focused on your goals (i.e. promoting holiday season products, promotions etc.). This allows you to do time-based promotions without compromising performance.
Set a value for each conversion action so your campaigns can best reach your goals. For example, a 'phone call' click is worth $3, a 'get directions' click is worth $5 and a store visit is worth $10 for your business.
Select one call-to-action per asset group.

While Local campaigns support multiple custom call-to-actions per ad group, Performance Max campaigns support one predefined call-to-action per asset group. During upgrade, up to five customer call-to-actions will be upgraded and supported as read only in Performance Max.

Turn off any ad scheduling or geo targeting. While these settings are available in Performance Max campaigns, we do not recommend applying them as they may impede campaign performance.
What happens to my previous Local campaigns?
After you upgrade to Performance Max, your previous Local campaigns will be set to "Removed" status. You won't be able to edit or reactivate these campaigns or create new Local campaigns once your campaigns begin to auto-upgrade. Historical data will continue to be available from the Campaigns page or Overview page in Google Ads. Campaigns optimizing towards store goals should be created in Performance Max. Find more details about the upgrade process in the Help Center.
Upgrade to Performance Max as soon as you can to make sure you're well positioned for the upcoming holiday season. You can also visit the Help Center to learn additional best practices, and mark your calendars for Think Retail on August 30 to hear the latest holiday trends and ways you can get your business ready.
Posted by Nagarjun Bangalore, Product Manager, Performance Max campaigns