January 19, 2022
Rigorous, data-driven testing is key to any business looking to grow—especially in today's constantly changing environment. One of the best ways to do this in Google Ads is by running experiments, which can help you understand the impact of your changes and improve campaign performance. To make it even easier for you to test in your account, we're rolling out the Experiments page—a new destination in Google Ads that can help you create, manage, and optimize your experiments in one place.
Create and manage experiments with ease
Previously, running an experiment meant that you had to first create a campaign draft and then test that draft separately in an experiment. Now, you can select a campaign and create a custom experiment for it in a single step. When you set up your experiment, you can specify how long you'd like it to run and how much of your original campaign's traffic and budget you'd like to use.
While your experiment runs, you can monitor performance in the new Experiments page. If you're happy with the results, you can apply these changes to your original campaign in a single click. For example, let's say you created a custom experiment to test a new bid strategy. After running the experiment for a few weeks, you see that this test improved your campaign's performance. Now, in the new Experiments page, you can choose to apply the new bid strategy to your base campaign. This helps you avoid any implementation issues and makes it easier for you to see the expected uplift from your experiment results.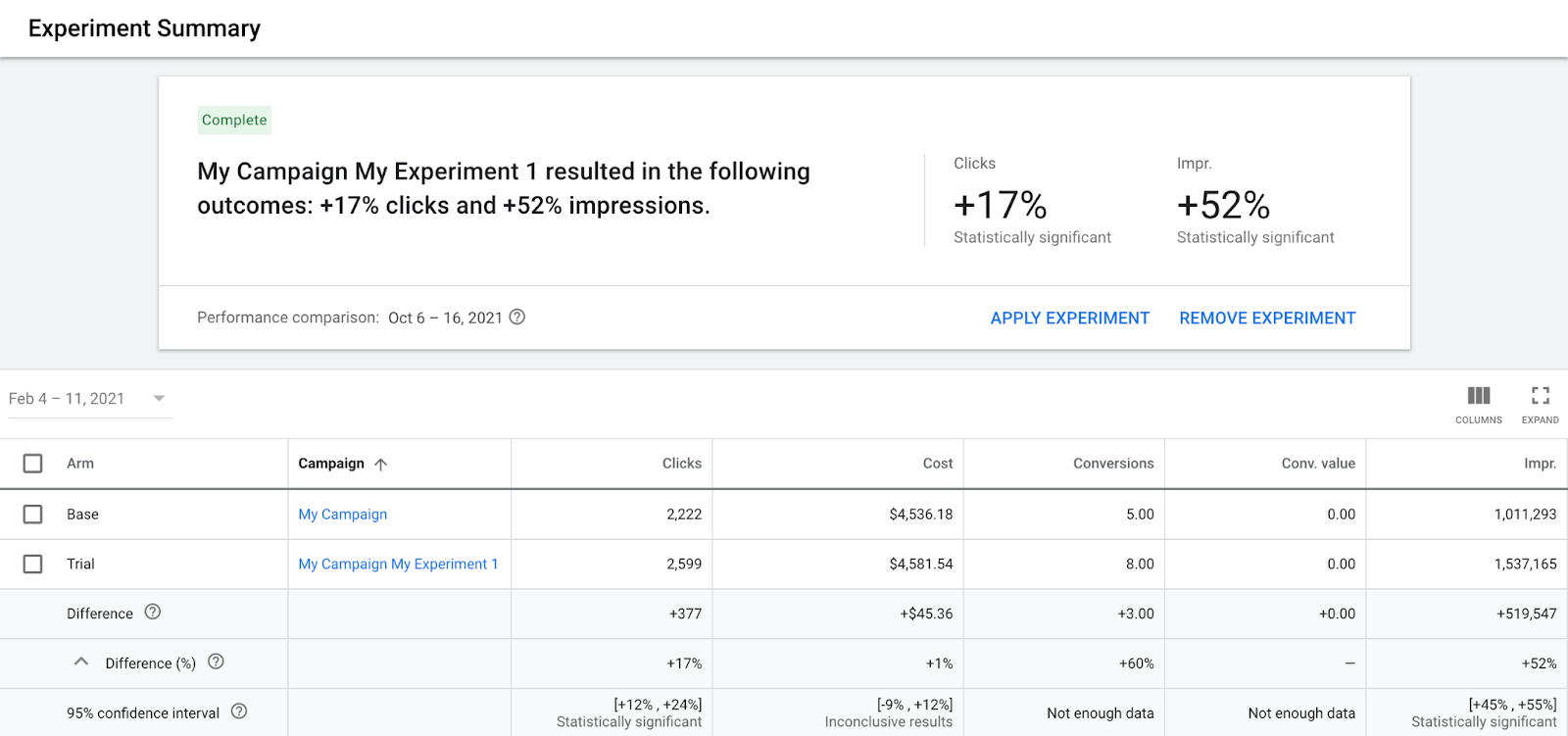 Optimize your experiments with sync
To make it easier for you to run valid experiments, we're rolling out a new way to sync your experiments with their corresponding campaigns. In the past, keeping your experiments up to date meant that you had to manually copy changes over from your original campaigns. This is both difficult and time-consuming—especially if you're running multiple experiments at the same time.
With this update, we'll automatically update your experiment with any changes you make in your original campaigns. For example, let's say you add new keywords to a campaign while you're running an experiment on it. With sync enabled, these keywords will automatically be added to your experiment campaign as well. Sync is turned on by default when you create a new experiment.

| | |
| --- | --- |
| | Fiverr, a global online marketplace for freelance services, has tested the new Experiments page to easily manage multiple experiments. "Thanks to this feature we're able to test various landing pages and ads, so we can improve our performance," said Gabi Vatmakhter, Senior PPC Specialist at Fiverr. |
We'll continue to roll out more new features on the Experiments page in the coming months. Learn more about the Experiments page in the Google Ads Help Center.
Posted by Natalie Wertz, Product Manager, Google Ads