October 27, 2021
Using first-party data in your marketing strategy helps you build direct relationships with your customers, deliver personalized experiences, and improve campaign performance. However, collecting, uploading, and updating this data can be challenging─especially if you have limited technical resources.
To make this process easier for you, we've collaborated with Zapier, an automation solution that helps you work with your first-party data across tools like lead form extensions, offline conversion imports, and Customer Match. Going forward, you can now link Zapier to your account directly in the Google Ads interface.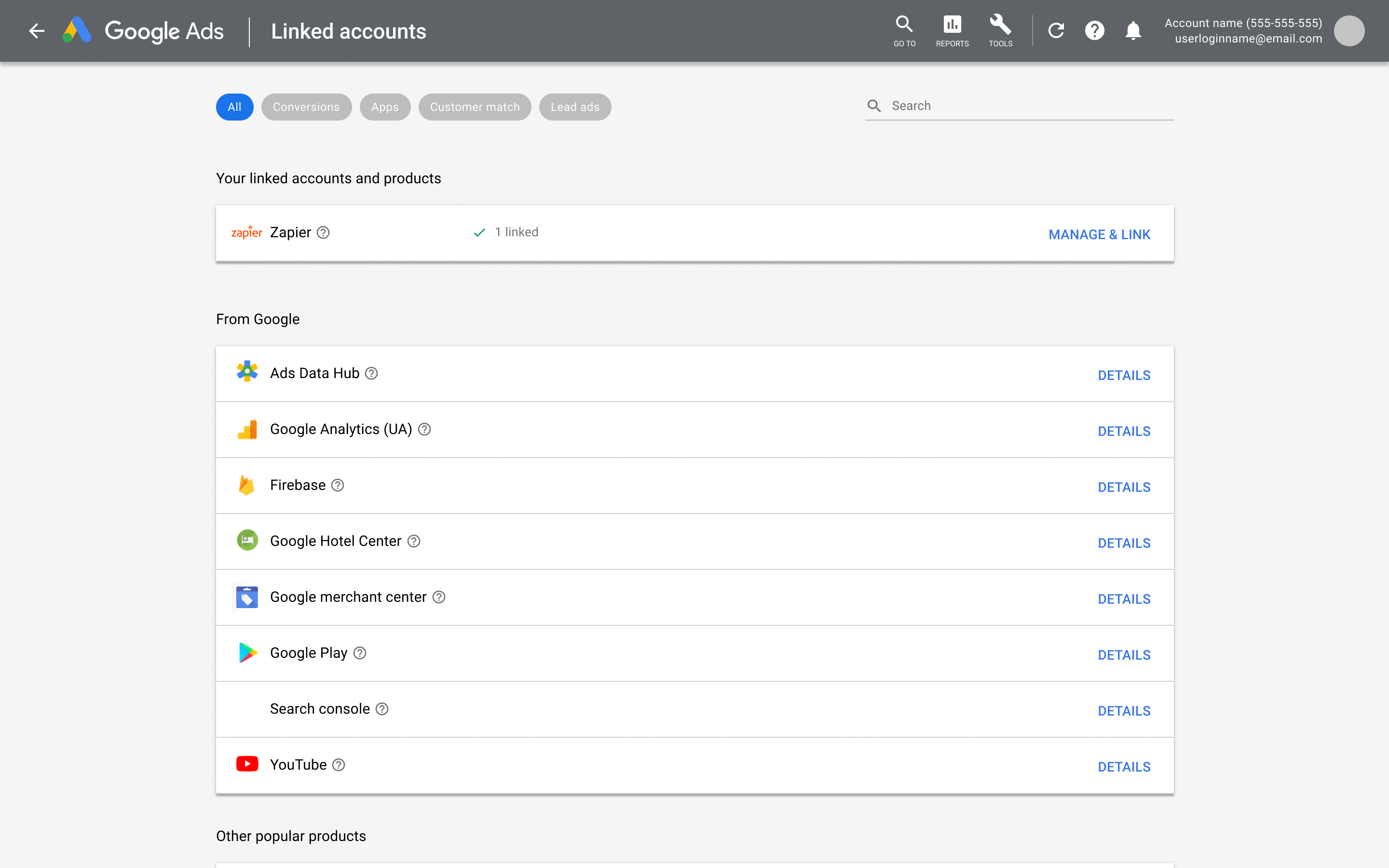 By linking your Zapier account with Google Ads, you can automate some of the most common manual tasks. For example:
You can link lead form extensions to your CRM and receive leads automatically.
You can automatically import offline conversions from your CRM back to Google Ads, helping you measure and understand the full value of your campaigns.
You can use Zapier to automatically update, sort, and remove contacts from your Customer Match lists, ensuring that your audiences stay fresh.
In addition, Zapier has integrations with over 3,000 CRMs and third-party platforms like Slack, Mailchimp, and Salesforce. This makes it easy to include in your existing processes.
| | |
| --- | --- |
| | ServiceTitan is a software platform that helps small businesses manage their routine tasks. The brand was already using lead form extensions, offline conversion import, and Customer Match, but found it challenging to transfer its first-party data and keep it up to date in Google Ads. By linking their account with Zapier, ServiceTitan was able to spend less time manually uploading data and more time analyzing the success of their campaigns. "What used to be a manual process of downloads, formatting, and uploads now happens effortlessly, saving us time to focus on more valuable tasks," said Matt Grebow, Senior Manager of Demand Generation at ServiceTitan. |
| | |
| --- | --- |
| | Fluent is a marketing company that helps brands find new, valuable customers. As part of this goal, the brand needed to import their offline conversions into Google Ads–but had difficulty doing this with their current processes. By using Zapier with Google Ads, it found it could automatically send offline conversions into Google Ads. This helped Fluent save time, see which ads were working best, and use that information to optimize their campaigns. |
To learn how to link your Zapier account to Google Ads, visit the Google Ads Help Center.
Posted by Digvijay Singh, Product Manager, Google Ads