Interface Map
Find your way around the Analytics Reporting interface.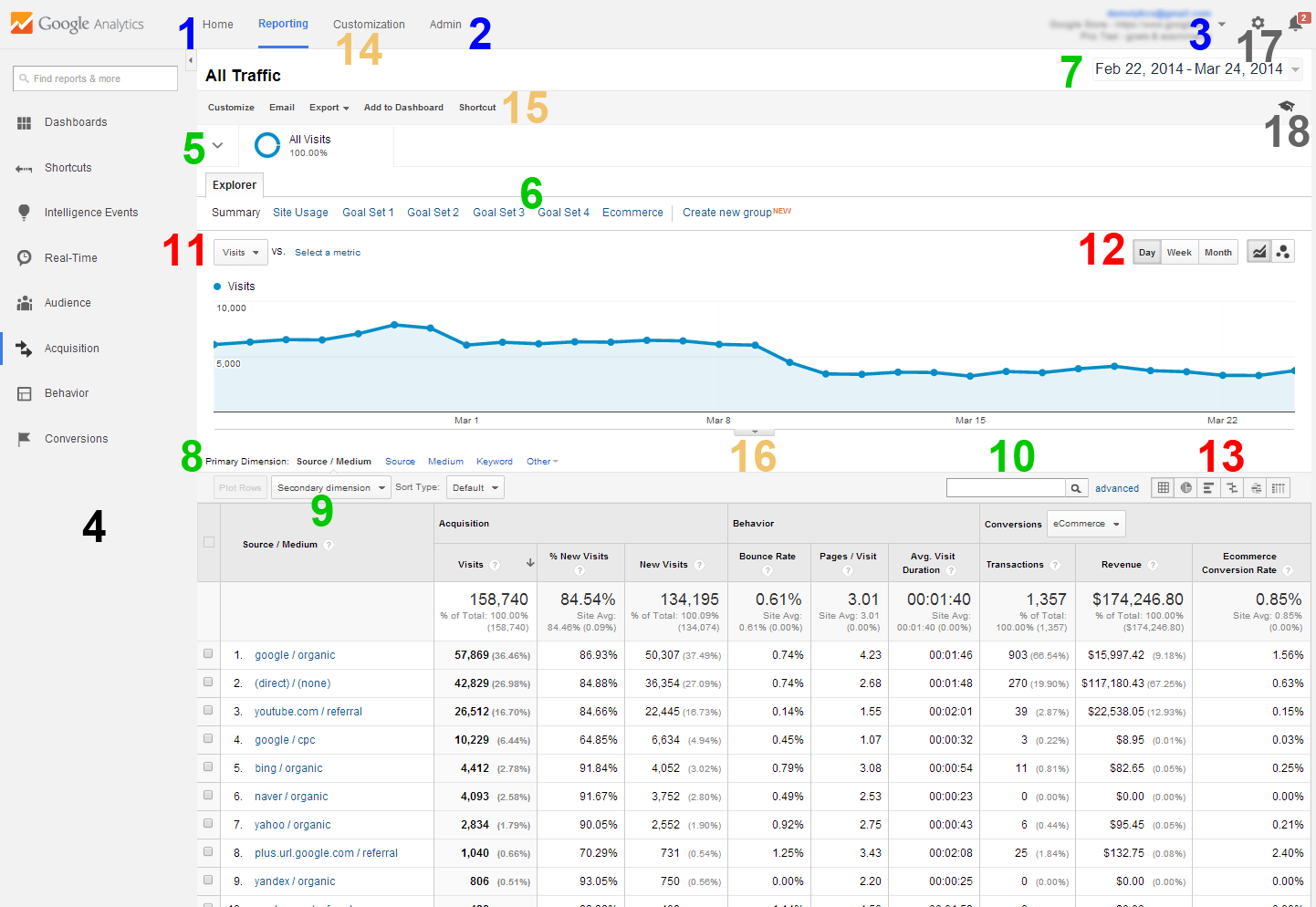 Account Controls
1. Account Home: See a list of all of your Accounts and Properties.

2. Admin Settings: Manage Google Analytics (create new properties, change user permissions, add integrations, etc.).

3. Account/Property/View Selector: Quickly change Accounts (same list as in the Account Home).
Report Navigation
4. All Reports: Includes the expandable list of all reports, a search box, and links to Dashboards, Shortcuts, and Intelligence reports.
Data Inclusion Controls
5. Add Segments: Organize your data with Segments for a more meaningful analysis.

6. Metric group selector: Click one to see data organized into that group.

7. Date selector: Change the date range in the report.

8. Primary dimension selector: Click to change the primary dimension in the report.

9. Secondary dimension selector: Add another dimension to the report.

10. Table Filter: Search and see only those results in the data table.
Graph & Visualization Controls
11. Metric selector: Add another metric to the report.

12. Time Graph selector: Change the time-scale within the line graph (hour, day, week, month).

13. Graph selector: Change the type of graph in the report (line graphs, pie charts, motion charts, etc.).
Report Sharing & Customization
15. Saving and sharing reports: Customize a standard report, Email & export reports, Add a report to a Dashboard, Create a Shortcut.

16. Annotations: Make a note directly on the report.
Help Resources
17. User settings: Change your user settings or search the help center.

18. In-Product Help: Get help resources inside Google Analytics.