Using dynamic remarketing to show ads tailored to your site visitors
Remarketing allows you to show ads to your past site visitors and customize those ads based on the section of your site people visited. With dynamic remarketing, you can take this a step further, and show your site visitors an ad with the specific product they viewed on your site.
Being able to tailor the ads to include the actual product people viewed and related products, attracts people's attention and helps bring them back to your site to complete a purchase.
Here's an example of a dynamic display ad: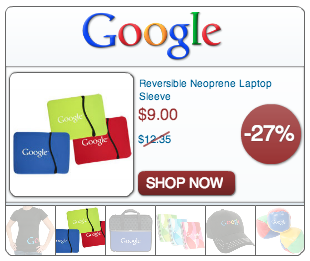 Advertisers with a Google Merchant Center account can use dynamic remarketing, after linking their AdWords and Merchant Center accounts.
Dynamic remarketing requires a Google Merchant Center account. Google Merchant Center is available in these countries: Australia, Austria, Belgium, Brazil, Canada, the Czech Republic, Denmark, France, Germany, India, Italy, Japan, Mexico, the Netherlands, Norway, Poland, Russia, Spain, Sweden, Switzerland, Turkey, the U.K., and the U.S.
How dynamic remarketing works
When you create your first dynamic remarketing campaign, AdWords provides you with the dynamic remarketing tag for your site. You need to add the remarketing tag across all your site pages with a custom parameter for the product ID (and a few other custom parameters). When people visit your site, the remarketing tag adds them to a remarketing list and associates the product ID with the visit. Read more about adding the dynamic remarketing tag to your site.
Later, when these visitors are browsing a website within the Google Display Network and your ad is shown, AdWords uses the product ID to get the product image, name, and price from your Google Merchant Center account, and includes it the ad.
When you set up a dynamic remarketing campaign, a dynamic text and dynamic display ad will be automatically created for you using Ad gallery templates.
See how an advertiser used dynamic remarketing
With dynamic remarketing, Sierra Trading Post, an outdoor gear and outerwear retail store, saw their conversions increase 5X compared to regular remarketing campaigns. Read their story.
Dynamic ads
You can customize your dynamic ads with the style elements of your brand, or simply upload your logo and let our auto-optimized layouts feature do the rest.
Customers on your remarketing lists see unique ads customized to each of them based on their visit to your site and on how close they got to completing a purchase.
To create a basic dynamic image ad when you set up your dynamic remarketing campaign, upload your logo, and your ads will be created for you. You can also customize the look of your ads by changing the color and size of your headline and buttons, or your ad's background image.
There are three main features that help drive dynamic ad performance:
The auto-optimized layout feature uses algorithms that choose the specific layout which is predicted to perform best for each group of visitors and device.
The product recommendation engine determines the best mix of products for each ad. Dynamic ads show the products that your visitors viewed on your site and display recommended products. AdWords recommends products that are considered popular on your site, and looks at which products are typically purchased with other products.

There are different ad layouts available that can show one, two, four, or six products in a single ad, in a variety of ad sizes.

Our real-time bidding algorithm calculates the optimal bid for each impression.
Learn more about the different layouts for dynamic remarketing ads (website available in English only).