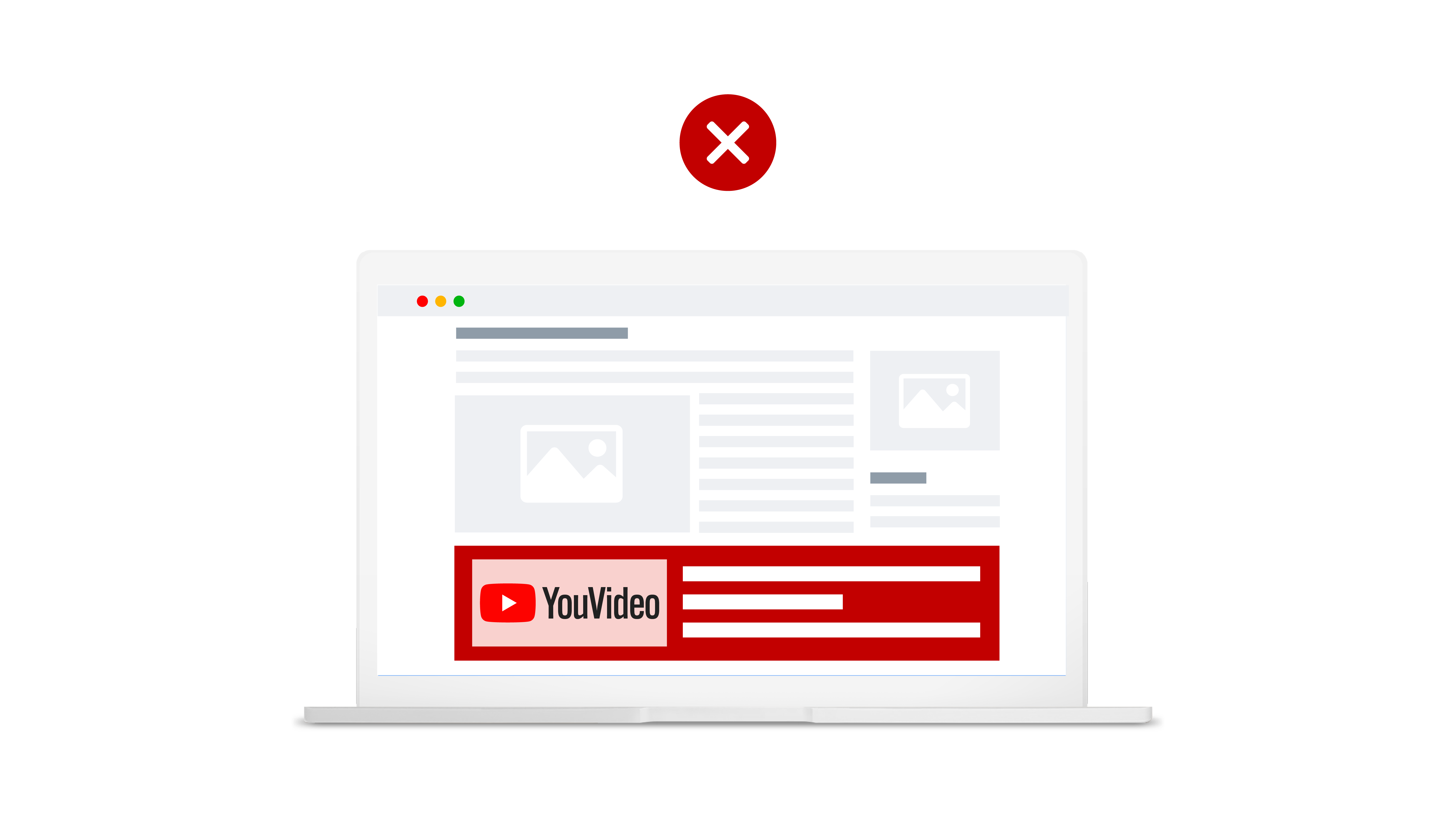 Scamming users by concealing or misstating information about the advertiser's business, product, or service

Examples (non-exhaustive):

Impersonating brands or businesses by referencing or modifying the brand content in the ads, URL, destinations or misrepresenting yourself as the brand or business in user interactions
Enticing users to part with money or information through a business that lacks the qualifications or capacity to provide the advertised products or services
False advertising of services that could endanger a user's health, life, or safety; pretending to provide critical services that result in a delay to the user receiving treatment or medical help

Ad destinations that use "phishing" techniques to gather user information

Examples (non-exhaustive): Sites that trick users into revealing their personal information by mimicking a trusted entity such as a browser or bank

Note: We may take action on advertiser's account based on, for example, adverse regulatory warnings, settlements, or rulings about an advertiser's business practices, or direct complaints from businesses and other entities about impersonation.
Making misleading statements, obscuring, or omitting material information about your identity, affiliations, or qualifications

Examples (non-exhaustive): Implying affiliation with or endorsement by, another individual, organization, product, or service without their knowledge or consent; an affiliate marketer advertising legal services without disclosing that they do not provide legal services; an unlicensed home contractor claiming to be a licensed provider

Providing an inaccurate business name or business name that does not clearly represent the advertised business or disambiguates from similar businesses in the ad or user interactions

Example (non-exhaustive): misrepresenting your business name in calls with users
Failure to clearly and conspicuously disclose the payment model or full expense that a user will bear

Examples (non-exhaustive): not exposing price, shipping costs, and other billing related information, interest rates, late payment fines or recurring subscription cost; using premium rate phone numbers in call assets; inflating prices from the quoted amount to exploit users in vulnerable situations or who are under duress

Advertising products or services as free when they are chargeable

Examples (non-exhaustive): Promoting apps as free when a user must pay to install the app

Check the ad and its destination to see where they might be missing important information. Here are some examples:

Payment model and billing information: Make sure that your site or app clearly and conspicuously discloses the full expense that a user will bear, as well as how your billing process works. When making the determination whether something is clear and conspicuous, we may take into account factors like:

Whether the pricing information is visible and obvious to users (for example, having no pricing information on the landing page, or hiding the information, is a bad start because users should have access to this information before using the service)
Whether customers can easily see and understand the costs they're going to incur, or whether, to the contrary, the page is designed in a way to hide the pricing information or make it difficult for customers to understand the costs they are going to occur (for example, displaying the pricing information in grey characters over a grey background, using very small fonts, or displaying other elements of the page over the important information)
Whether the fee structure is easily understandable (for example, the formula presented to explain how the cost of the service will be determined should be as simple and straightforward as possible)

Specific example: When charging users via the use of a premium rate phone number clearly and conspicuously showing the costs that the user will bear, such as the price per call and/or the price per minute of the call.

App installs: Make sure you remove any content from the ad creative that leads users to believe that your app is free to download when it's not.

Fix the ad's destination. Add any required information. If you can't fix the ad's destination, update the ad with a new destination that complies with this policy.

Edit the ad. Add any required information. If your ad already complies with the policy but you made changes to the ad's destination, make an edit in the ad and save it. This will resubmit the ad and its destination for review.
Ads that make it difficult for the user to understand they are interacting with an ad

Examples (non-exhaustive): Ads that resemble system or site warnings/error messages; ads that simulate messages, dialog boxes, menus, or request notifications; hosted ads that are indistinguishable from other content; ads depicting features that do not work, such as close buttons, text input boxes, multiple choice options; download/install buttons or icons in image ads; ads with a transparent background; images that are segmented; an image that contains multiple copies of itself within the ad; images that appear to be more than one ad; moving and clicking arrows; ads that use surreptitious techniques to disguise their nature

Note: Animated ads and Ad gallery ads can have mock animated features or icons as long as the functionality works or the purpose of these features can be found on the landing page.
Manipulating media to deceive, defraud, or mislead others

Examples (non-exhaustive): Deceptively doctoring media related to politics, social issues, or matters of public concern
Making inaccurate claims or claims that entice the user with an improbable result (even if this result is possible) as the likely outcome a user can expect

Claims related to health and weight loss

Making unproven claims of cures for incurable medical ailments

Examples (non-exhaustive): "Miracle cures" for medical ailments such as arthritis, diabetes, Alzheimer's disease, or cancer; Products that claim to be "cure-all" for several diseases;

Note: For health-related claims, including testimonial content, we may defer to local regulatory guidelines when enforcing this policy.

Making claims of unrealistic weight loss within a specific time frame or requiring little effort

Example (non-exhaustive): Extreme weight loss products or programs

Specific example: A weight loss ad that says you can eat whatever you want and lose 10 pounds in a month

Content promoting harmful health claims, or content that relates to a current, major health crisis and contradicts authoritative scientific consensus

Examples (non-exhaustive): Anti-vaccine advocacy; denial of the existence of medical conditions such as AIDS or Covid-19; gay conversion therapy

Note: If you guarantee certain results, have a clear and easily accessible refund (money-back) policy. Testimonials that claim specific results must include a visible disclaimer stating that there is no guarantee of specific results and that the results can vary. Include links to third-party verification or include relevant and noticeable disclaimers when testimonials and endorsements imply that results are typical.

Claims related to financial products or money making schemes

Making unrealistic promises of large financial return with minimal risk, effort or investment

Examples (non-exhaustive): "Get rich quick" schemes; guaranteeing returns, or promising returns that are unrealistic or exaggerated for the advertised investment product; presenting investment products as risk-free or downplaying the risk of investment opportunities

Claims related to politics, social issues, or matters of public concern

Making claims that are demonstrably false and could significantly undermine participation or trust in an electoral or democratic process

Example (non-exhaustive): Information about public voting procedures, political candidate eligibility based on age or birthplace, election results, or census participation that contradicts official government records; incorrect claims that a public figure has died, or been involved in an accident

Making claims that contradict authoritative, scientific consensus on climate change
Promotions that are not relevant to the destination

Examples (non-exhaustive): An ad that uses the keyword insertion feature without a relevant "default" keyword in place; ad title not relevant to ad content; ad doesn't clearly indicate that the resulting destination is a search results page; ad doesn't accurately describe what the user will see on the destination; using overly general keywords or engaging in keyword spam

Note: When using keyword insertion, include default ad text that is clear and easy to understand.
Promising products, services, or promotional offers in the ad that are unavailable or aren't easily found from the destination

Examples (non-exhaustive): Promoting products that are not stocked; promoting a deal that is no longer active; promoting a price that is inaccurate; call-to-action in the ad that isn't easily available from the destination

Specific example: Ad reads "Buy tablets from $40," but upon clicking on the ad, the user finds no tablets available for purchase at $40

Note: Avoid creating ads for specific offers unless you can update your ads as your inventory or offers change. For example, if you create an ad for a one-day promotional discount, remember to update or remove the ad the next day when the offer is no longer available. If the inventory or prices on your site change often, consider setting up Dynamic Search Ads, which automatically show your ad based on the content of your website.