October 2022
To simplify and streamline reports in AdMob, we're introducing ready-made reports.
Ready-made reports are preset with the most common metrics and dimensions for a report type. These reports help you view the most important information in one click, with no customization required.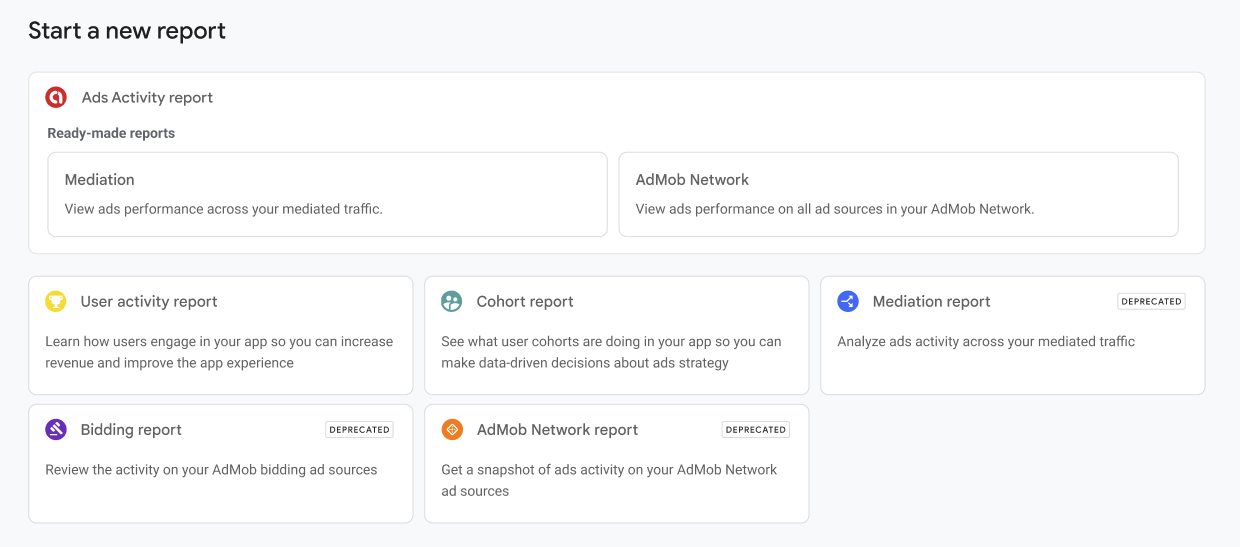 What's new?
The Mediation and AdMob Network reports are now available as ready-made reports. These reports are preset with the most relevant charts, dimensions, and metrics for analyzing your ads performance. You can use the reports as-is or customize them further.
Ready-made reports are part of the Ads Activity report. The Ads Activity report is a single, unified report with data from all of your ad sources. This includes the AdMob Network as well as third-party waterfall and bidding ad sources.
What's changing?
With this launch, we're also announcing the deprecation of the existing AdMob Network, Bidding, and Mediation reports. You can still view legacy Mediation, AdMob Network, and Bidding reports, but cannot update or save them. Any saved legacy reports will be migrated to the Ads Activity report in early 2023.
Reports available as ready-made
The following ready-made reports are available to use:
Mediation: View ads performance across your mediated traffic. This includes bidding data as well as your waterfall mediation data.
AdMob Network: View ads performance for the AdMob Network.
There are no changes to the Cohort report and the User Activity report.