Google Workspace productivity guide
On this page
Use a template
Save time and avoid errors by using templates in Docs. You can choose an existing template for your proposal or create your own. Share the template with your team—any changes that people make to the original update automatically.
Learn how
Choose an existing template
At the top right , click Template Gallery.
Click the template you want to use.
A copy of the template opens.
Tip: If the template you choose has "Add-on" next to it, you may have to install an add-on to use it. Learn more about add-ons.
Create your own template
You can use this feature only if your organization supports it. For help, contact your administrator.
Choose an option:

Create a new document, spreadsheet, presentation, form, or site.
Open an existing document, spreadsheet, presentation, form, or site and make the changes you want for your template.

Note: If your template file is in a shared drive, check the sharing settings on the shared drive. Sharing restrictions can prevent people from accessing the template.
From the Docs, Sheets, Slides, Forms, or Sites home screen, at the top, click Template galleryyour organization name.
Click Submit template.
Important: You won't be able to submit a template if you do not have permission to modify the sharing settings of your template, or if the template sharing settings have been set to restrict viewers and commenters from downloading the file.
Click Select a document and choose the template file you created.
Click Open.
(Optional) To submit a copy of the file instead of the original, check the box.
Select a category for your file.
Click Submit.

To find your new template, go to Template galleryselect your template.
Show or hide the Template Gallery
At the top left, click Menu Settings.
Turn Display recent templates on home screens on or off.
Add citations
Need to cite sources for your proposal? Quickly add citations and a bibliography without leaving your proposal.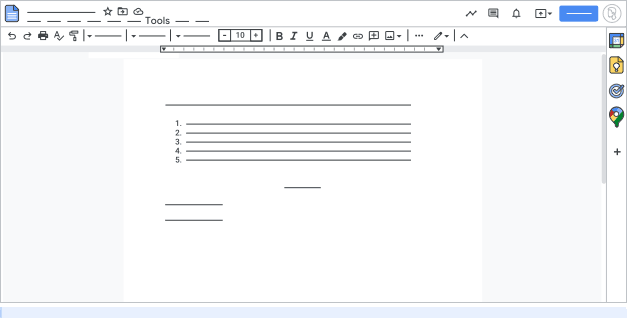 Learn how: Add citations and sources
---
Enhance your documents with visuals
If you're creating a complex proposal, add images to help get your message across. There's no need to use additional software or leave your document—just add and edit images directly in Docs.
Learn how
Add an image
Click Insert Image.
Choose where to get your image from.

Upload from computer: Insert an image saved on your device.
Search the web: Search the web for an image.
Drive: Use an image saved to your Google Drive.
Photos: Use an image from your Google Photos library.
By URL: Insert a link to your image or insert a .gif.

Click Insert or Open.
Learn how to add images in Sheets.
Crop an image
You can trim the edges of an image or remove an unwanted section.
On your computer, open a document or presentation.
Click on the image you want to crop.
Click Crop .
Around the border, click and drag the blue squares into the shape you want.
When you're done, press Enter on your keyboard or click anywhere else in your file.
Get suggestions for images
On your computer, open a document in Google Docs.
At the bottom right, click Explore .
At the top, search for a document, presentation, image, chart, or webpage. Search results will show in categories:

Web: Info from the web related to your document.
Images: Images from the web related to your document.
Drive: Documents saved in your Google Drive.

Add an item from your search:

Add an image or chart: Click the item you want to add. At the top, click Insert.
Add a footnote: Point to your search result. Click Cite as footnote .
Add a link: Point to your search result. Click Insert Link .
Make changes on the go
Edit proposals on your phone or tablet with the Docs app. Whether you're on the way to the airport or visiting a customer, it's easy to update your proposals when you're away from your desk. Any changes you make automatically sync to all your devices, so you're always up to date. Even better, if you're in a rush, type with your voice to quickly put words on a page.
Learn how: Get the Docs app on mobile
---
Add an outline for readability
To help readers scan your proposal, Docs can create an outline for you automatically. Docs builds your outline from the headings you use to organize your document. To improve your document design further, customize heading styles, add bulleted lists, and more. Readers can see what your proposal covers at a glance and quickly jump to the section they need.
Learn how
Create an automatic outline in Docs
To temporarily close the document outline: At the left, next to "Outline," click Close document outline .
To completely hide the document outline: At the top, click View Show outline.
Tip: If there's a checkmark next to "Show outline," the document outline icon
will still be visible in the top left of your document.
Track drafts in one place
In the past, you might have kept multiple drafts of your files in case you needed to refer to them or switch to earlier versions. Drive keeps all your drafts in one file, and you can easily look at or restore earlier versions with the revision history. So don't worry about making big edits—if you change your mind, you can always go back.
Learn how
View or revert to earlier versions of Docs, Sheets, and Slides files
Note: You need Owner or Editor access to see the version history.
In Drive, open your file.
Click FileVersion historySee version history.
Click a timestamp to see a previous version of the file. Below the timestamp, you'll see:

Names of people who edited the document.
A color next to each person's name. The edits they made appear in that color.

(Optional) To revert to this version, click Restore this version.
Upload a new version of a file to Drive
On your computer, go to drive.google.com.
Click on the file you want to replace.
At the top right, click More .
Click Manage versions.
Click Upload new version.
Collaborate on proposals in real time
Want input from various teams when creating your proposal? Draft a proposal in Docs with key objectives and project milestones. Then, share the proposal with your team so everyone can create content simultaneously, see edits in real time, and provide feedback.
Learn how
Share a file from Drive
In Drive:
Select the file you want to share.
Click Share or Share .
Enter the email address or Google group you want to share with.
To decide what role people will have on your file, select Viewer, Commenter, or Editor.
If your account is eligible, you can add an expiration date for access.
Choose to notify people.

If you want to notify people that you shared an item with them, check the box next to Notify people. If you notify people, each email address you enter will be included in the email.
If you don't want to notify people, uncheck the box.

Click Send or Share.
Quickly see who changed what
When you're collaborating on a document, you'll want to see what changes have been made since you last worked on it. With Docs, you can instantly see what's changed, who changed it, and when. If you need to revert to an earlier version of your document, use the revision history.
Learn how
See who commented, edited, moved, or shared a file
You can see activity on files in My Drive or in a shared drive.
On your computer, go to drive.google.com.
On the left click My Drive.
In the upper right, click Info .
To see recent changes, click Activity.
To see the activity of a specific file or folder, click the file or folder.
To see older changes, scroll down on the right side.
Set an expiration date on confidential proposals
If you're sending proposals to outside clients or agencies, you might want to restrict their access after any projects are complete. Set an expiration date on files so they can't view them once the project ends.
Learn how
Open a file in Google Drive, Google Docs, Google Sheets, or Google Slides.
Click Share find the user you'd like to give temporary permissions to.

If you haven't shared the file with that person yet, add the user's email and click Send or Share. At the top right of the document, click Share again.

Next to the person's name, click the Down arrow Add expiration.
Next to "Access expires," click a date to set as the expiration date. Choose a date within one year of the current date.
Click Save.
Share proposals on a team site
Want to share a draft proposal with your team? Create an internal team website in Sites and add your proposals there. You can access the site at any time, from any device. Changes you make in Docs automatically appear on the team site, too.
Learn how at Get started with Sites
---
Back to top

Google, Google Workspace, and related marks and logos are trademarks of Google LLC. All other company and product names are trademarks of the companies with which they are associated.