Create, edit, and delete playlists
With playlists, you can put a series of videos all in one handy place. For example, you could create a playlist of all of our favorite music videos or sports clips, then watch them together.
Add videos to playlists
Go to the
Add to
link underneath a video to add it to a playlist. You can add it to a playlist that already exists, or you can create a new one.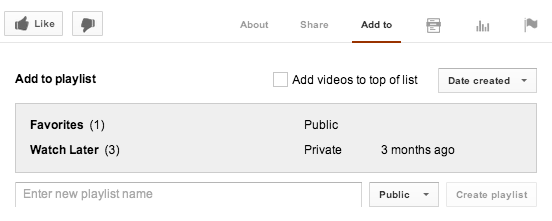 On mobile, touch

to add a video to a playlist.
Edit, reorder, and manage playlists
Click Playlists on the left side of the page
Click the Edit button next to the playlist you'd like to edit
Click Done to save any changes you've made
Basic information
In the "Basic information" tab, you can change the name and description of your playlist, update the privacy settings, or add and remove videos.
"Settings" tab
In the "Settings" tab, you can designate the playlist as a series playlist, allow embedding of the playlist, and update the "Like" settings.
Official series playlist
A series playlist is a way of marking the playlist as an official set of videos. Adding a video to a series playlists allows other videos in the playlist to be featured when someone is viewing a video in the series playlist. YouTube may use this information to modify how the videos are presented or discovered.

There are a few things to remember when using series playlists:
You must have a verified account in order to use series playlists.
A video cannot appear in more than one series playlist.
Only videos uploaded by you and that you have the rights to can be added to a series playlist.
Reorder videos: Reorder videos in your playlist by hovering your mouse over the video until you see a grey vertical bar to the left of the video. Click the grey bar, then drag and drop the video to rearrange it.
Delete playlists and videos from playlist
To delete an entire playlist:
Follow the steps above to edit your playlist, then click the
Delete Playlist
icon at the top of the page.
To remove a video from a playlist:
Check the box next to the video you want to delete, click the
Actions
drop-down button, then
Remove videos from playlist
.