Create, edit, and delete playlists
With playlists, you can put a series of videos all in one handy place. For example, you could create a playlist of all of our favorite music videos or sports clips, then watch them together.
Add videos to playlists
Click the
Add to
link underneath a video to add it to a playlist. You can add it to a playlist that already exists, or you can create a new one. (The maximum number of playlists you can create is 5000).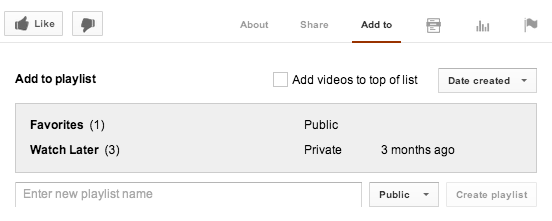 Edit, reorder, and manage playlists
Make changes to your playlists by visiting your Video Manager:
Click your username in the upper right corner
Click Video Manager
Click Playlists on the left side of the page
Click the Edit button next to the playlist you'd like to edit
Click Done to save any changes you've made
Reorder videos: Reorder videos in your playlist by hovering your mouse over the video until you see a grey vertical bar to the left of the video. Click the grey bar, then drag and drop the video to rearrange it.
Delete playlists and videos from playlist
To delete an entire playlist:
Follow the steps above to edit your playlist, then click the
Delete Playlist
icon at the top of the page.
To remove a video from a playlist:
Check the box next to the video you want to delete, click the
Actions
drop-down button, then
Remove videos from playlist
.
Watching playlists:
Access your own playlists by clicking on your username in the upper right corner and picking a playlist.
While watching a playlist, skip from video to video by clicking the skip backward and forward buttons at the top right of the menu next to your video.
With the autoplay button

on, videos will play in sequence and repeat when the playlist is finished. Click the button to turn this on or off.