You can upload creatives directly to Campaign Manager 360 from Google Web Designer.
Click the down arrow on the Publish button
in the top right corner, then select Campaign Manager 360.
You can also select File > Publish > Campaign Manager 360 from the top menu.
The publish dialog will open, and you can configure your publishing settings. After successfully publishing, the document will be associated with its Campaign Manager 360 details for future publishes. You can remove this association to provide different details.
Not signed in?
If you haven't signed in to your Google Account from Google Web Designer, a login page will open in your browser. Sign in with your Campaign Manager 360 account credentials.
You'll be asked to allow Google Web Designer to integrate with other Google products, including Campaign Manager 360. Click Allow to continue.
Requirements
Asset guidelines
Supported file types:

Image - GIF, JPEG, PNG, SVG
Video - AVI, M4V, MOV, MP1, MP4, OGG, WEBM, WMV
Audio - not supported
Font - EOT, OTF, TTF, WOFF, WOFF2
Other - CSS, HTML, JS, JSON, XML

Maximum of 99 local assets
Unsupported ad types
Expandable
AMPHTML
Responsive rich media
Publish dialog settings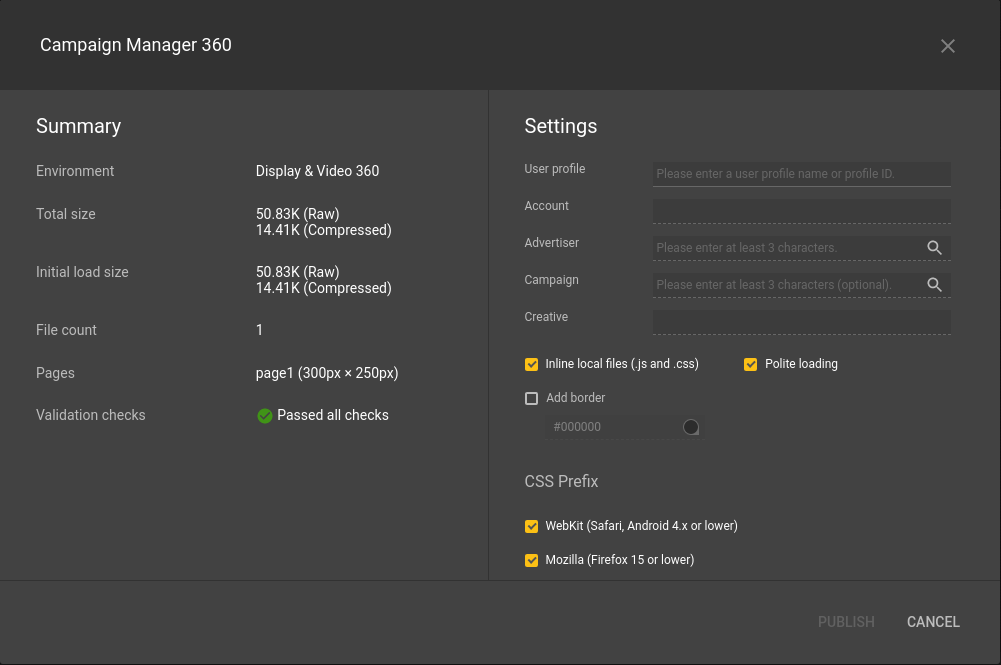 Fill in the following fields in the Publish dialog:
User profile: Enter the name or ID of the Campaign Manager 360 user profile you want to use.
Account: This field is auto-filled once you select a user profile, and can't be edited.
Advertiser: Enter the name of the Campaign Manager 360 advertiser you want to use. Enter at least three characters to see a list of matching advertisers.
Campaign: Optionally, if you want to add the creative to a particular campaign, enter the name of the campaign. Enter at least three characters to see a list of matching campaigns.
Creative: Enter the name you want to use for the creative.
Select or deselect the following publishing options:

Inline local files - Places the JavaScript and CSS within the HTML file, rather than in external files.
Polite Loading - Delays the loading of assets until the hosting page finishes its initial load.
Add Border - Adds a one-pixel border, using the color you specify.

CSS Prefix: Select which CSS prefixes you want to include in the file. By default, all are selected to provide the widest range of browser compatibility.
Once the settings are complete, click Publish.
Video assets
Creatives with video assets may be set to inactive. Make sure to activate a creative in Campaign Manager 360 in order for it to serve.
Associated creatives
Publishing a document to Campaign Manager 360 creates an association which allows Google Web Designer to remember your user profile, advertiser, and campaign settings, and reuse them whenever you publish to Campaign Manager 360. The association is indicated by a lock icon
in the Publish button menu.
Publishing to Campaign Manager 360 always creates a new creative, even when you use the same name as an existing creative.
Changes to the creative in Google Web Designer aren't automatically synced to Campaign Manager 360. To update a published creative, publish the document locally, then upload the published file within the Campaign Manager 360 interface.
To remove the association:
Click the down arrow on the Publish button at the top of the window.
In the pop-up menu, click the lock icon next to Campaign Manager 360, then confirm that you want to remove the association.
The next time you publish to Campaign Manager 360, you'll need to enter the user profile and advertiser details.