Get directions, traffic info & more
You can get extra info with Maps on your smartwatch. Get directions, find local businesses, learn about your commute, see your location, and more.
Notes:
This feature is not available on iPhones.
Most of the tips below work if your language is set to English, French, German, Italian, Japanese, Korean, Russian, Spanish, or Brazilian Portuguese. Some voice actions aren't available in all languages and countries.
To use navigation with Wear OS by Google, first download the Google Maps app from the Play Store on your watch.
Get turn-by-turn navigation
You can speak to your watch to get turn-by-turn directions to your destination. Say your destination, and the route will appear on your watch. As you go, you'll see directions for every turn.
When location is enabled on your phone, navigation works on your watch even when your phone is locked.
See countries where navigation is available.
Speak to get turn-by-turn directions
​Make sure the watch is awake.
Say "Ok Google."
Say something like "Navigate to Starbucks."
A Google Maps card will show up on your watch. You might need to choose a more specific destination. You can also change travel modes or cancel your trip.
Turn-by-turn navigation will start.
Tip: To see the full list of directions, swipe up on the green card at the bottom of the screen.
To go back to the watch screen, swipe from left to right → . Navigation will mute. To go back to full screen navigation, touch the blue arrow on the directions notification.
See the time and distance to your destination:
Touch the navigation notification card to go into full screen mode.
Swipe left once.
You'll see the route information.
Cancel your navigation:
Swipe the card up.
Swipe left and tap Exit navigation.
Find places & business info
You can speak to your watch to find nearby places and businesses. You can also find the phone number or address of a nearby business and see how far away it is.
Speak to find a place or business
Make sure the watch is awake.
Say "Ok Google."
Say what you're looking for, like:

"Find the Eiffel Tower"
"Where's the closest gas station?"
"Target stores in Denver"
"Blue Barn address"
"How far is Starbucks from my home?"
Learn how to find nearby places using the Google Maps app for your phone.
See your location on the map
If your watch is dim, wake it up by tapping the watch face.
To see the list of apps, press the power button.
Scroll down and tap Maps.
Tips:
Exit the map by swiping right. If your watch has a physical button, you can press it once.
To see a list of places within view of the map, tap the place marker tap a place in the list tap the arrow .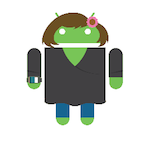 Andrea is an Android expert and author of this help page. Help her improve this article by leaving feedback below.
Was this article helpful?
How can we improve it?