Restart your watch
In certain situations, you may need or want to restart your watch. There are 2 ways to restart your watch, either through the settings or by using your watch's hardware.
If your watch has a power button, you can restart it by pressing and holding the power button (the middle button if your watch has 3 buttons).
To restart through your watch's settings:
If your screen is dim, tap the screen to wake up the watch.
Swipe down from the top of the screen.
Tap Settings System

If you don't see Settings, swipe left until you see it.

Scroll down and tap Restart
If you need to clear all data from your watch, you can reset your watch to factory settings.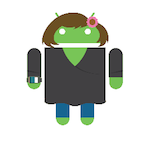 Andrea is an Android expert and author of this help page. Help her improve this article by leaving feedback below.
Was this article helpful?
How can we improve it?