The VPN by Google One is available in select countries and is included for Google One members with plans of 2 TB of Google storage and up. This feature is available for Android phones in these locations:
Austria
Belgium
Canada
Denmark
Finland
France
Germany
Iceland
Ireland
Italy
Mexico
Netherlands
Norway
Spain
Sweden
Switzerland
United Kingdom
United States
If you want more protection from hackers and online monitoring, you can secure the connection from your Android device with a virtual private network (VPN) by Google One. In the Google One app, you can tap to encrypt your online activity for an extra layer of protection wherever you're connected.
After you turn on the VPN, you can:
Shield against hackers on insecure networks (like public Wi-Fi)
Reduce online tracking by hiding your IP address
How the VPN by Google One works
While online, your browser and your apps frequently communicate sensitive information. Some websites and apps use outdated or weak encryption, or none at all. While in transit, unsecured data can be intercepted or modified by hackers. That can compromise your privacy and overall security.
When you turn on the VPN, your online data is protected by traveling through a strongly encrypted tunnel. The VPN by Google One will assign you an IP address based on your current country so that websites can show you the right content for your region. But the websites can't determine your precise location, like what city or region you're in.
Learn more about what makes the VPN by Google One different from other VPNs.
Multiple devices and family sharing
If you're on an eligible Google One plan, you can use the VPN on up to six Android phones per plan. You need to install the Google One app on each device.
If you share your Google One plan with other family members, they can use the VPN, too. Family members will need to download the Google One app on their own devices and then turn on the VPN. Learn more about how to share your plan with your family.
Set up the VPN by Google One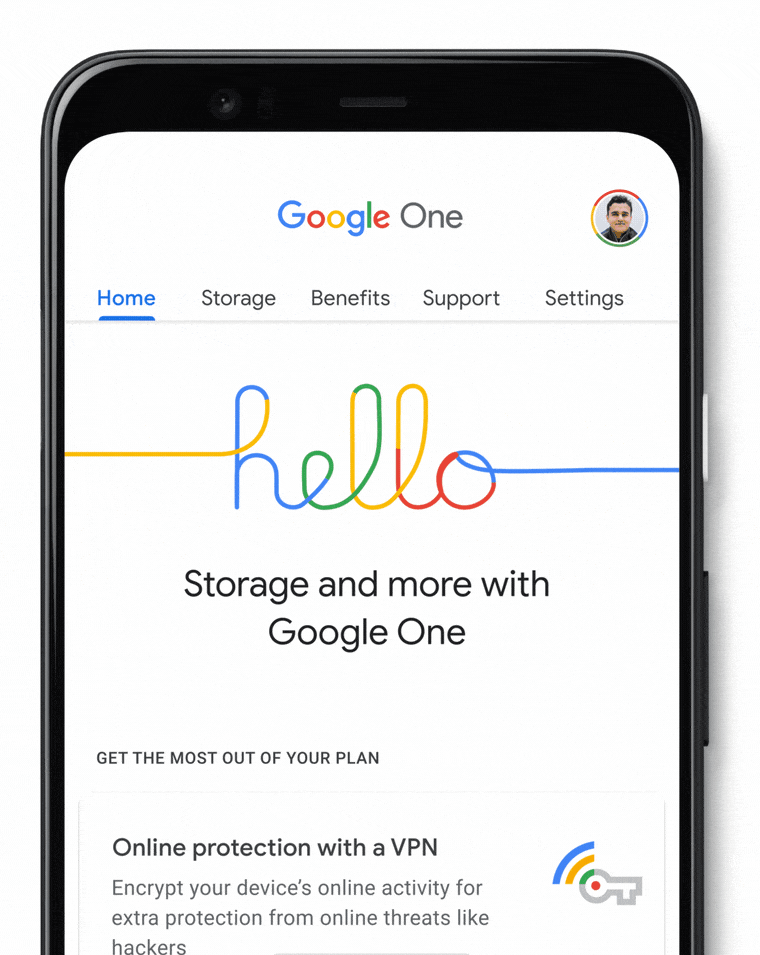 Turn on the VPN by Google One
Make sure you're logged into your Google account.
On your Android device, open the Google One app.
On the top, tap Benefits.
Find the VPN benefit and tap View Details.
Turn on Enable VPN.
Stay more secure if the VPN disconnects
For extra security, you can set up your phone to only use the internet when the VPN is on. If your VPN is disconnected, internet access is blocked until the VPN reconnects.
On your Android device, open the Google One app.
At the top, tap Benefits.
Find the VPN benefit and tap View details.
Tap Manage VPN Settings.
Turn on Block internet if VPN disconnects.
If your device restarts, the VPN tries to automatically reconnect. Before it reconnects, your internet connection isn't blocked or protected. Once the VPN reconnects, you'll find a key in the top right of your screen.
You can disable this setting at any time in your VPN settings.
Turn off the VPN by Google One
On your lock screen, find the VPN notification .

You can also find it in the notification tray.

Tap Disable VPN.
You can also turn off the VPN via the Google One app, or by tapping the VPN by Google One under Quick Settings.
Add or remove from Quick Settings
For easier access, you can add the VPN by Google One to your Quick Settings. You can remove it from the menu whenever you like.
From the top of your screen, swipe down twice.
At the bottom left, tap Edit .
Scroll until you find the VPN by Google One .
Touch and hold VPN by Google One. Then drag the setting to where you want it.

To add a setting, drag it up from "Hold and drag to add tiles."
To remove a setting, drag it down to "Drag here to remove."
Snooze VPN
You can temporarily turn off the VPN by Google One with the Snooze feature:
From the VPN by Google One screen, tap Snooze for 5 minutes.

The Snooze feature is pre-selected to last 5 minutes. You can extend the snooze 5 minutes at a time.

The VPN by Google One automatically turns back on after Snooze finishes.

To reactivate the VPN immediately, tap End snooze.
Allow apps to ignore the VPN
When the VPN is connected, you can still allow traffic from some mobile apps to route over your regular internet connection instead of the VPN's encrypted tunnel. This is useful for some situations, such as:
If you need to use websites and services that block VPN usage.
If an app needs to use your mobile wireless provider network to find info that relates to your account (for example, to check if you're a customer).
If you can't use a device in your local network while the VPN is connected.
If you want to stream content and privacy doesn't concern you.
Important: It's not recommended to bypass the VPN in the following apps:
Apps in which you want your browsing activity encrypted (for example, web browsers like Google Chrome and Safari).
Apps you don't trust which can put your data at risk of being intercepted or leaked.
On your device, open the Google One app.
At the top, tap Benefits.
Find the VPN benefit and tap View details.
Tap View settings Allow apps to bypass VPN.
Select the app you want to bypass and tap Add .

To remove an app from the bypass list, tap Remove .

At the top, tap Save.
Tip: If you don't tap Save to restart the VPN by Google One, your changes won't save. If the VPN is disabled, the changes will apply the next time the VPN is enabled.
Frequently asked questions
Does this prevent third parties or Google from saving my browsing history or personalizing my experience?
No. Third-party sites and apps may still save information about your browsing or personalize your experience in other ways. Some examples include cookies or other technologies, or moments when you sign into an account on another company's website.
Also, while VPN by Google One secures your device connection, it does not affect how Google collects data when you use our other products and services. For example, depending on your sync settings, Chrome will continue to store your Chrome browsing history to your Google Account. To manage the kinds of data saved to your account, you can review your Google Account's privacy controls.
How do I know if the VPN by Google One is running?
On your phone lock screen, you'll see a notification that says "VPN is connected." When your phone is unlocked, you'll see the Google One logo in your notification tray. To see the status of the VPN connection, pull down the notification tray.
You'll also see a small key in the top right corner of your screen. This tells you that the VPN is connected and your network is secured.
How does this affect my battery and data?
Because of the extra step of encrypting your data to keep it private, VPNs inherently use more battery. This extra encryption also means about 5-10% more data is consumed. So you may notice a little more battery drain and data usage while the VPN is running and you use the internet. As a result, Android will also report that the Google One app is using more mobile data.
Why can't I dismiss the notification?
While VPNs are running, the Android operating system requires them to show a notification that can't be dismissed. That way, VPN users always know when it's active and when it is not. Unless you turn the VPN off, you can't swipe the notification away via the notification tray or the Google One app.
If I'm already a Google One member, do I need to pay extra to use the VPN?
If you're on an eligible 2 TB or higher plan, the VPN is included at no additional cost. If you're not on an eligible plan, you can
upgrade your account
.