March 3, 2020
The Google Ads mobile app helps you monitor your campaigns in real time, review high-impact recommendations, and take quick action to improve performance. Over the past few months, we've been making several improvements to the app to address some of your feedback. That's why, starting today, we're introducing new optimization score features and Dark mode in the app.
Prioritize top recommendations faster
Optimization score helps you prioritize recommendations for your campaigns, making it easy for you to quickly improve performance from within the app. To make it even easier for you to find your most critical recommendations, you can now see your account and campaign-level optimization scores on the account overview screen. Campaigns that have recommendations with the highest potential impact are listed first, so you can prioritize actions that will drive performance.
Get notified when your optimization score changes
To help you stay on top of new recommendations, you'll be notified in real time when your optimization score changes. Tap the notification to open your Recommendations page, where you can take action to raise your score and improve performance. To receive these notifications, opt in on the Settings page of the app.
Work in comfort with Dark mode
Dark mode is designed for visual comfort. Whether you're in a low-light environment or prefer darker background colors on your phone, you can now use Dark mode in the Google Ads mobile app. If you've already turned on Dark mode in your phone's settings, you'll see Dark mode in the app automatically. You can also turn on Dark mode on the Settings page of the app.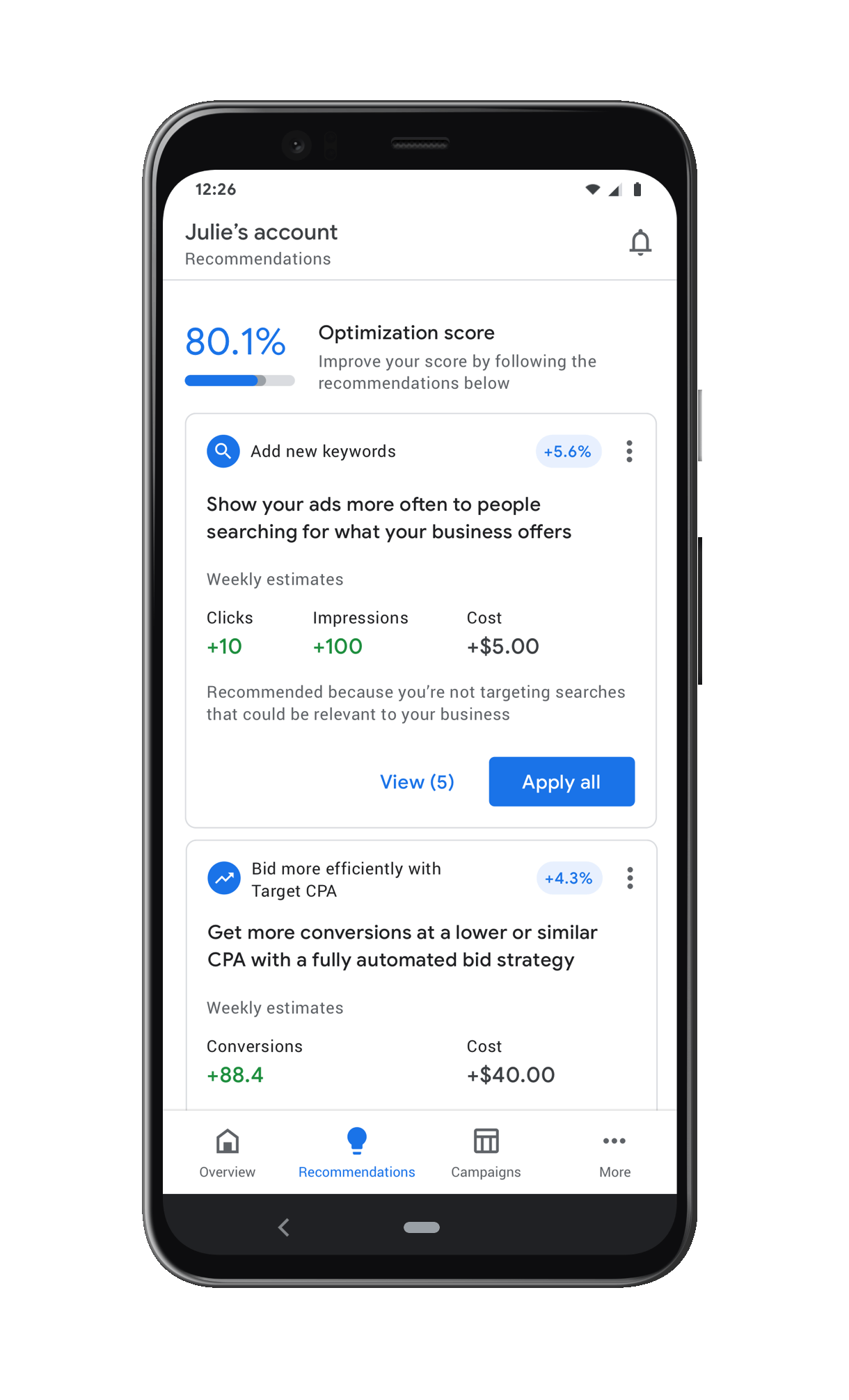 | | |
| --- | --- |
| | Diesel.ie, one of Ireland's leading fashion and apparel brands, used optimization score on the Google Ads mobile app to prioritize, review, and apply recommendations on their mobile phones. As a result, they were able to more effectively promote their products and promotions—increasing their traffic by 30X year-over-year. |
| | AGY47, a leading digital marketing agency, used the Google Ads mobile app to check in on performance, make improvements with optimization score, and keep their account organized on the go -- saving them 2+ hours per week per account. |
To see your optimization score and Dark mode on mobile, download the Google Ads mobile app on Android (4.5/5 star rating) or iOS (4.5/5 star rating). Use these best practices to get the most out of your account with the Google Ads mobile app.
Posted by Ryan Beauchamp, Product Manager, Google Ads