August 24, 2023
The auto shopper journey is constantly evolving and shifting to digital. Now more than ever, people are starting their research for a new car online. In fact, 79% of new car buyers used a search engine to inform and influence a recent vehicle purchase,1 and on average use 6 online information sources while researching2.
For marketers, this means the speed at which you need to analyze data, find customer insights, and adapt how your brand shows up is unlike anything you've experienced before. And the right customer and right message is a moving target. Marketers will need to rely more on AI to stay agile and adapt quickly to continued change.
Last year we launched vehicle ads, a new ad format on Search that allows auto advertisers to promote their vehicle inventory to customers shopping for vehicles on Google. Starting September, existing vehicle ads campaigns created through Smart Shopping campaigns will be automatically upgraded to Performance Max, enabling car advertisers to reach customers across more touchpoints in their research and shopping journey, like YouTube, Display, Gmail, and Discover. Your campaign settings, structure, audience signals, vehicle feeds, and assets will all be transitioned over to this new campaign to help you maintain consistent performance. From this point, you'll no longer be able to create additional campaigns for vehicle ads through Smart Shopping campaigns. For advertisers not already using vehicle ads, Performance Max with vehicle feeds will be available in open beta in the US and Canada, and closed beta in Australia.
To learn more about the upgrade process, visit the Help Center.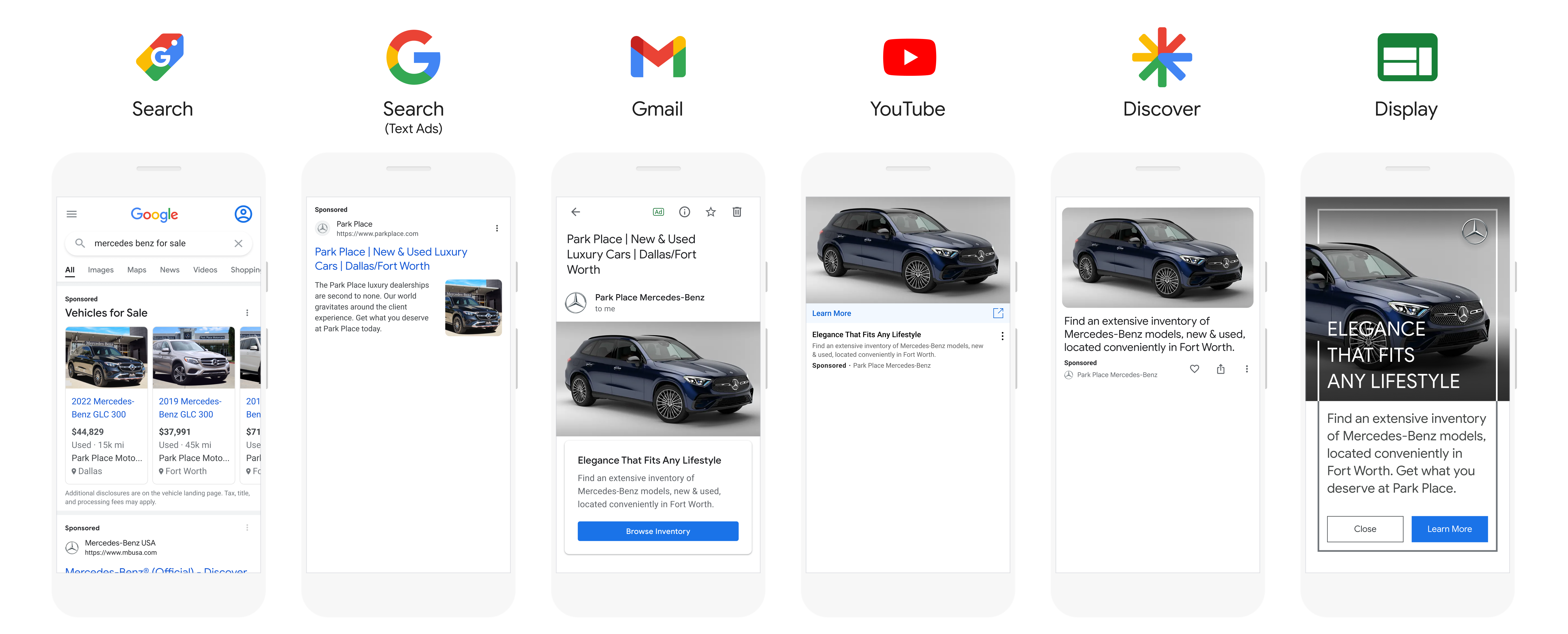 Performance Max with vehicle feeds uses Google AI to help marketers reach their conversion goals, including qualified leads and dealership visits. This upgrade provides the following key benefits:
Multiply your customer connections: Performance Max unlocks new Google Ads channels and inventory for your campaign, including Search, YouTube, Display, Discover, and Gmail. You'll also be able to leverage audience signals to help Google AI understand who your most valuable audiences are so you can reach them faster. You can also optimize towards finding new leads with the New Customer Acquisition goal that you can select for your campaign.
Multiply conversions and conversion value: Through Performance Max, you can now optimize for both online conversions (leads) and offline conversions (store visits) within a single campaign, enabling strong omnichannel bidding optimization. Google AI and cross-channel bidding will help you reach customers, wherever they prefer to shop, and power more total conversions more efficiently for your campaigns.
Multiply your expertise with new insights: With the Insights page for Performance Max, you will now have access to new insights that can help inform your business and marketing strategy. These include insights about your audience and current search trends that relate to your business. You'll be able to quickly take action on these insights through the Recommendations tab to improve results.
Automotive advertisers are turning to Performance Max to unlock new Google Ads channels, reach more customers, and drive more qualified leads and visits. For example, dbaPlatform offers vehicle advertisers integrated solutions to easily scale their ads across Google. By expanding their clients' access to Performance Max campaigns, dbaPlatform's clients saw an average 48% increase in conversions vs. standard vehicle ads, and a 19% decrease in cost per conversion.
"Offering Performance Max with vehicle feeds to our Google Ads clients helped them exceed their marketing objectives."
— Justin Dombrow, SVP Advertising Solutions, dbaPlatform
To learn how to create a Performance Max campaign with vehicle feeds, visit the Help Center
Posted by Teresa Chen, Director of Product Management, Local ads
1. Google/Kantar, Gearshift 2022, USA, April - May 2022, n =2150 onliners 18+ who have bought a new vehicle within the last 12 months
2. Google/Kantar, Gearshift 2022, USA, April - May 2022, n =2150 onliners 18+ who have bought a new vehicle within the last 12 months