June 29, 2023
The digital marketing landscape is changing, with more solutions than ever before being powered by AI to drive better results—including Search with broad match and Performance Max campaigns. Together they form the ads power pairing, helping you multiply your conversions across all of Google's channels. We've heard feedback that you want more control when it comes to brand traffic. That's why we've launched two new features to improve how you guide Google AI and control where your ads appear: brand restrictions for broad match in Search campaigns, and brand exclusions in Performance Max.
Only reach the brand traffic you want with brand restrictions for Search campaigns
Broad match combined with Smart Bidding gives you the most relevant reach and conversions at your performance target. However, you may not have been able to use broad match for your branded Search campaigns in the past because of specific brand needs—for example, needing to ensure your brand campaigns don't include any non-brand traffic. At Google Marketing Live, we announced new brand restrictions in broad match to give you the best of both worlds—the benefits of broad match, while only reaching the brand traffic you want. This will be rolling out globally next week.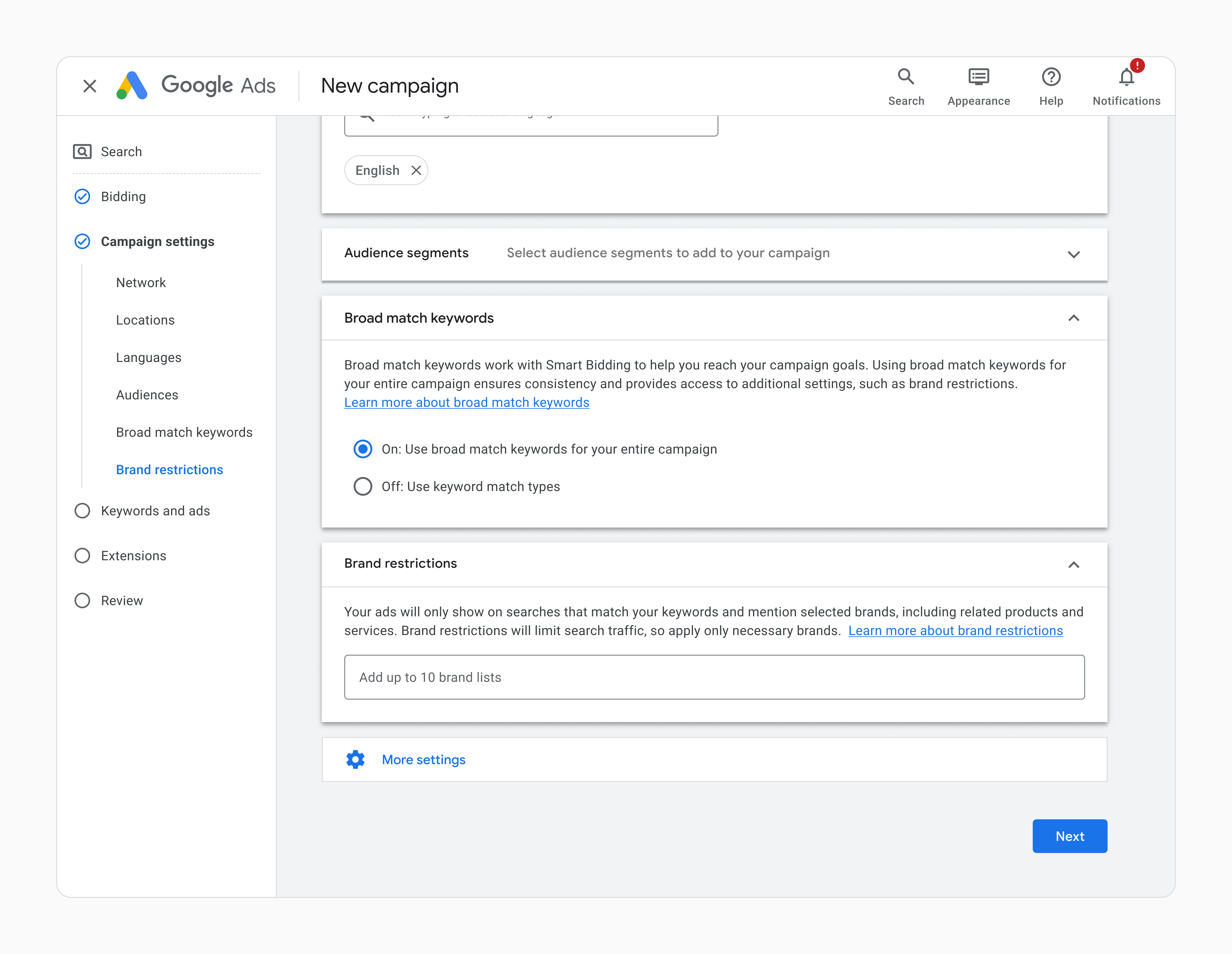 Use brand restrictions with your broad match campaigns
Brand restrictions will restrict your broad match traffic to only serve on searches that include the brands you select (e.g. Fitbit) or products that are related to those brands (e.g. Versa 4). If you have historically used exact match and phrase match to adhere to specific brand needs, you can now use brand restrictions with broad match for additional reach and performance―while still meeting those brand needs.



Sephora Australia wanted to boost their online revenue by unlocking incremental brand traffic for their Search campaigns within their target ROAS. They hadn't used broad match previously because they wanted to ensure that they'd show up on relevant, quality brand queries. Sephora tested broad match with brand restrictions, resulting in +40% conversions, +80% conversion value, at +51% stronger ROAS compared to the original phrase match campaign.

"Applying broad match with brand restrictions expanded our ability to safely cover consumers' ever changing searches, while helping us to achieve incremental revenue within our ROAS goals."
— Jiahui Chng, Assistant Manager, Performance Marketing





Royal Bank of Canada (RBC) had the challenge of scaling volume while keeping an efficient ROI for Search campaigns. They wanted to use broad match for their brand campaigns, but were concerned about relevance on those terms. When they tested broad match with brand restrictions, they saw 2x the conversions and conversion value, while improving ROAS by 4% compared to the control arm. With this success, RBC applied broad match across their accounts and lines of business.
Keep in mind that brand restrictions won't expand keyword matching, but instead restricts broad matches to queries that contain the brands or products related to the brands you select.
You'll get access to brand restrictions when you turn on the new broad match campaign setting. Since brand restrictions are only available for broad match campaigns, we've provided a one-click setting that makes it easier to upgrade your entire campaign to broad match.
Note that using the broad match keywords campaign setting will impact the keyword selection process. This change in prioritization only applies if you enable the broad match campaign setting—campaigns that don't enable this setting won't be affected.
Exclude brand traffic from Performance Max campaigns, where needed
Back in February, we announced that brand exclusions for Performance Max would be coming soon. We're excited to say beta testing is complete and they're now rolling out to all advertisers. This builds on our earlier release of account-level negative keywords as we continue to give you more ways to steer how Performance Max works on Search and Shopping inventory.
Unlike brand restrictions, brand exclusions let you choose which brands to exclude, rather than choosing which brands you want to serve ads on. These exclusions provide added control so your Performance Max campaigns won't serve for branded queries you want to avoid on Search and Shopping inventory. Applying these exclusions will also help block traffic from brand misspellings and brand searches in a foreign language. You'll be able to choose from a list of brands to exclude, including your own brand terms or third-party terms.
If any brands are missing from the list, you'll see an option in Google Ads to request additions. When you add a new brand, it will be automatically available for you to use, but it will need to be verified before other advertisers can see it in the list. Monitor how exclusions impact your reach and performance to make sure you're not missing out on valuable conversion opportunities.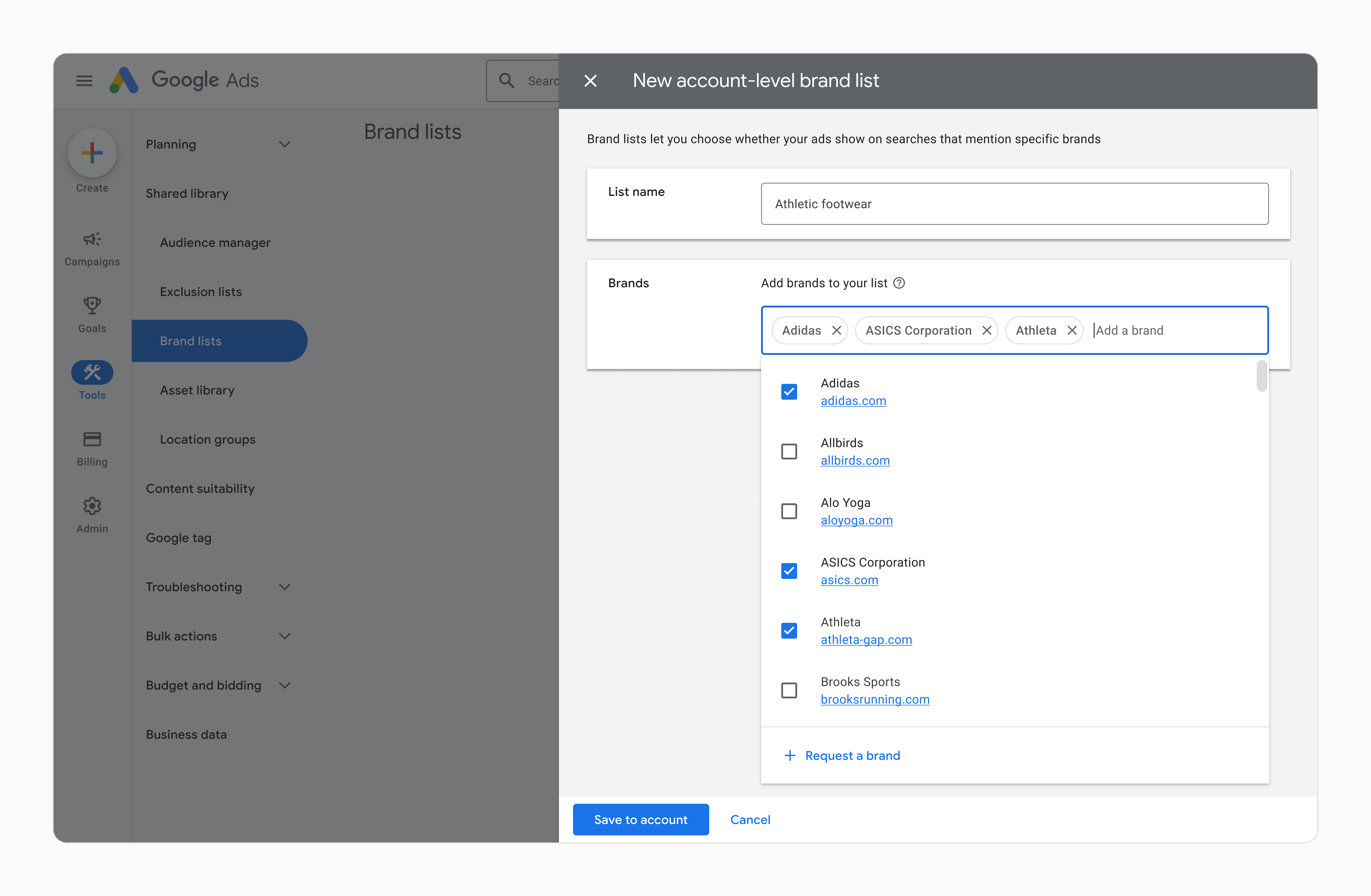 Exclude brand terms from Performance Max campaigns
If certain brand requirements prevented you from trying Performance Max before, now is your chance to set up brand exclusions and get your campaign up and running!
Check out more best practices for Search ads here and Performance Max here.
Posted by Walter Vulej, Senior Product Manager and Natalie Wertz, Product Manager