February 27, 2023
Search is changing, and our continued investments in AI-powered features like multisearch are making the Search experience even more natural and visual. As consumer behavior evolves with this shift, it's more important than ever to ensure that people can connect with your business through Search ads that are both relevant and helpful. That's why we're introducing new tools that can help you unlock the power of your Search ads with stronger creative and better performance.
Drive creative performance with Google's AI
Our goal is to help you deliver the best ad possible to the right person at the right time. This works best when our system has a wide variety of relevant creative assets to choose from. However, we know that it isn't always easy to come up with additional headlines and descriptions. That's why we announced automatically created assets at Google Marketing Live last year. By opting into this campaign-level setting, responsive search ads show the best combinations of assets that you provide, along with new assets that are generated based on your ad's unique context—which includes your landing page.
Today, automatically created assets are available to all advertisers in English as an open beta. On average, we've seen that early adopters of automatically created assets for headlines and descriptions see 2% more conversions at a similar cost per conversion among ad groups with responsive search ads.1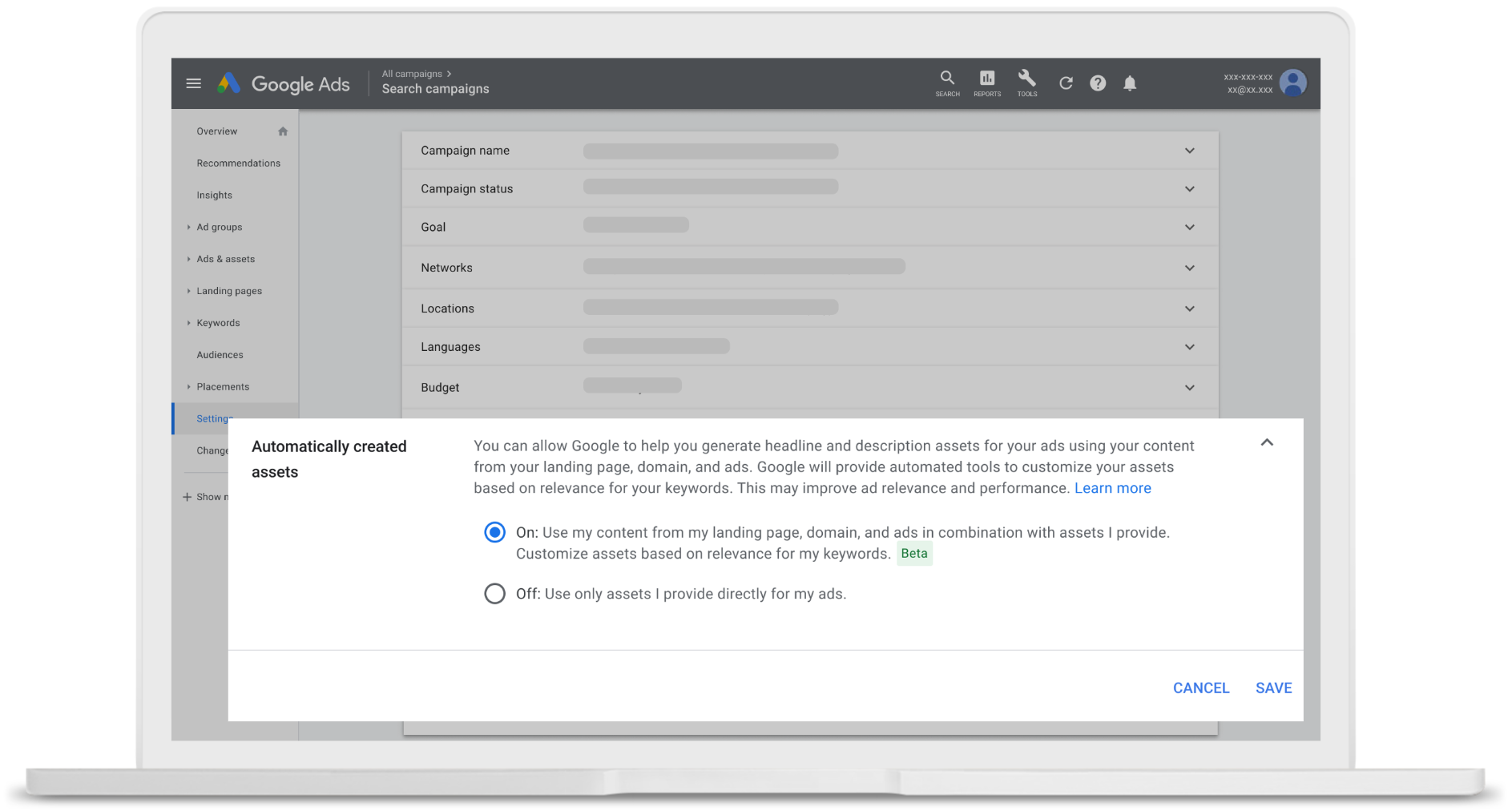 Opt in to automatically created assets at the campaign level
As part of this update, the following improvements will roll out in the coming weeks:
Ad Strength will take into account both automatically created assets and your existing assets when determining your rating.
Automatically created assets will use inputs you've provided such as your keywords to customize your headlines and improve their relevance to the query when it's predicted to improve performance.
You'll also be able to remove any automatically created assets that you'd prefer not to include in your ads.
We plan on rolling out automatically created assets in additional languages later this year.
Connect with new customers on Search
Building a steady pipeline of new customers is key to helping you grow market share and drive revenue. To make this easier for you, we've rolled out a new customer acquisition goal for Search campaigns globally. Powered by Smart Bidding and your first-party data, this goal makes it easy for you to optimize your campaigns and connect with new customers, helping you make the most of peak periods. When coupled with bidding strategies like Maximize conversion value with a target ROAS, the new customer acquisition goal can help you prioritize and find new customers who may be of higher value to your business.
Many businesses are already using this goal to connect with new customers. For example, fashion retailer Baltic Born had an aggressive growth target to increase revenue. To expand its business beyond repeat customers in a highly competitive market, the retailer turned to using the new customer acquisition goal for Search. Combined with target ROAS, a value-based bid strategy, Baltic Born drove a 73% increase in new customers and as a result, 36% more revenue.
"New customer acquisition for Search has helped us reach further into our target audience and introduce new users to our brand."
—Allison Hunt, Co-founder, Baltic Born
The new customer acquisition goal has two modes that help you to reach your campaign goals:
Value New Customer: Bid higher for new customers than for existing customers.
New Customers Only: Bid for new customers only.
Learn more about how you can unlock the power of your Search Ads here. Stay tuned throughout the week for more Search-focused insights, interviews, and thought leadership.
Posted by Max Hagler & Ravi Doddavaram, Product Managers, Google Ads
1. Google internal data, Global, 7/25/2022 - 8/20/2022