October 26, 2022
Trim video, the tool that converts a long video into short, 6-second videos, is now available globally in Google Ads—making it easy for advertisers to create bumper ads. The tool is powered by a machine learning model that identifies important scenes and brand elements from the original video and adapts them for shorter formats.
Adding a bumper ad to a Video reach campaign unlocks many benefits—more reach, efficiency and improved ad recall, to name a few. And even when your goal is driving conversions, bumper ads can help. Advertisers who ran Video action campaigns and later adopted two or more CPM brand advertising formats (like bumpers) drove a 9% average increase in conversions.
YouTube is a multiformat platform; there isn't just one kind of content that thrives here. Just as creators tap into different formats to tell their stories and deepen connections with their audiences, so too should brands. That means leveraging long-form video, which is especially effective on the TV screen, and short-form, vertical video, which dominates the mobile experience. The trim video tool helps brands get there faster.
We introduced this tool in beta in 2019 as Bumper Machine and since then it has helped hundreds of brands drive more reach, frequency and efficiency by effortlessly generating 6-second bumper ads. It improves on the Bumper Machine beta in many ways, with an enhanced machine learning model that can better select clips to adapt into shorter formats and an interface with more intuitive editing capabilities.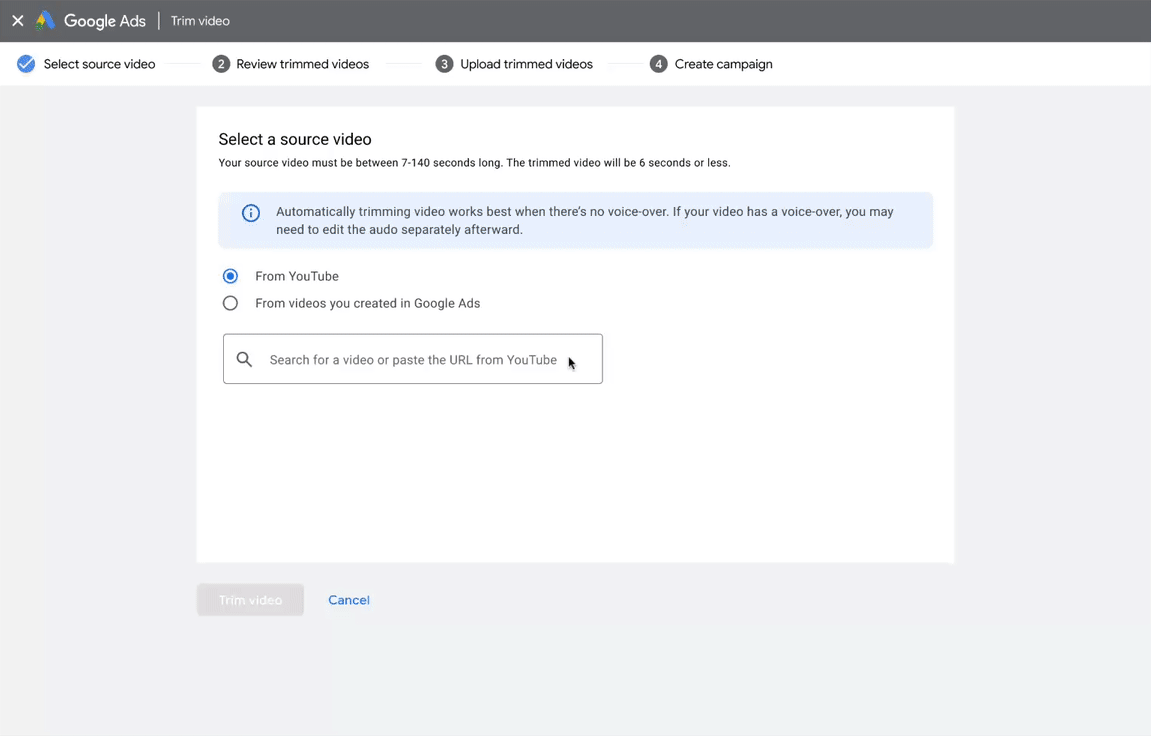 The trim video tool in action shows the process of selecting a longer video to trim, reviewing trimmed videos, editing as needed and uploading into a campaign
You can use the trim video tool when you don't have a 6-second bumper ad for your campaign, when you want to run an experiment that compares different versions, or when you're looking for new ideas for future ads. It's easily accessible from the Asset Library in Google Ads alongside other tools for creating videos or making existing videos more effective for YouTube like creating a video with a template and adding voice-over to a video.
To learn more about how to trim videos in Google Ads, visit the Help Center.
Posted by Prithvi Prabhakar, Product Manager, YouTube Ads