May 24, 2022
At Google Marketing Live, we took a deep dive into how we're giving people more reasons to love shopping on Google, and creating new ways for you to engage with them as they explore brands and products.
Here's a roundup of all the features that retailers should know about.
Reimagine your customer shopping experience on Google
1. Offering shoppers more visual inspiration on Search. In recent months, we've been adding visual-first results on apparel queries to help shoppers discover more products and brands, right from Search. Apparel shoppers are seeing rich visual results from trusted brands and retailers, plus recommendations from lifestyle magazines, blogs, video reviews, and more.
2. Making it easier for customers to find products through multisearch. In the Google app, shoppers can search by taking a photo and asking a question at the same time—so it's easier to find items even if they don't have the words to describe what they're looking for.
3. Empowering customers to see products in real life through AR. With 3D and AR features on Search, brands can increase buying confidence by letting shoppers experience products from every angle and interact with them in a real environment. To bring these experiences to your customers, you can provide 3D content feeds or update your existing feeds within Manufacturer Center.
4. Creating a more streamlined buying journey for shoppers. Instead of a multi-step buying journey, people who are ready to buy will now have the option to go directly from Google to the checkout flow on your website. Once there, they will see the chosen product already in their shopping cart and can checkout on your site with whatever payment method they select. We will be piloting this experience on Google and YouTube with select merchants and will share more information as we're ready to take on additional partners.
Stand out to shoppers to drive results that matter
5. Inspire your customers with highly visual ad experiences on Search. We've already mentioned how organic search results are becoming more visual. Later this year, advertisers will be eligible to show new, highly visual Shopping ads1 to U.S. customers. These will be clearly labeled as ads and will be eligible to appear in dedicated ad slots throughout the page. We're also rolling out new ways to showcase multiple product images within Shopping ads in the U.S., along with information such as product descriptions, reviews, and product availability, with no further action required of advertisers.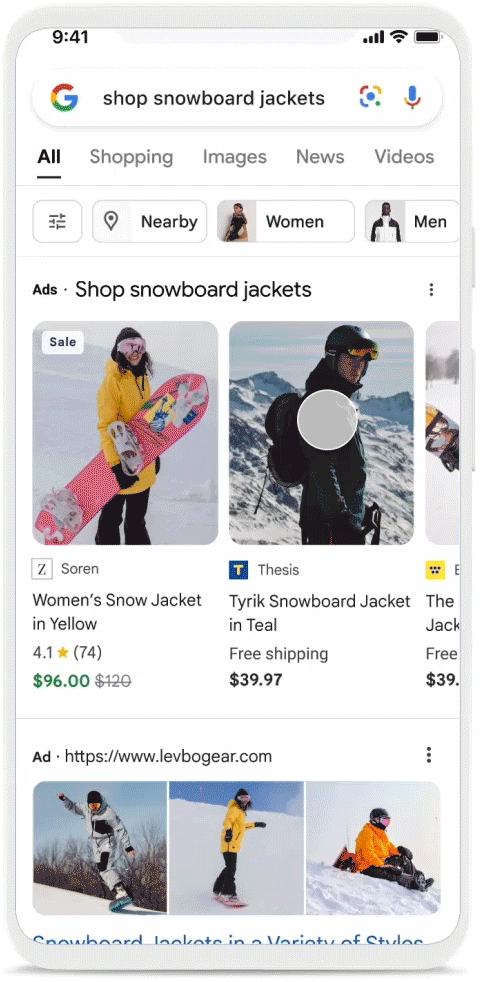 Reimagining Shopping ads in new, visually engaging search results (U.S. only search results)
6. Direct customers to your app with Web to App Connect. If customers have your app installed on their devices, you can send them directly there from mobile Search, Shopping or YouTube ads to create a more seamless experience through deep linking. To make it easier for you to take customers to relevant app pages, Web to App Connect helps you identify the URLs that need to be deep linked, estimate the revenue impact of deep linking, and effectively measure app conversions.
7. Harness the power of product feeds on YouTube Shorts and YouTube Search. Product feeds are expanding to YouTube Shorts, allowing you to show beautifully curated product images to billions of people watching short-form content, and inspire potential customers on YouTube Search as they look for their next video. This feature will soon be available through Video action campaigns, with early experiments starting soon for Performance Max2 campaigns.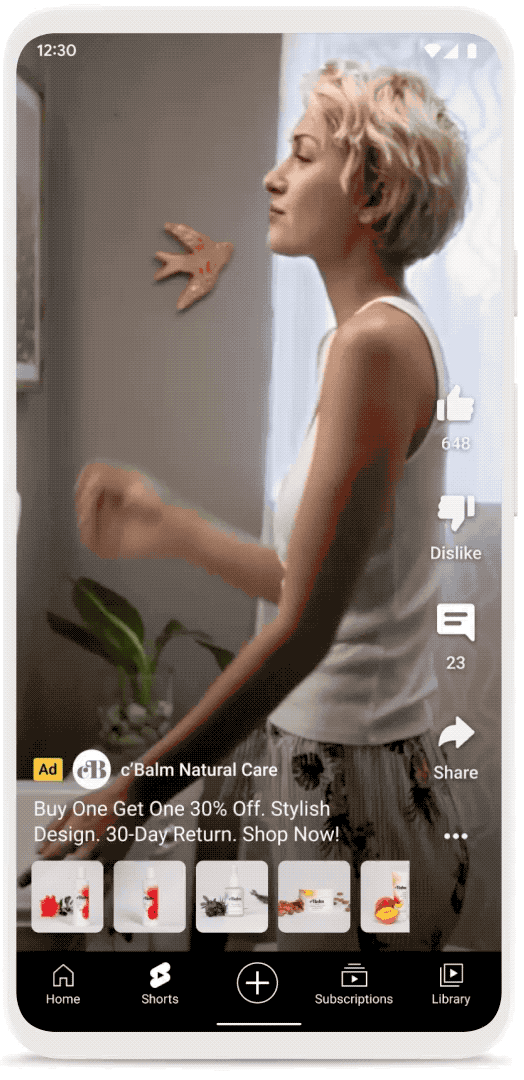 Example of product feeds in YouTube Shorts
8. Measure omnichannel impact and optimize for store sales in Performance Max. If you're running Performance Max campaigns for store goals, you will soon be able to measure and optimize for in-store sales to maximize the success of your brick-and-mortar locations. This builds on top of existing measurement capabilities for store visits and local actions like in-store calls and direction clicks.
9. Drive foot traffic during seasonal promotions with burst campaigns in Performance Max. Later this year, you'll have the option to run shorter campaigns and meet your store goals in two weeks or less during short seasonal events like Father's Day or Black Friday.
Unlock greater profitability with new loyalty features and insights
10. Showcase your loyalty benefits and attract new members to your loyalty programs. In the upcoming months, you'll be able to showcase your loyalty program benefits—such as deals, free shipping, and points—to shoppers in the U.S. We're offering this in two ways. First, you'll be able to easily integrate your loyalty programs in Merchant Center, so that your free listings can display loyalty benefits to the existing program members that opted-in to see them. Second, we're starting to roll out the ability for advertisers to attract new loyalty members when they use Performance Max campaigns for online sales with a product feed. Using Customer Match, you'll upload your loyalty lists to advertise your programs to potential new loyalty members only.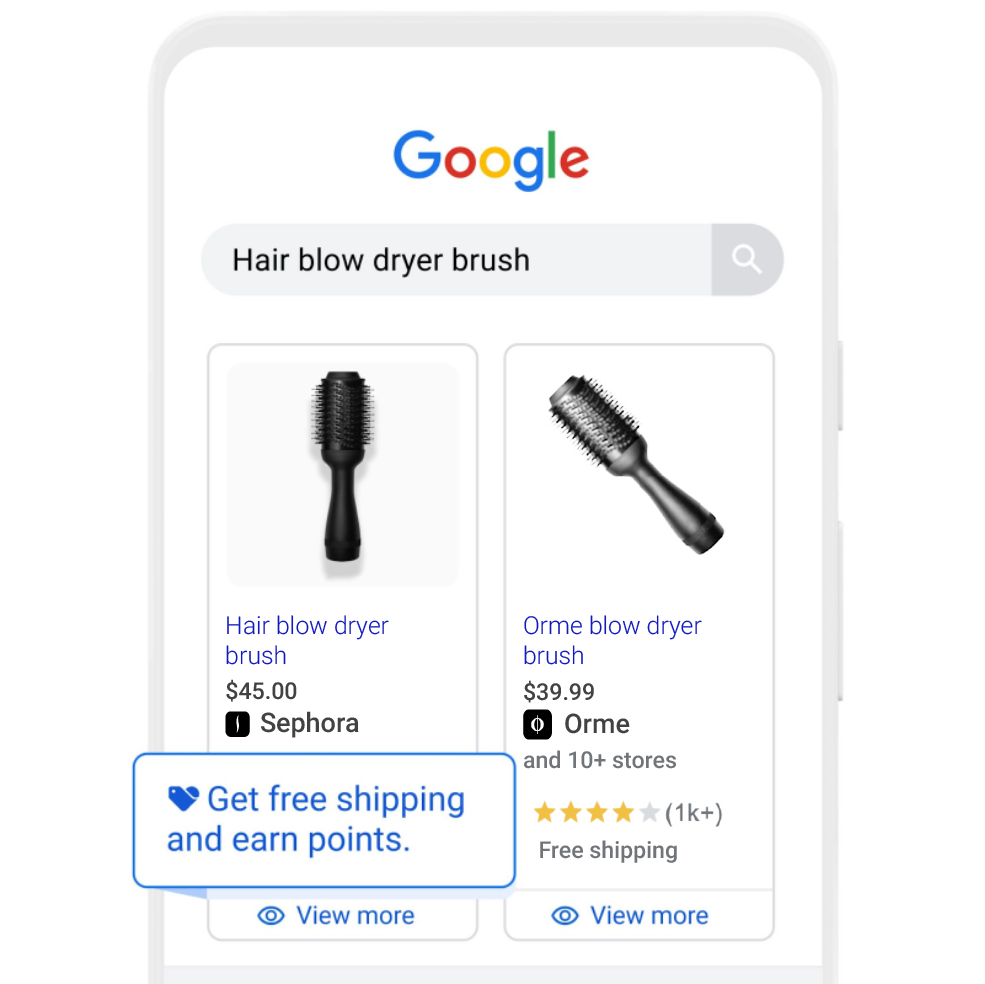 Example of how loyalty benefits can appear within Shopping ads to potential new loyalty members in the U.S.
11. Check out the products tab in Google Ads to optimize the performance of your product offers. You can now access the products tab at the account level to easily spot inactive offers in standard Shopping campaigns and, soon, in Performance Max campaigns. Later this year, you'll also be able to identify products with missing attributes, see when competitors are showing stronger product offers than you, and spot offers that have potential for further optimization. These insights will help you improve the quality of your feed more efficiently and adjust your bidding strategy to stay competitive.
Catch up on sessions from this year's Google Marketing Live and check out our Retail Guide to browse more resources on how you can discover, attract, and retain more customers this year.
Posted by The Google Marketing Live Team
1. Shopping ads are created based on the product data that you submit to Merchant Center. Shopping ads are available on Standard Shopping campaigns and Performance Max campaigns.
2. In Europe, Performance Max campaigns can be used with any Comparison Shopping Service (CSS) you work with. The ads will show on general search results pages and on any other surfaces the CSS has opted into.