April 26, 2022
Performance Max campaigns bring together the best of Google's automation technologies to help you drive better results across all Google Ads channels and inventory. Over the coming weeks, new features are rolling out for Performance Max to help you acquire new customers, understand performance, and begin to upgrade your Smart Shopping campaigns with a one-click tool. Read our blog post to learn more and get best practices for these new updates to set your campaigns up for success.
Optimize your campaign for new customer acquisition
Previously, the new customer acquisition goal was only available to advertisers using Smart Shopping campaigns. In the coming weeks, it'll roll out in Performance Max for all advertisers looking to generate leads or increase online sales. This goal will allow you to either bid more for new customers compared to existing customers, or to focus your optimizations on new customers only while maintaining your cost efficiency. You'll also have more flexible ways to identify new customers, like providing your own first-party data through Customer Match lists, setting up conversion tags and using Google's autodetection method.
While Google's autodetection system will always be used by default, we highly recommend that you upload audience lists using Customer Match. This helps Google understand who your newest customers are using the latest information. With the new customer acquisition goal, you'll be able to grow your new customer conversions and drive longer term revenue for your business.
Drive better performance with new features on the Insights page
The Insights page automatically surfaces the most important insights that can help you improve your campaign performance and inform your broader business strategy. It saves you time previously spent mining raw data or analyzing multiple reports in Google Ads to understand your historical performance and identify future opportunities. In the following weeks, we're launching new Insights page features to make it easier and quicker for you to uncover impactful insights.
Asset audience insights: With asset audience insights, you can see how your text, image, and video assets resonate with specific audience segments. For example, let's say you're an outdoor retailer running a campaign for bikes. You may learn that exercise enthusiasts engage more with lifestyle imagery of people biking compared to product-focused creatives.
Diagnostic insights: Once you've created a Performance Max campaign, diagnostic insights show you any outstanding setup issues that can prevent your ads from showing. For instance, if your creative assets are disapproved, you'll be directed to fix them so you can start serving your ads and avoid missing out on conversion opportunities.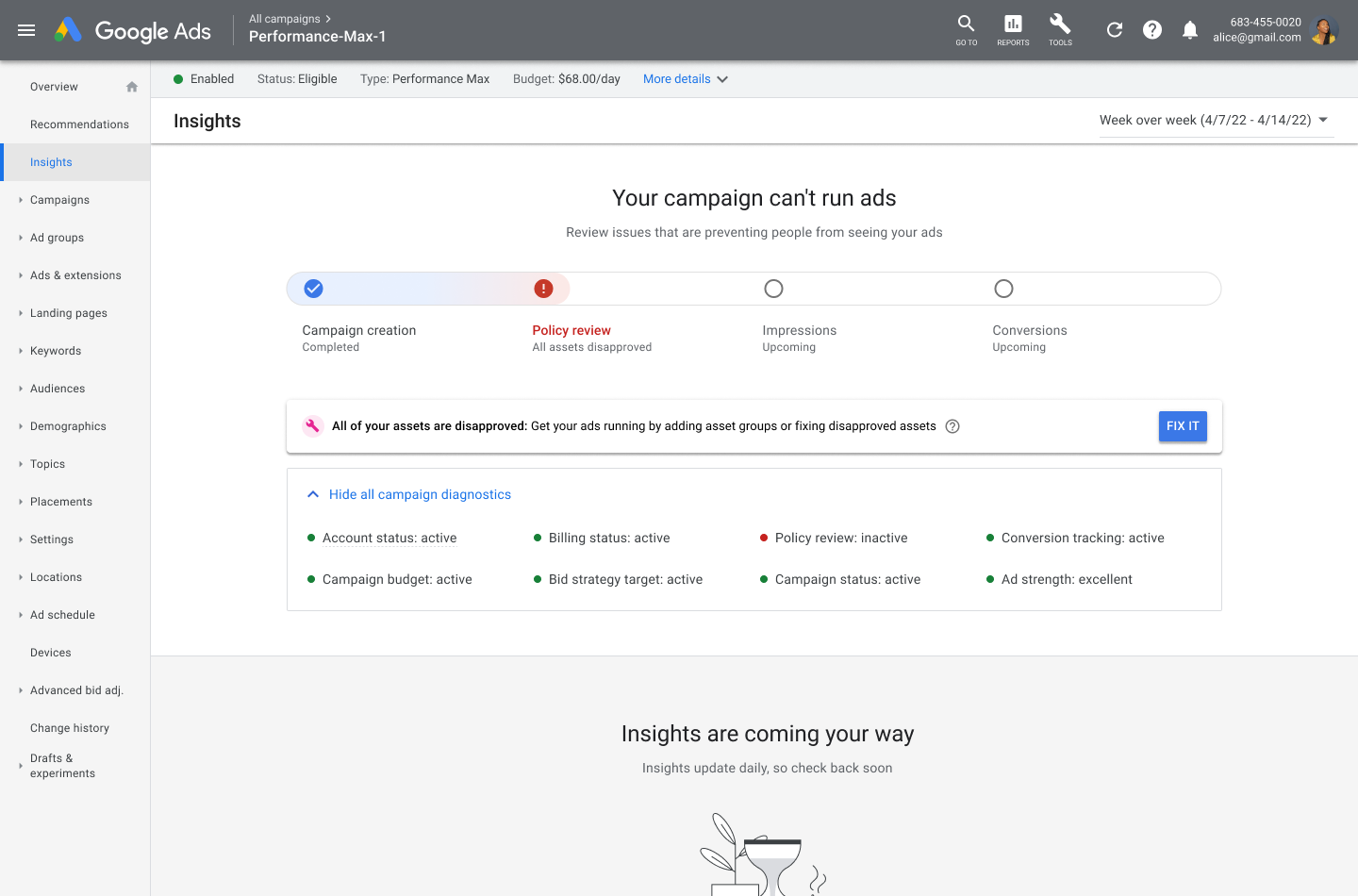 Start upgrading your Smart Shopping campaigns to Performance Max
Google Ads Tutorials: How to upgrade your Smart Shopping and Local campaigns to Performance Max
Over the next several weeks, the "one-click" upgrade tool will roll out in Google Ads for advertisers using Smart Shopping campaigns. Advertisers using Local campaigns will be able to upgrade their campaigns to Performance Max beginning in June. When the upgrade tool is ready for you to use, you'll see a notification appear in your Google Ads account. You can also access the upgrade tool through the Recommendations page or Campaigns page in Google Ads.
The upgrade tool gives you two options for upgrading your campaigns to Performance Max: you can either bulk upgrade all your campaigns at once or select specific campaigns to upgrade. When you upgrade your Smart Shopping or Local campaign, it will become a new, separate Performance Max campaign. Learnings from the old campaign will be applied to your new Performance Max campaign to maintain performance continuity. Your campaign budget and settings will also be carried over to the new campaign.
You'll be able to use the one-click upgrade tool until the automatic upgrade process begins for your campaigns. Once the tool becomes available for your campaigns, we strongly recommend that you upgrade them as soon as possible to get ready for the fast-approaching holiday season. Smart Shopping campaigns will be automatically upgraded from July through September, and Local campaigns will be automatically upgraded from August through September. Check out our updated best practices to set up your Performance Max campaigns.
Posted by Tal Akabas, Sr. Product Manager, Performance Max campaigns