April 29, 2021
Customer Match helps you build a stronger relationship with your customers by using the information they provide to you. By making it part of your first-party data strategy, you can create audience lists and engage with customers across Search, Shopping, Video, and Discovery campaigns.
To make it even easier for you to use Customer Match, we've launched the following updates to help you reach more of your customers and improve performance.
See how much of your list is usable in real-time
When you upload your customer list you'll get a match rate—this is the percentage of your customer list that is usable with Customer Match. Previously, you had to wait to see what your match rate would be. To help you identify and troubleshoot issues faster, you can now see your match rate instantly. In addition, we'll show you the match rates of previous uploads so you can see your historical trends1.
To improve your match rate, we recommend adding as many pieces of customer information as possible. In fact, advertisers who uploaded two types of customer information saw an average list size increase of 28%, and with three types they saw an increase of 35%2. Fixing formatting issues and working with a Customer Match upload partner can also help increase your match rates. Keep in mind match rate is not an indicator of how your lists will perform.
Keep your lists up to date with Recommendations
Consistently updating your lists is key when using Customer Match. When they become stale, it limits the amount of information available to find your audience. On average, Customer Match lists see a 17% increase in traffic and conversions after they've been updated.3 To make it even easier to know when you should update your lists, we'll now surface a suggestion on the Recommendations page automatically.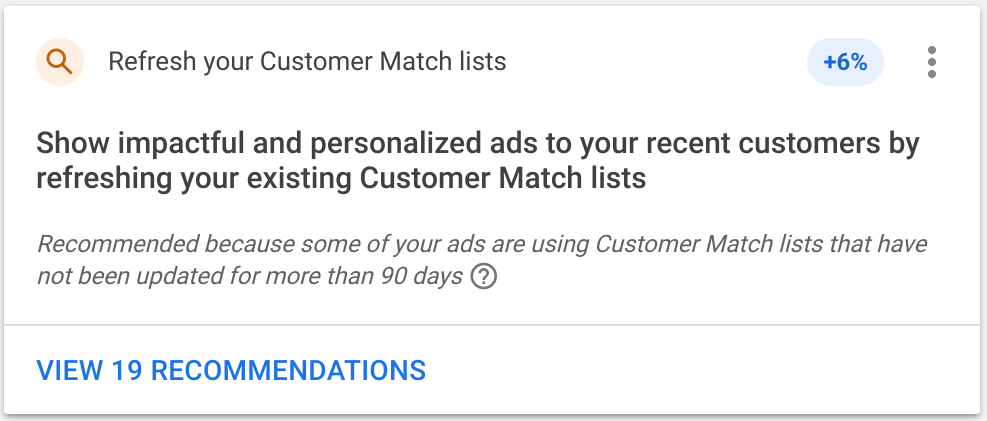 Check out the Customer Match best practices guide for more information on how to make the most of your first-party data. To learn about how Google uses Customer Match data in a privacy-safe way, visit the Google Ads Help Center.
Posted by Shrikrishna Shrin, Product Manager, Google Ads
1. Upload history dates back to 1/1/2020
2. Google internal data, May 2020
3. Google internal data, May 2020